Do we have to pinch you before you realize it's really that time again. We can currently enjoy ice kiting and ice winging in the Netherlands again. Vrieskou has taken possession of the Netherlands and that means ice surfing, ice kiting, or ice wing surfing. A kiteblog about some unusual kite sports. You can click directly to it ice kiting handbook with all tips and hacks.
Clear weather, no snow. Ice kiting and ice wing surfing insured
It would start with snow showers. That is not optimal for ice swinging, ice kiting and ice surfing. No, that requires cold and crystal clear. Snow is not expected this time by ice lovers such as skaters, also called 'the white wrecker'.
Dutch Ice Surfing Champion
Did you know that there was a Dutch ice surfing championship in 2012? Yes so… The Dutch champion was Icesurfing Dennis Little. At the time there was a whole race to make the best ice surfer for ice windsurfing. Last year, of course, we also had ice cream. Unfortunately, there was no NK Icesurfing held at the time.
Kite skating and ice wing surfing easier
Of course, pioneering like Dennis Littel and other ice surfers can be pretty cool. Hit the ice with your homemade ice surfer and polish it into your own formula 1 ice surfer. Cool anyway. However, this is not necessary for kite skating and ice wing surfing. We can just get our skates out of the grease, tie up and go.
Small kite with ice kite surfing
Of course you can skate underneath and a kite in the air over the ice. In any case, grab a very small kite with ice kiting because you will quickly go over the ice at full speed. Please note, kiting over ice is faster and overpowered even faster than with snowkiting. After all, your resistance on ice is minimal. Especially when there is no snow to be seen. You have to be careful with snow piles on the ice. You don't want to be launched.
With ice kiting you go fast and overpowered even faster than with snow kiting.
Ode to icewing surfing 2021
Winter 2021 brought us some snow and then good ice. Snowwing, snowwingsurfing, icewing and icewingsurfing took off enormously. With a wing and snowboard was still a thing. You need quite a lot of power to get through the snow. You miss the buoyancy of the kite. With skates on and a wing in hand you literally float over the ice. This has proven to be sublime for many kiters. Of course you don't get the speed as with a kite. However, it is much less complex with a wing. No lines, no kite at a distance etc.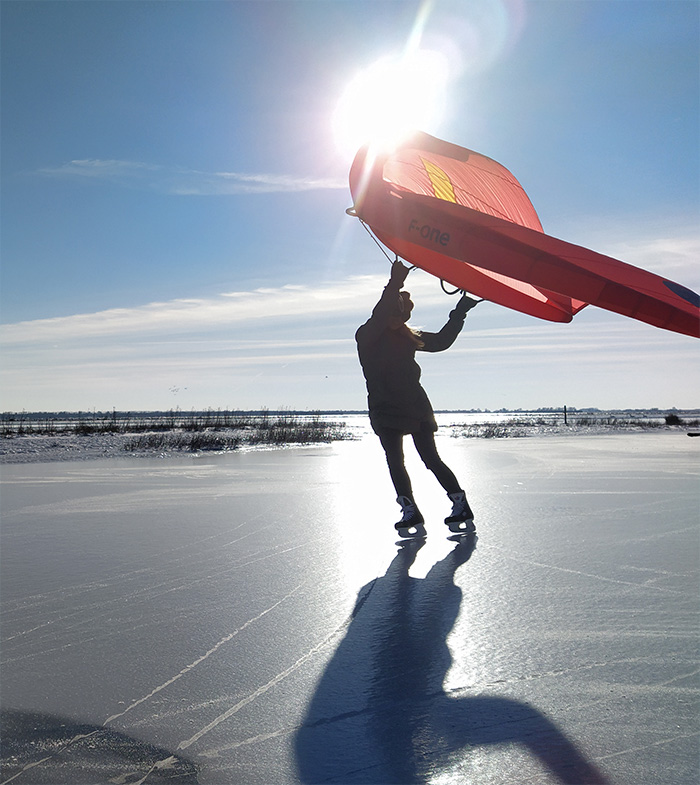 We will monitor the weather and keep you informed. How cool would it be if we had a modest NK ice surfing, NK ice kiting or NK ice wing surfing…