The Achensee is considered one of the 5 most beautiful places in Austria. So a tip for those looking for a cool travel destination in Austria. In addition, the Achensee is a large lake. So plenty of room for everything you can think of on and in the water. We immediately think of wind sports such as kite surfing, kitefoiling, windsurfing, wingsurfing and wing foiling. But kayaking, sailing, paragliding and supping are also very suitable activities. In this kitesurf blog you can read and view my findings after a week at Achensee in August.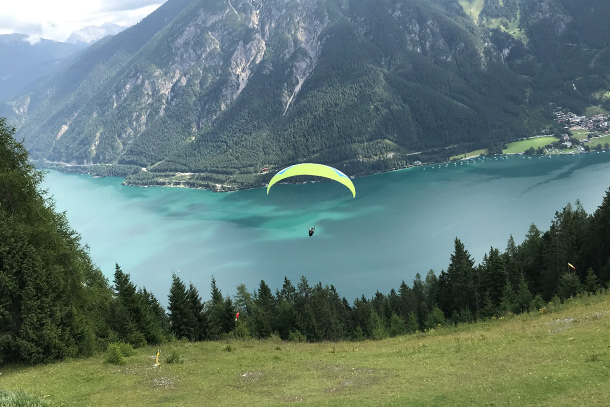 Beautiful surroundings: lots to see and experience
the Achensee, in Dutch Achenmeer, is literally a beautiful area. The lake that contrasts turquoise against the mountains and the clouds that are constantly in motion make it beautiful to see. In addition, the area offers all the facilities you could wish for in terms of hotels, restaurants and amenities. Nevertheless, everything that is primitive, if you wish, is also at your feet. For example, you can walk for days without seeing much. You can also go mountain biking. Maybe a little less primitive with an e-mountain bike. But the golf courses are also beautiful and inviting. Like a billiard cloth.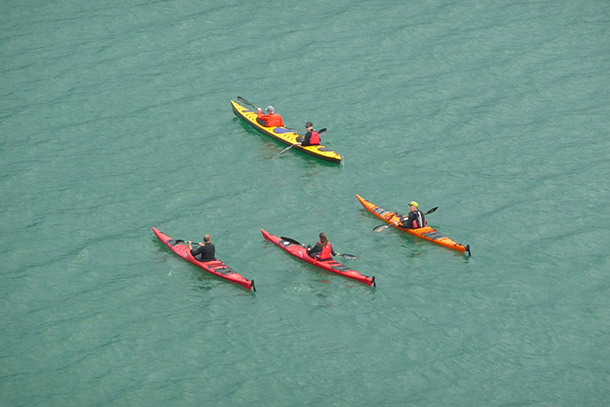 Kiting and wing Achensee
Back to water sports because that's what we're going for of course. To start with, the Achensee is a suitable one kite surfing spot. In addition, the Achensee is also very suitable for kitefoiling. The Achensee is perhaps most suitable for wing foiling. Read why below.
Wind Achensee
Wind in the afternoon starts gusty, then more stable
In the course of the afternoon it often starts to blow on the Achensee. Often between 14.00 and 19.00 pm. Not a stormy wind but a nice breeze with foam heads and that indicates about 20 knots. Excellent wind for kitesurfing, kitefoiling and wingfoiling. Of course also good for windsurfing, wind foiling and sailing, but I will not go into that in this blog.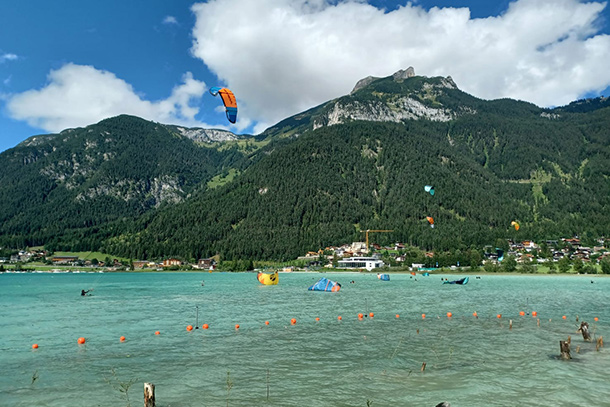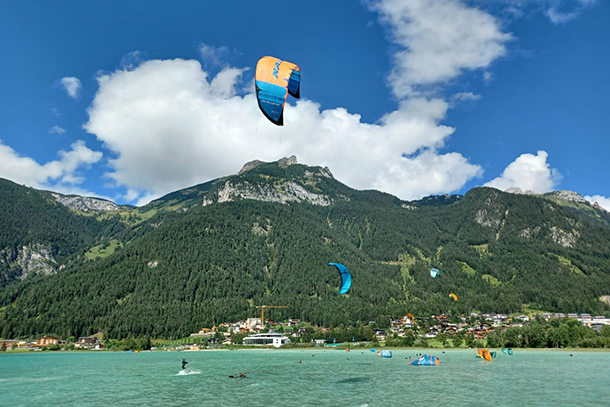 The wind often starts in fits and starts during the afternoon. Kite surfers who can't wait will take to all the water at the designated area on the side of Maurach (kite zone Seespitz). However, the wind is still unstable. For example, kites sometimes suddenly fall from the sky. A nice spectacle to watch, but in fact it is a bit of a worry. In any case, we don't do it for that anymore.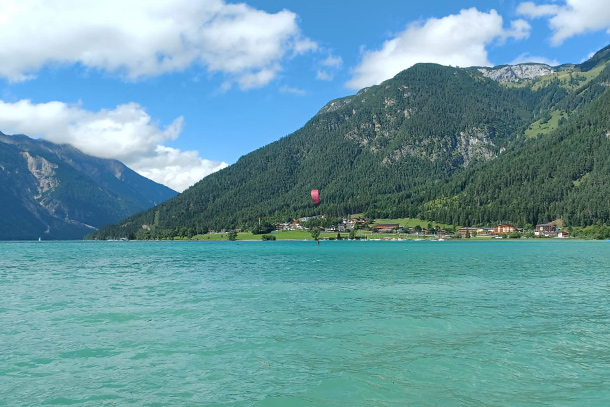 When the wind increases kitefoils the kitefoilers are the first to head into the wind. Then the kite surfers get going and the first jumps are shown to the public. That's enough in the summer, by the way. It is a nice corner for it, but my experience is that the wind remains fairly gusty here. There are also some obstacles in the water in the form of some tree stumps just under the water.
Days and moments with constant wind
On the days or moments when it really blows, the wind is also a lot more constant and the previous spectacle therefore does not apply. Then you can just jump into the water and have fun right away.
Once on the water it is a wonderful experience. Sublime even. The color of the water and the mountains make it an unforgettable experience. -Danny van Dooren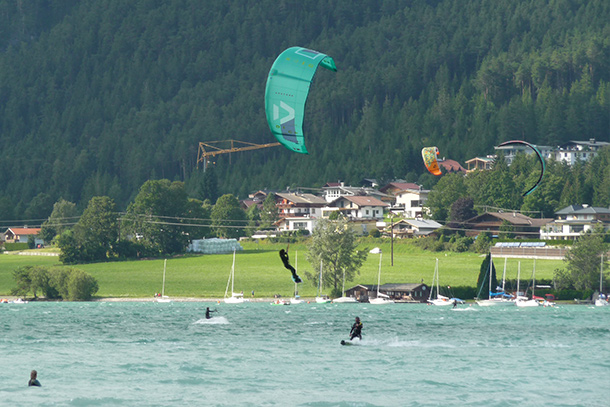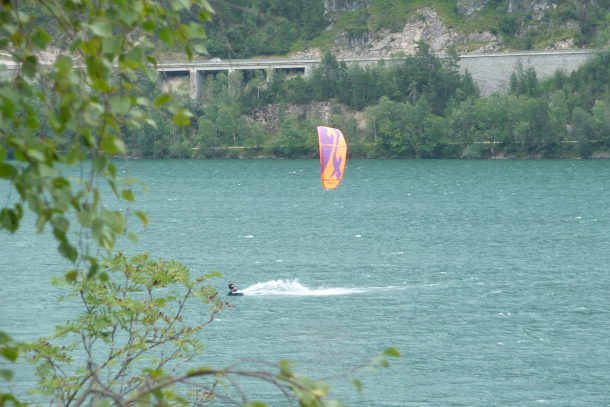 Water temperature
The Achensee is actually a mountain lake. The water temperature is therefore also low. Wonderful as a refreshment when it is hot but quickly cold when it is cloudy and at low temperatures. The correct wetsuit thickness is therefore important. The ground is made of stones and pebbles. You can go kitesurfing with bare feet, but if you are still often looking for ground under your feet, then shoes are recommended.
Kitesurfing and wing foiling boarding places
At other locations where the wind blows well over the lake, you will also see kite surfers, kite foilers and wing foilers. For example, across from Pertisau (kitezone Uferstrasse). With a small space to take off and land kites, the water is deep quickly and the wind more stable. Those spots make it great for wing foiling. One of the reasons why wing foiling so popular is. After all, you can enter and go into the water from the side. For kitesurfing this requires extra helmsmanship and skills. For example, if an attachment point on a piece of rock has to be used for launching a kite. Some kite surfers don't start there anyway. That is why the designated area for raising and lowering kites on Lake Achen is mainly at Maurach. If there is enough wind, you can cruise and there is plenty of room.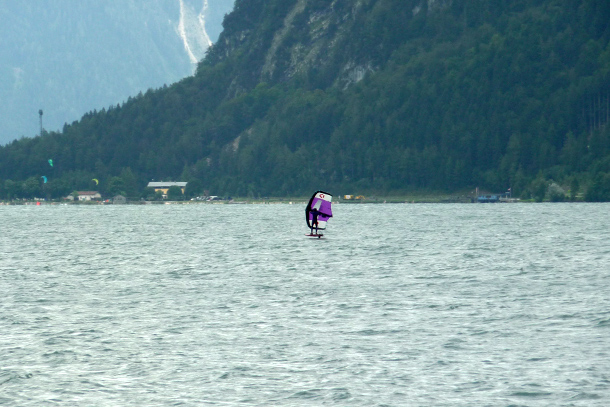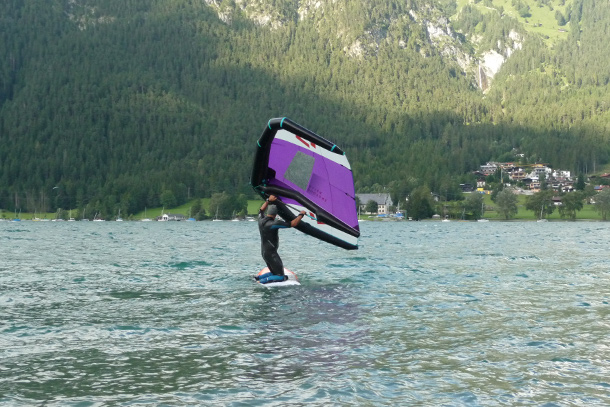 More information
To kitesurf and windsurf on the Achensee you must have an official license. This can be purchased through the local kitesurf club. on kite club achensee you can also find more information about the customs, rules and activities on the Achensee.
Conclusion Achensee
I would not recommend going to Achensee especially for a kitesurfing holiday or for wingfoiling. There are more wind certain destinations with more constant wind and warmer water. But if you go on holiday near the Achensee, I would definitely take your equipment with you. Maybe I would recommend the wingfoil material even more than kitesurf or kitefoil material. This is because wing foiling at the Achensee is very accessible and it is easy to start. Once on the water with wind, it is a wonderful experience for kitesurfing, kitefoiling, wingsurfing and wingfoiling. Sublime even. The play of clouds, the color of the water and the mountains make it an unforgettable experience. In addition, it is a beautiful area that has a lot to offer.