Reports from kitesurfers looking for their lost kiteboard. We often get them to the attention and you may have lost a kiteboard at some point. Annoying for every kite surfer, but also for bystanders and the emergency services. An unmanned kiteboard, or worse unmanned kite, without notification often automatically followed a search. Boomtag has a wonderful solution to provide your kitesurfing material but also other equipment with your contact details via a tag.
Also for wing foiling
Of course, a Booomtag can be used on anything. As you know I have learned to wing foil and now I am spearing over the water. Beautiful! However, I am also in a learning phase in which I fall a lot. The board has since become detached from the leash belt during a fall three times. Such a large board quickly catches wind and thus floats with the wind. Twice I couldn't catch up with him swimming. Then it is handy that there are contact details on such an expensive set. This can be done with the help of a Booomtag. No sooner said than done. In the meantime I also bought a good leash.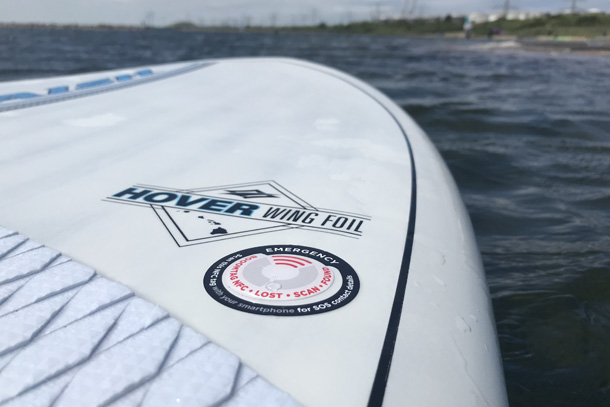 What is Boomtag?
Booomtag is a software company in Amsterdam. It has developed a platform application where athletes can register their sports equipment provided with a boom tag. An NFC tag can be attached to a material as a sticker or via a coupling wire, but can also be incorporated into the product by the manufacturer. Examples are a sticker on your board, a tag on your kitebar or a tag laminated in your board or kitebar. Booomtag has been around since 2020 and the platform continues to develop.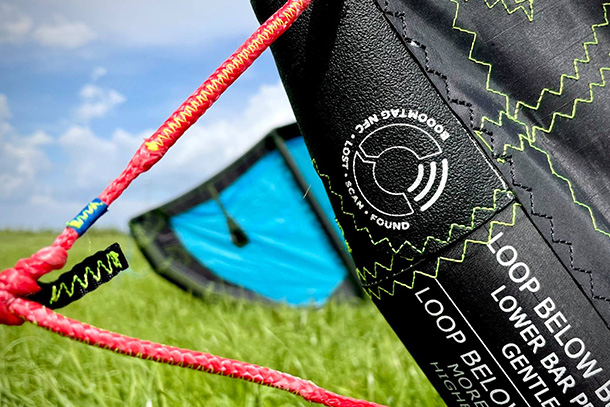 Booomtag uses Near Field Communication
Booomtag uses Near Field Communication (NFC). With an NFC tag, data can be exchanged. For example, by scanning the sticker with your smartphone. The beauty of the platform is that data is encrypted and you can exchange confidential data. The Booom portal, the 'Booom Product Protected Portal', is distinctive. Here you can register all your sports equipment, provided with an NFC sticker or chip, in one place.
What good is Booomtag as a kite surfer?
Has your kitesurfing equipment been stolen? Thanks to an NFC chip, your kiteboard could be traced. In any case, a stolen kiteboard cannot be sold easily. After all, the digital transfer is only possible with your permission. Using a Booomtag on a kiteboard seems the most logical.
In addition, you can also use a Booomtag for your kite and kitebar. Or like me on the wingfoil board. If equipment is lost, contact can be made between the finder and the owner via this handy system.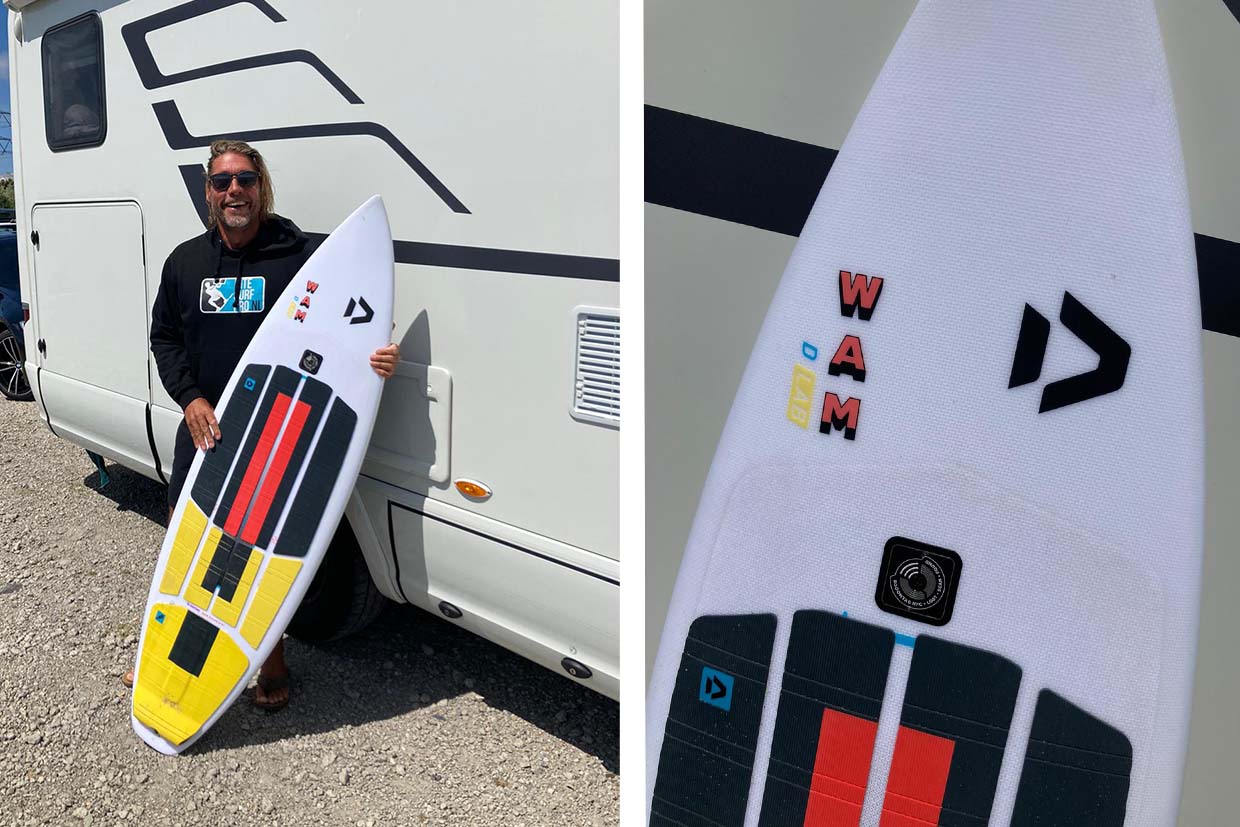 Boomtag most innovative solution
We have a straight line ourselves decal tags that we offer to provide kiteboards with contact details. This is because of our mission to provide every kitesurfboard with contact details. It doesn't matter how. Just do it. The Booomtag is of course much more ingenious than a sticker with contact details. In addition, a Boomtag is more wear-resistant. The data is thus not only protected against unwanted eyes, but also against wear and tear of the elements.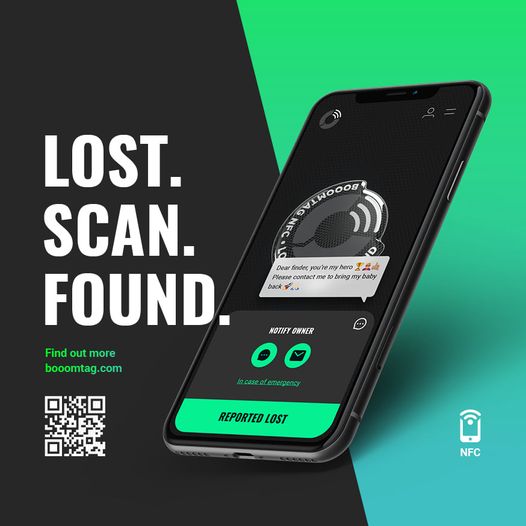 How do you get a Boomtag?
For this blog I had the opportunity to ask owner Rogier some questions and to arrange a discount for KitesurfPro.nl followers. Take your chance I'd say.
How does a kitesurfer or wingfoiler get a Booomtag?
"Via the Booomtag webshop, various (kite) surf shops or by participating in Hoek tot Helder. In addition, this summer, more than 10.000 Booomtags will be given away for free at a few major kitesurfing events."
You continue to develop. What's in store?
"We are currently rolling out a large awareness poster campaign to all (international) beachgoers, surfers, clubs and emergency services. Booomtag is supported by METIP in Den Helder. METIP is a science park for Marine Emerging Technologies and a government project. Together we are setting up various pilots under the heading 'Beach Safe'."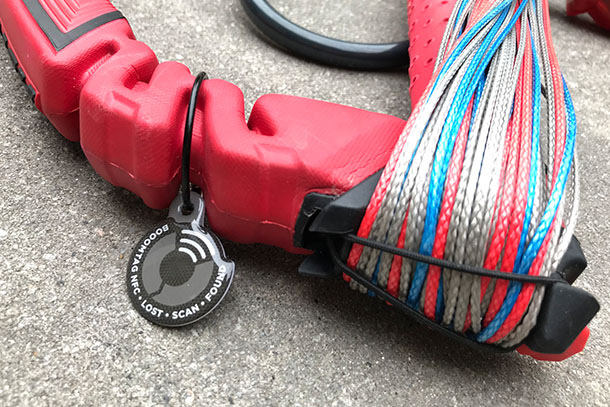 Last but not least Roger. Do you have a cool promotion for our followers?
"Yes of course. We make a cool offer for that: 'Buy one get one free' (max 2 tags) during two weeks after placing the article with discount code RESPONSIBLE-LOSER."
Boomtag action: Buy one and get one free (max 2 tags) for two weeks after posting.
Discount code: RESPONSIBLE LOSER
Valid until July 20, 2022.