JYou want to start with kitefoiling or are a kitefoiler. As a beginner you probably wonder what type of foil board, how long the mast and which wing you need. As an experienced kitefoiler you go for the following steps. On this page you will find an explanation of kitefoiling. Think of it as a kitefoil manual or kitefoil manual. We are happy to explain topics that you have to deal with in kitefoiling here.
Kitefoiling gives kite surfing an unprecedented boost
This is a fact. Kitefoils have given kite surfing as a sport an unprecedented boost. Not only because it gets a lot of attention because it looks so special. But precisely because foiling offers kite surfers the unique opportunity very little wind to be able to get on the water. In addition kitefoiling within the Olympic sailing a new Olympic discipline. Also take a look at the website of Kitefoil team Nederland kitefoilteam.nl.
Kitefoiling requires quite a bit of explanation
Answering kitefoil questions first results in some questions for yourself. How you want to start foiling, for example. Do you want to go foiling to enjoy cruising with minimal wind? Correct for kite surfing on waves? Or do you want to go for speed? Or for air style and big air like Jamie Overbeek? As you can see, foil boards and foils have been specially developed for these kitesurfing styles. In addition, the styles can also be combined. By the way, kitefoiling is still called hydrofoil kite surfing by some. Read more in the explanation of kitefoiling.
Kitefoil wings - hydrofoils define the style
These are the types of kitefoil that we give basic explanation about.
Freeride wing (hydrofoil kite foil wing)
A freeride wing has been developed as an accessible all-round kite foil to master kite foiling. It is a predictable, stable kitefoil that should ensure that you quickly have control of the kitefoil. From this point on, the kitefoiler with a freeride wing can improve his skills for a long time and get more out of kite foiling. A freeride wing has been developed to be challenging enough for this.
A freeride wing is the best choice to learn kitefoiling.
Freeride crossover wing (hydrofoil kite foil wing)
A freeride crossover wing is the most versatile. You can basically do everything with it and these wings are intuitive and easy to use. This makes them incredibly stable and easy to kitefoil. In addition, they are reasonably fast and can therefore be foiled at speed.
A freeride crossover wing can be a good choice to start with kitefoiling for experienced kite surfers.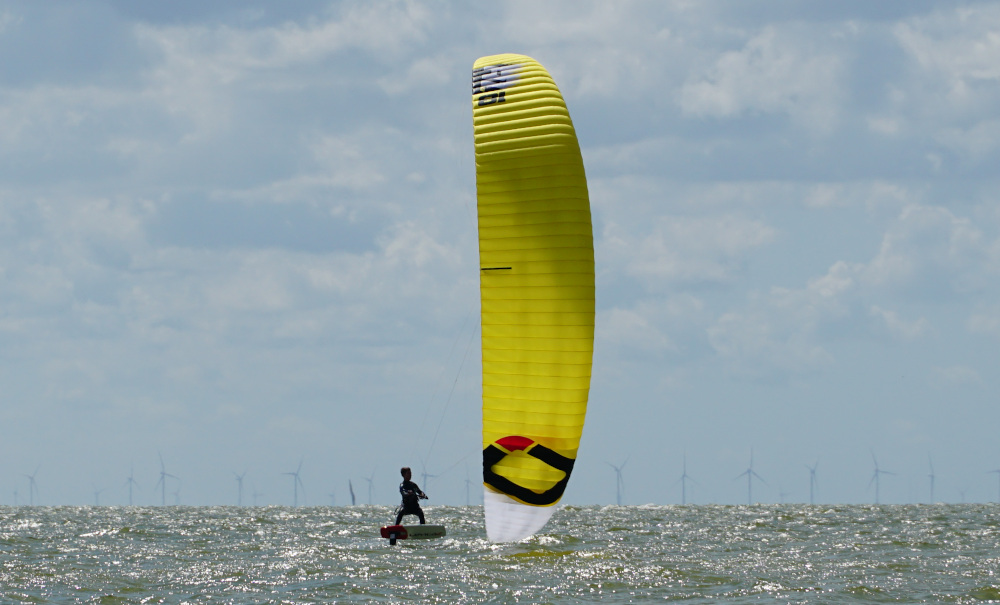 Surf wing (hydrofoil kite foil wing)
The name says it all. A wing specially developed for kite-foiling in the waves. These wings are made to generate low-end power. They have a fair amount of drag. This actually ensures that the wing slows down in such a way that the speed of the wave is taken over as well as possible. Very nice. In addition, a surf wing has been made to lift the kitefoiler out of the water very quickly. At the same time, a surf wing must not generate too much lift and must remain manoeuvrable and stable.
A surf wing is a somewhat slower wing with carrying capacity on which the kitefoiler has quite a bit of time to tack and move its feet. A surf wing can also be used on flat water with a small kite or for surf foiling without a kite.
Performance wing (hydrofoil kite foil wing)
A performance wing is a combination between a freeride wing and a racing wing. With a slim profile, a performance wing generates less drag. This makes it easy to reach speeds of 60 km / h.
The wing is made in such a way that it actually becomes more stable when it is foiled on faster. The performance wing has less lift on start up and at low speed.
A performance wing is suitable for, for example, free-racers who love speed.
High performance wing (hydrofoil kite foil wing)
These wings have been developed for kitefoil racing. It must remain very stable at high speed and cause as little turbulence as possible. The latter also places great demands on the mast (fuselage). Special masts have therefore been developed for these kitefoils. Everything about a high performance wing is designed to be able to race kitefoil at a speed of, for example, 80 km / h.
A high performance wing is for kitefoil racing.
How big should the front wing be?
The weight of the kitefoiler is one of the most important factors in determining the size of the front wing. The correct size of the front kite foil ensures that the properties of a kite foil can really be used on the water. For example, a heavier kitefoiler needs a larger front wing to get out of the water easily. A lighter kitefoiler needs a smaller front wing to achieve speed and not to get too much lift. Wings can often also be replaced. This way you can attach different wings to a mast and construction.
Explanation kitefoiling - How long should the mast be?
60 cm - length kitefoil mast
This is the mast length to be the first to practice and that kite surfing schools mainly use. Ideal for practicing in the beginning and to experience the effect of kite foiling. As soon as you want to continue with kitefoiling, a longer mast is better. You can read why below.
75 cm - length kitefoil mast
With a mast length of 75 cm, you generally have a nice distance to the water. The foil board does not quickly get on the water, so you can really kitefoil on the kitefoil. You can then really use the effect of the kitefoil. The advantage of a not too long mast is that you can also kitefoil in slightly shallower water without hitting the bottom.
90 cm - length kitefoil mast
This is a nice mast length to kitefoil at speed. High enough above the water not to hit the water at the slightest above-average wave with the board.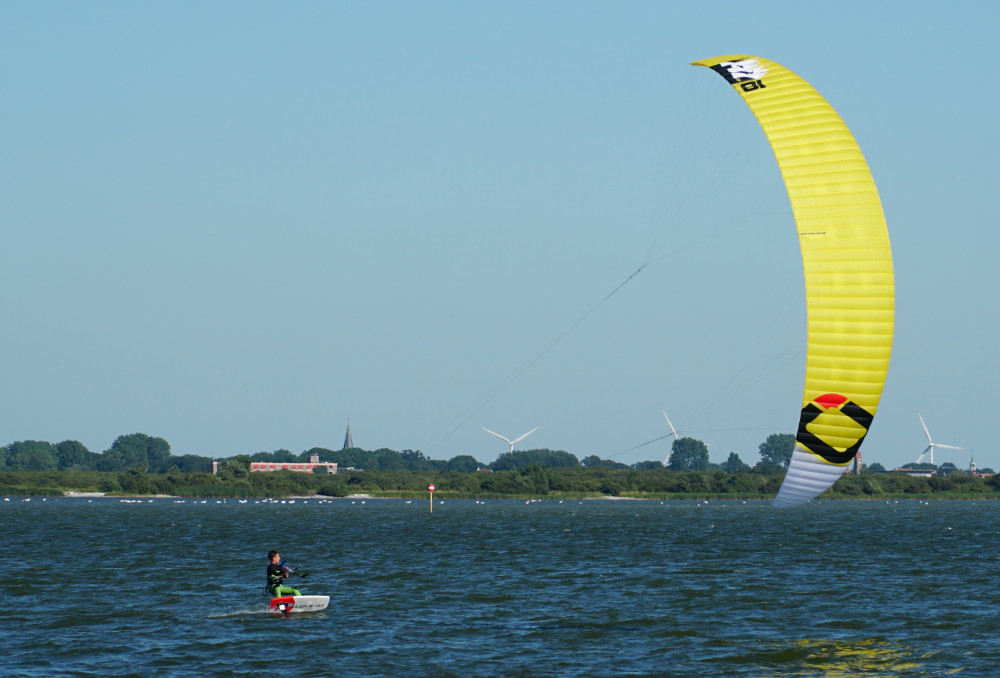 General advice starting with kitefoiling
Start with a wing with a low aspect ratio and large surface in combination with a large kitefoil board. This makes the experience more enjoyable, you learn much faster and this combination is more forgettable. You are not punished for every mistake.
Realize that you will have to unlearn a number of things that were so important for kite surfing.
If you start with kitefoiling, it helps you if you get the board going flat first, the lies will come afterwards. You then stand upright with your weight on your front foot. So don't hang and put pressure on your heel like with your twin tip.
If you are going to kitefoil practice quickly with pumping the kitefoil. This gives you a good feeling of how the wing is in the water and what it does. You will then benefit from this in kitefoiling.
What length of foil board should I choose?
In the beginning, choosing the right foil board is just as important when you started on your twintip kiteboard. Even though you may think you won't hit the water anyway.
The length of foil board must be large enough so that you can easily start from the water and surf away in little wind. You actually kite surf away first, after which the lift of the foil lifts you out of the water. Start with pressure on your front foot. As soon as you are kite surfing with the foil board, you can slowly move the pressure on your front foot to your back foot. You will immediately feel the lift of the wing.
The foil board will also hit the water and with a larger foil board this is no problem. Maneuvering is also easy with a larger foil board. In addition, it is important to choose a foil board on which foot straps can be put on. This is certainly nice in the beginning. Especially the front foot strap. The correct length of foil board also depends on the weight of the kitefoiler. A foil board length between 140 cm and 160 cm is a length that both experienced and novice kitefoilers can use.