JYou probably recognize it in the winter months. Sometimes it is January and it doesn't feel that cold at all, while less than a week later with the same temperature, it feels freezing. Then we are not even talking about the temperature of the seawater and inland water. To be clear: inland water becomes even colder than seawater in winter and can even cool down to 1 to 2 degrees in the Netherlands and become frozen. Read our tips on kite surfing in winter.
Is this kitesurfing season for you or not?
In principle, you can kite surf all year round.
The aforementioned is quite a statement and by no means for everyone. Most of the kite surfers no longer go out on the water in winter and then choose other sports. Others find it magical in the winter or find kitesurfing so cool that they do not want to miss it and kitesurfing well packed just continues.
Winter kitesurf season Netherlands advice
AIf you are going kitesurfing in the winter, it is important to prepare well and to think extra about the dangers. If something happens on the water, which can always happen, and you end up in the water yourself, the risk of hypothermia is insidiously lurking. Do not sail too far and certainly do not go out on the water alone. Make sure you keep an eye on each other. If you do go out on the water alone, don't sail too far and make sure you have someone who will keep an eye on you continuously.
Not recommended for beginners
As a beginner you will also spend a lot of time in the water in the process of learning kite surfing. Kitesurfing in winter is not recommended. If you do go, then under very strict conditions. For example close to the shore but without obstacles downwind and in places where you cannot drift and with direct supervision ready and able to come to the rescue.
Beginners are advised to return to the water around a water temperature of approximately 10 degrees.
Be sensible when you go kitesurfing in the winter
The fact is that both the outside and water temperature in winter is very cold. Your body loses heat much faster in water than in air. Especially in combination with a wet head, because your body loses water much faster through water than on the shore. Be careful, because hypothermia is a risk that is often recognized too late. So short sessions. And stop and warm up as soon as you notice that you are starting to get tired is the advice. Also, do not sail too far and go out on the water alone in the winter is out of the question. Which, of course, is always unwise.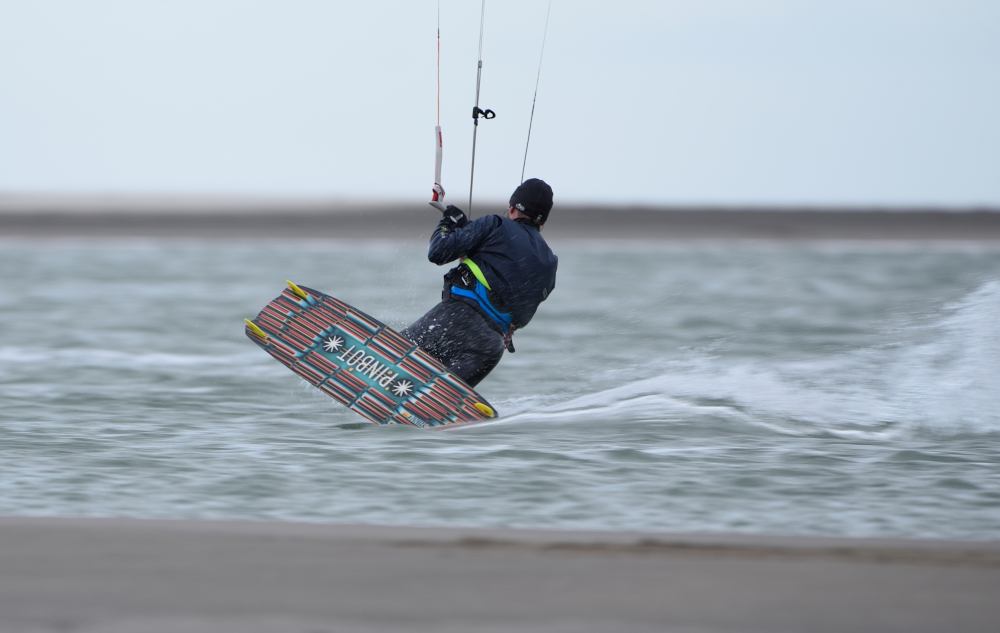 Tips kite surfing in winter
Make sure your material is 100% OK. This always applies but is crucial in the winter months. Nothing is more annoying than material breakdown on the water in the winter, which means that you are in the cold water for a long time.
Determine whether the sensible is to go kite surfing
Choose the best moment in terms of wind and temperature
Don't go too late in the afternoon. In the winter months it gets dark early. Sometimes even around 17 pm.
Be aware of the wind chill
Choose a suitable kitesurf spot Hide all issues for a safe session appropriate to the wind direction, wind strength, your skill level and other crucial elements.
Eat and drink something warm and possibly bring a hot drink in a thermos flask. Warm tea retains moisture and many kite surfers recover from a cup of hot broth in between.
Change quickly. Without clothing you lose heat very quickly.
Provide sufficient and good insulation with the help of a wetsuit that is in order, neoprene shoes and possibly gloves and a cap. A windbreaker is optional and additionally blocks the wind and radiant cold.
You lose body heat even faster in the water. Pick the right one quality and thickness wetsuit. A wetsuit with seams blind stitched, taped inside and sealed outside has the best insulation at the seams. A wetsuit with a lining on the inside (feels like terry cloth) and processed material that retains body heat also provides extra warmth.
Go for a session of up to 1,5 to 2 hours.
If you are tired or cold, you stop or take a break.
Only with the correct wind direction
You go kitesurfing in the winter you only go out to sea with the right wind direction. A favorable and safe wind direction. This applies to all places, but certainly by the sea.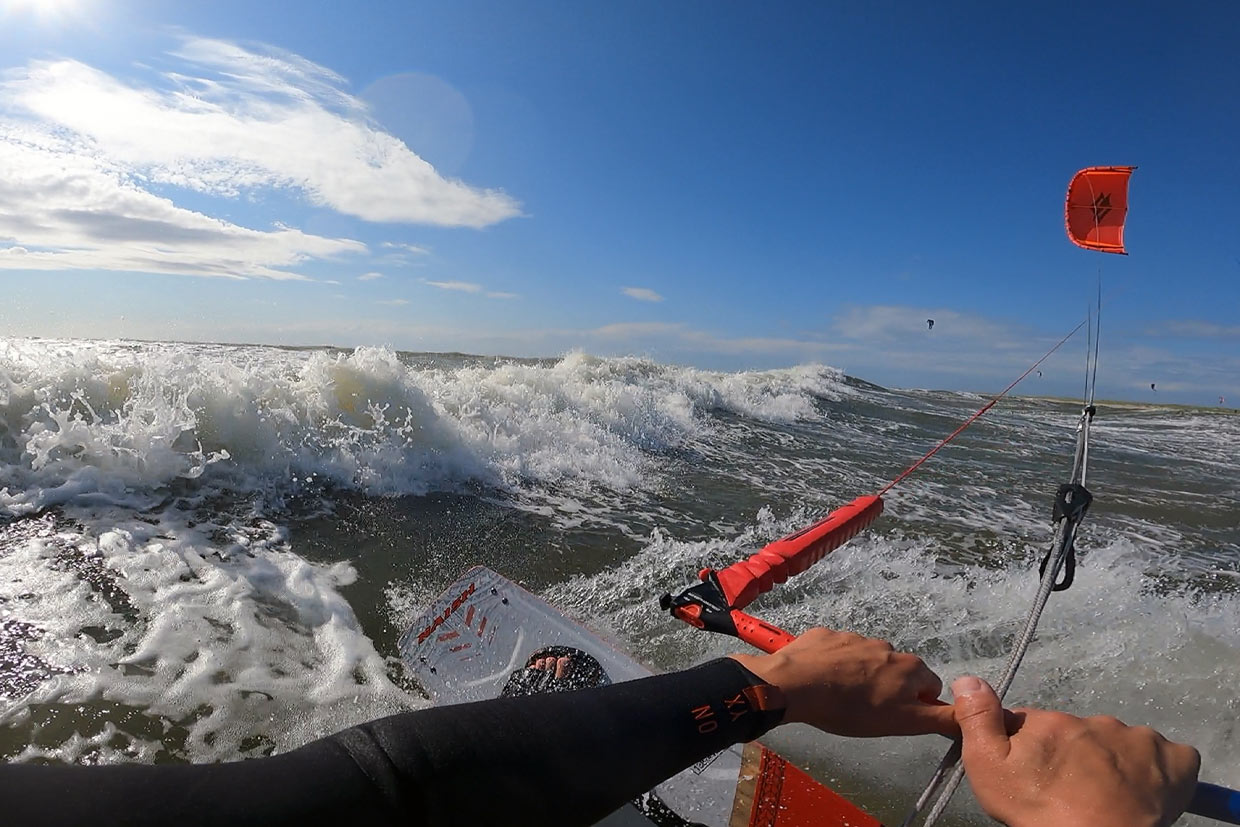 Learn to kite surf at sea
As soon as kitesurfing on flat water kite surfers goes well, the sea often starts to pull. Kitesurfing on a wild sea is really something different than on inland water. However, there are also kitesurfing locations by the sea that are mild and have nice flat areas in the right conditions.
View the manual learn kitesurfing at sea and make the switch to sea or let us help you improve your technique.
Safest: side-onshore wind. The wind blows diagonally towards the side. You will then leave, but you will always return.
Less safe: side-shore wind. The wins blow parallel to the waterline. You can consider going, but be careful not to go too far. If you get in trouble, you float past the kite spot and not go there.
Sometimes safe: onshore / onshore wind. The wind is straight on the shore. You run the risk of being pulled aside if something goes wrong. Is it far shallow but deeper than knee depth? Then there is still a safe distance to the shore and you can sail.
Not safe: offshore / offshore wind. The wind blows away from the shore. This is a no-go. Because if the wind is too strong or something goes wrong, you will be pulled off the side. It may become impossible to come back.