In this kitesurfing blog kitesurfing February we will not discuss kitesurfing holidays. No, we hope to give you insight into what to expect if you continue to practice kite sports in the Netherlands. We list a few options: snowkiting, ice kiting en ice wings. However, the forecast for freezing cold or snow next 14 days is not available. Well for wind and that's why we go for kitesurfing and wingfoiling. Read what to expect and what to watch out for.
Average February temperature is rising
The average temperature in January over the past 10 years is 3,8 degrees. In February this is 3,9 degrees. Even though January hardly differs from February, on average we are going back to higher temperatures. Of course, this does not say anything about the possible extreme periods in a month. Incidentally, we are seeing more and more of these on the side of heat records.
The average temperature in February is 3,9 degrees. The coldest month is behind us.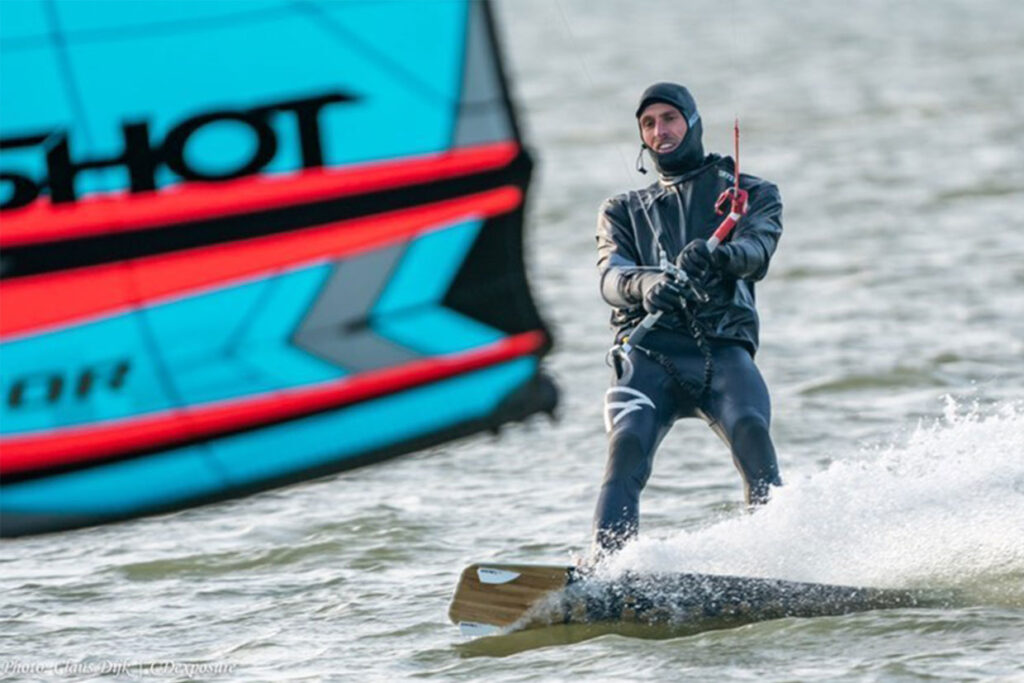 Average water temperature is falling
The average sea temperature in January was approximately 6,4 degrees. In February, the forecast average is still 4,5 degrees. At the end of December, however, the seawater was still about 9,3 degrees. That was a bit warmer than the average. The average temperature of the inland waters is colder. In February sometimes only 2 degrees. A lot colder than the sea water. Inland water is in winter a bit colder than the North Sea. At the beginning of the month, the sea temperature can be slightly higher. So lower at the end. This partly depends on the extremes in weather during the month.
So short sessions. And stop or warm up properly as soon as you notice that you are starting to get tired is the advice.
Be sensible if you go kite surfing in February
The fact is that the temperature of the water will continue to drop rapidly in the coming weeks. Your body loses heat much faster in water than in air. So pay attention because hypothermia is a risk that is often recognized too late. So short sessions. And stop and warm up as soon as you notice that you are starting to get tired is the advice. Also, not sailing too far and going out on the water alone is out of the question. Which, of course, is always unwise.
Must read: 12 tips kitesurfing in the winter
This blog is specifically about what you can expect in terms of weather, wind and water in February. A must read for kitesurfing in the winter is our kitesurfing in the winter special containing 12 tips for a successful winter session.
Average wind force kite surfing in February is decreasing
In February the wind blows more than 80 knots on average 7% of the time. 7 knots is pretty much the lower limit to be able to kitefoiling. In January this was still 82%. The wind blows an average of 17 knots in February for Noordwijk. The chance of wind therefore decreases slightly compared to January. But the chance of wind is much higher than during the summer months.
Correct thickness wetsuit kite surfing February
It is a fact that it is getting colder. You notice it well on a rainy day. You don't even have to be at sea for that. At the beginning of January, the temperature will drop again. The water temperature is also dropping. It is therefore the time of year for at least a 5/4 mm wetsuit. We have advice on the correct wetsuit thickness for you. You can't ignore the use of neoprene surf shoes either. You also see more kite surfers with neoprene caps, gloves and wind jackets than without. All extra insulation is welcome, preferably as flexible as possible.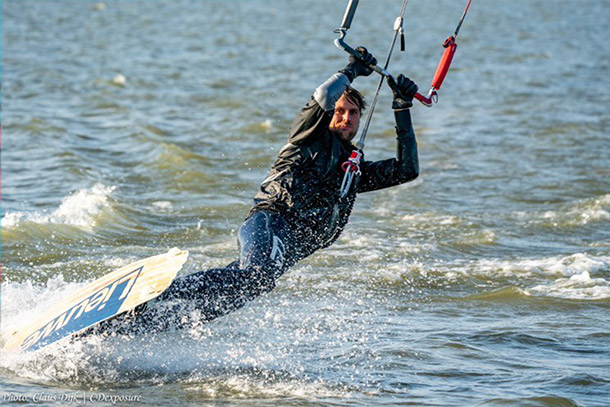 Kitesurfing February - This year is different
Our experience before Covid was that many kite surfers don't get into action in February. However, it was busier than ever in 2021 and January 2022. February this year can also be different from other years. It must have to do with the 'After Corona effect'. Kitesurfers who in recent years, for example, because they are not on winter sports or kitesurf holiday could, have surfed on and got the hang of it. As a result, February this year may also be different from other years. We hope to meet many kitesurfers again in February. At sea, on the ice or in the snow.