This extensive page focuses specifically on kitesurfing in the Netherlands for beginners. With kitesurfing, the term beginner is used often and inappropriately. We think this is often unjustified and therefore this page. Kitesurfers who have been kitesurfing for years are labeled beginners online based on their actions. In stronger winds and other situations, it is always indicated that it is not wise for beginners to go kitesurfing. That's why we asked ourselves the question "When are you no longer a beginner?"
On this kitesurfing for beginners page we write about skill levels. You can deduce your kitesurfing progress from that. Whether you are a beginner or a complete beginner. If you master all the skills, we don't think you are a beginner anymore. Anyway, it's almost like a kiting for beginners book and we might be quite strict.
Are you looking for information about how to start kitesurfing and kitesurfing lessons. Then view the special learn kite surfing page in which we give you an insight into what a typical kitesurf lesson looks like. Other reference information for all kitesurfers can be found in the manual kitesurfing.
1. Basic Preparation Skills
These are skills that we believe you should at least master if you want to start kitesurfing in the Netherlands or if you want to go on the water as a kitesurfer. It starts with preparation at home and near the water.
Determining suitability conditions
The weather and the wind are constantly moving. A kitesurfing session is therefore never the same and that is what makes kitesurfing so much fun. At the same time, respect and awe for the weather, wind and water are also in order. The circumstances can also be treacherous. This can almost always be seen in the predictions. Making a sailing plan is therefore crucial. This prevents you from driving to the sea for nothing on the one hand, and on the other hand putting yourself and your surroundings in insecurity.
Nothing is as changeable as the weather…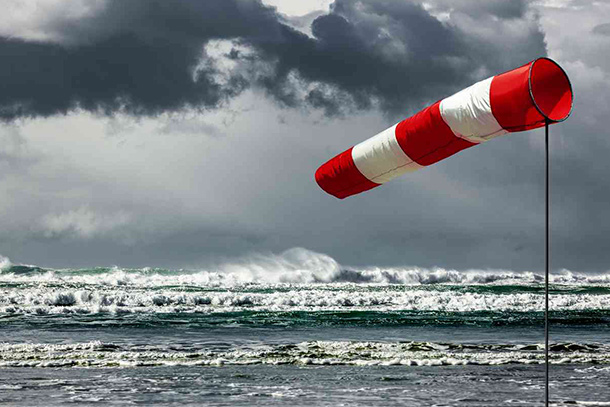 Only kitesurfing in suitable wind
A nice wind force to start kitesurfing, practice and kitesurfing is between 14 – 21 knots (wind force 4 – 5). Very experienced kite surfers even go on the water at more than 27 knots (wind force 7) but this is definitely too hard for beginners. Any mistake can then be severely punished and have a nasty outcome. View more information about how much wind you need to kite surf en special combinations for kitesurfing with little wind.
Unpredictability of gusts
In the Netherlands you almost always have to deal with gusts of wind. If wind gusts are expected that are much stronger than the wind, it is recommended not to go kitesurfing. For example with an expected wind of 18 knots and expected wind gusts of 35 knots. Wind gusts make the wind unreliable and your kitesurfing session unpredictable.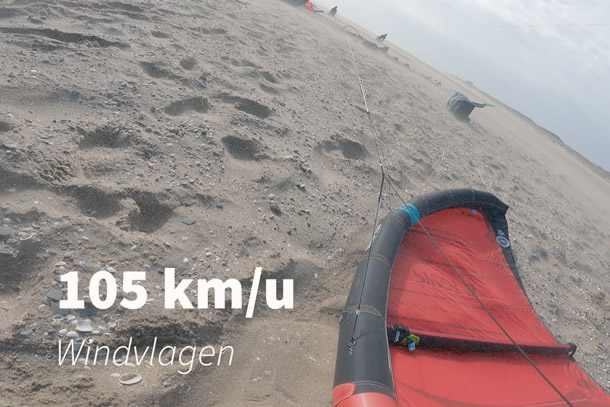 Favorable wind direction
Kitesurfing is only safe with a favorable wind direction. This applies to all places, but certainly by the sea. Extra caution is advised in the winter months. Also take a look at the special page about kitesurfing in winter.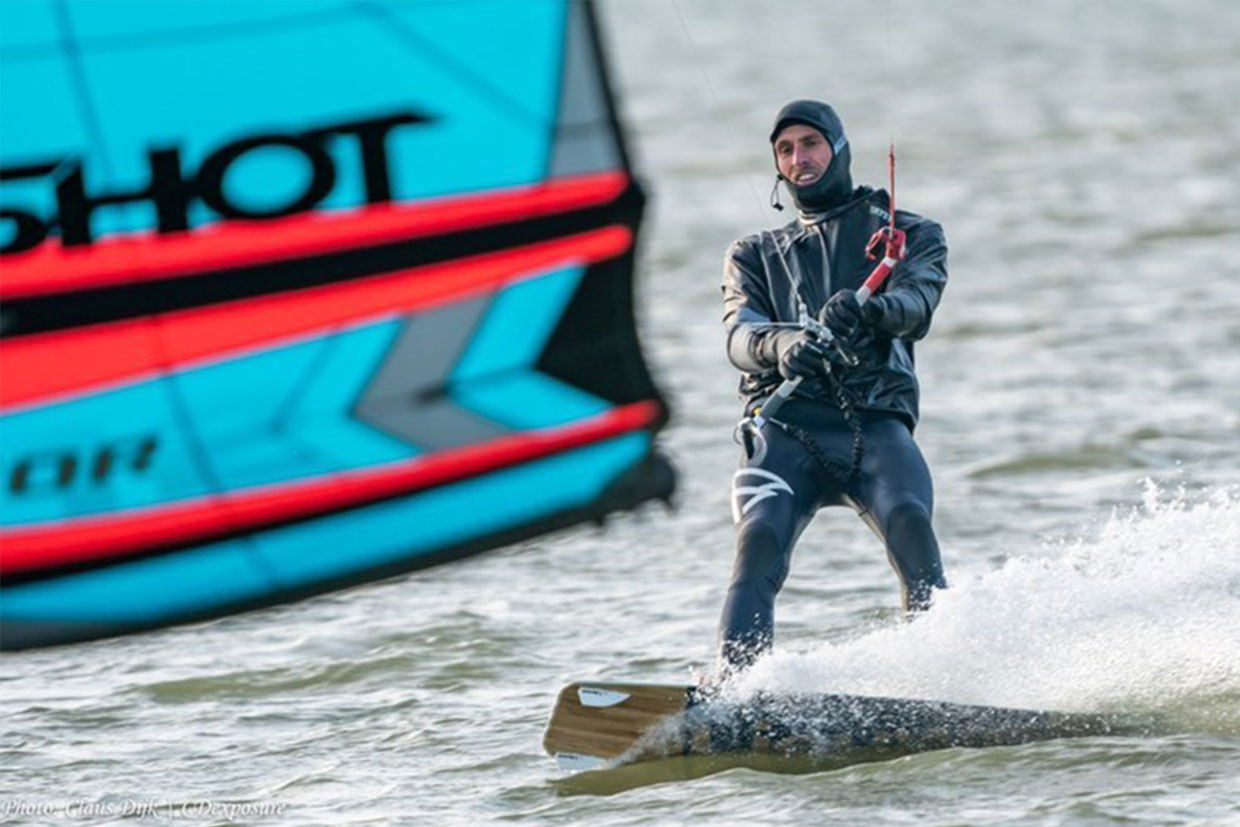 Safest: side-onshore wind. The wind is blowing diagonally to the side. You then get away, but also back to the side. Do not sail too far because of the danger of drifting and so that you are sure that you return to the kite spot.
Less safe: side-shore wind. The wind blows parallel to the waterline. You can consider going out on the water, but be careful not to go too far. This prevents you from drifting past the kite spot instead of towards it in case of problems. Side-shore wind is not suitable for beginners. Only if you can restart your kite independently in deep water, you can consider going out on the water with this wind. In the winter months, this wind direction is not a safe option. If you then run into problems, the risk that you will be in the water for too long and become hypothermic is too great.
Sometimes safe: onshore wind. The wind is right on the side. You run the risk of being pulled over if something goes wrong. Does the water start shallow yet deeper than knee-deep? Then there is still a safe distance to the shore and you can go on the water.
Not safe: offshore wind. The wind is blowing from the side. This is a no go. If the wind blows too hard or something goes wrong, you'll be pulled off the side and it may become impossible to get back.
Make sure that if your kite falls from the sky or whatever, you are always pulled to the side because the wind carries your kite there. Always observe this rule. During cold winter months this is even more important and therefore you stay even closer to the shore, if you were to go all the water.
Distance to obstacles
The more space you have, the better. In any case, make sure that there are no obstacles downwind of you that you could collide with. Every pole or trash can already poses a risk to your kite, lines, yourself and your environment. That is why you also ensure a good distance from people on the side and swimmers in the water.
Estimating the weather, wind and water
To determine whether you can, and it is wise to go kitesurfing, it is wise to compare the wind measurement data from different weather sources and to take an average. This way you get an optimal indication of how hard the wind blows and how hard it will blow during your planned time on the water. Because nothing is as changeable as the weather in the Netherlands, you keep an eye on the weather. We explain how you can do this.
Kitesurfing is anticipation, so pay special attention to the forecast of the weather, wind and water during your planned time on the water.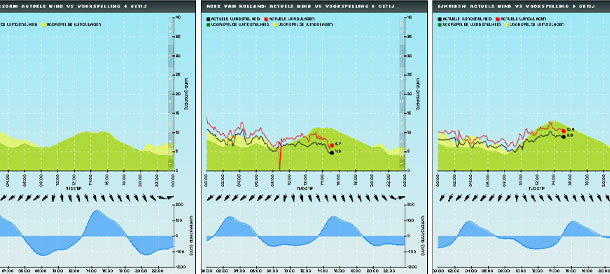 Reading wind forecast
There are special websites and apps for this, such as the windy, windfinder, windguru, current wind and of course the KNMI wind and weather forecast. Consult them directly via our handy wind forecast pages. In addition to forecasting wind and gusts, most websites and apps also indicate the weather and tide (ebb and flow). This is all important information.
Roadmap weather, wind and water
At Home
Compare wind, weather and water data from different sources for a good view during the hours you plan to get out of the water. Before you leave home, check out available webcams on site if there are any. For example to see if it is not too busy for you.
Check if there KNMI warning codes be in force. We advise you to be extra alert from the warning code yellow (there may be a risk of dangerous weather) from the KNMI and not to go kitesurfing.
At the water
Check on site whether the location and conditions are safe.
Never go out on the water alone, but with one or more buddies.
Don't consider getting out on the water if it's too crowded for you.
During your session
Keep an eye on the weather and take action if necessary. The situation on the water can change quickly. So once on the water you now and then look over your shoulder against the wind at the sky. That way you re-evaluate the situation every time.
For example, with rapidly approaching dark sky, a shower and/or threatening thunderstorms, you can lower your kite for a while. The wind often becomes very unstable and unpredictable for a while. This way you can safely continue kitesurfing after the storm has passed or fallen.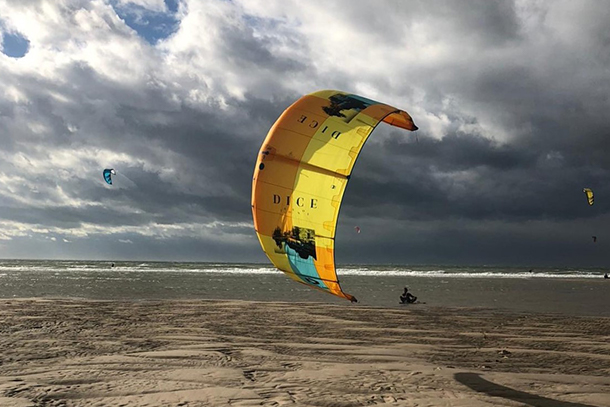 Tides, currents and ripples
At the sea you have to deal with ebb and flow. This creates a current in the water. A rule of thumb is that at high tide, the current flows globally to the north. On the Wadden this is towards the northeast. At low tide it is just the other way around. You have as little to do with currents as possible in the period after high water and when the water starts to sink towards low tide.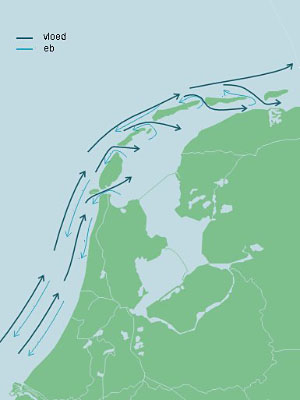 If the current is with the wind, you will suffer from it. You have less pressure in your kite, you may not run high and therefore do not come back where you started. If the current is against the wind, you will benefit from it. You then have more pressure in your kite. look at the special page about flow who can make or break your session kite.
In moderate to fairly strong winds, currents can make the difference between a nice session or not. Also whether it is still possible to restart your kite from the water or not.
Now you know that in moderate to fairly strong winds it is important to adjust your session to the tide and current.
A rip current is the current that develops between sandbanks towards the sea. A tidal wave is caused by the waves, the tide and the shape of the bottom. Waves come to the coast but that water from those waves also goes back to the sea. The easiest route is via the channels between sandbanks. A strong current can arise here. Fortunately, you can often recognize a mouse in advance. In general, the following applies in the Netherlands: where the waves do not break near the shore, there is the rip. Kitesurfing through a mui is not nice and it is therefore better to avoid it. If you do kitesurf through a rip, fall and be carried along by the rip current. Then always try to keep your kite in the air and let it pull you sideways, parallel to the coast, away from the rip current.
Kitesurfing water temperature
Beginning kite surfers are advised to start from a water temperature of kitesurfing at least 10 degrees. As a beginner, in the process of learning kitesurfing well, you are still in the water a lot and then you cool down very quickly, even with a good wetsuit.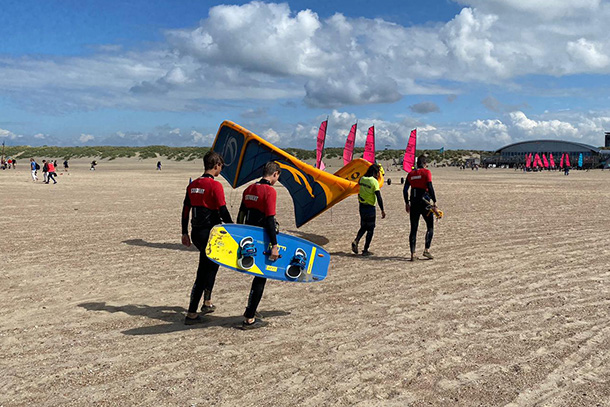 Kitesurfing locations suitability
You now know what a suitable kitesurfing location must meet for you. A map of kitesurfing locations and their suitability for which wind direction is available on the dedicated page about kite surfing spots. In addition, there is the spot card of the Dutch Kitesurf Association. Here you will find all kitesurfing locations in the Netherlands and you can choose the perfect location for you through various selection options.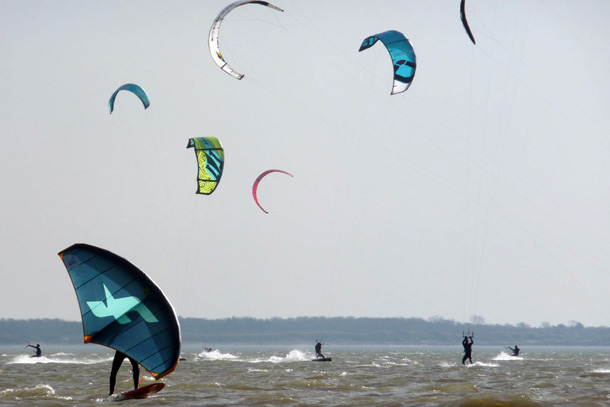 In my opinion you are less off when you can check off the skills list. Know how to do it, but not really mastered everything yet. Begin when you master these too. For the record, this is different from being able to kite well. You name it; able to sail back and forth under normal conditions. -Bram van den Elst
2. Skills at and on the water
You are and remain responsible for your actions, the purchase of equipment appropriate to your skill level, choices about whether or not to go on the water and your behavior on the water and on the side. Fortunately, there are kitesurfing schools, shopkeepers, associations and fellow kitesurfers that help you make the right choice. Also view our buying a manual for kitesurfing material.
Kitesurfing is not a sport to try yourself. You have to learn kitesurfing and for that you take kitesurfing lessons.
Can you get on the water already?
During you classes Have you learned to get on the water independently? Doesn't it feel quite familiar yet? Bring an experienced buddy or book an extra lesson. Some kitesurf schools also offer guided kitesurfing. Ask for the possibilities. In addition, some schools but also the Dutch Kitesurf Association (NKV) expertise clinics or lessons. You never stop learning and don't hesitate to take another lesson if you need it.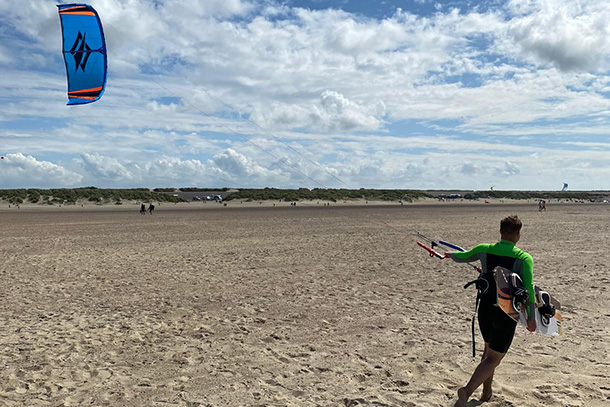 Do an extra spot check on location
You can read a lot online about the different kite surfing locations by the sea. This information helps to orientate you, but it is not always up to date. Beaches also sometimes have seasonal rules.
look at it instruction board from the municipality at the entrance to the recreation area. This gives you specific information and regulations about what is allowed and what is not. Also check out the sailing routes of other kite surfers. Is there a pattern in this because, for example, they always kitesurf in the same course? Then there must be a reason for this. Feel free to ask kite surfers who come off the water, what their experience has been or for advice. Ask them if there are important things you need to know, such as a row of poles in the water that you don't see at high tide but is there. Local kite surfers almost always have the best information. Make contact with a few other kite surfers together with your buddy. It makes kitesurfing more fun and it makes everyone more helpful.
Dealing with crowds
Crowds also affect the conditions in which you go kitesurfing. Crowds are an irritation of many kite surfers. And not unjustly, because many kiters close together can cause dangerous situations. Some pillars and tools to determine whether a spot is 'full' and to help you choose a quiet(er) moment.
Is there a webcam available from the venue? Then view it beforehand.
Is the parking lot full? Come back at a later time.
Despite crowds, always adhere to the (spot) rules such as zoning. When in doubt, it is often the best decision not to go, no matter how bad it will make you.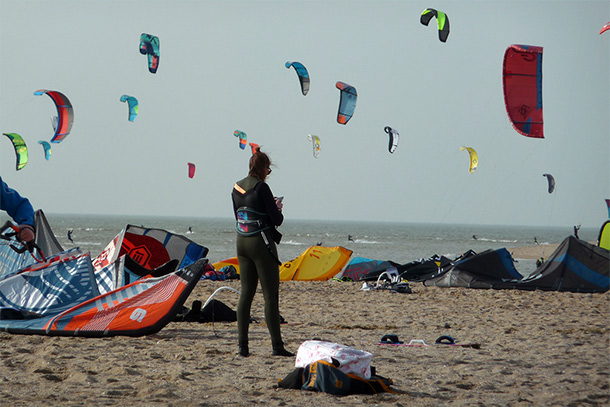 Checklist skills at and on the water
Prepare kitesurfing equipment. Inflate your kite at the right pressure, prepare the bar and lines in such a way that an experienced helper can help you with the release. Test and reassemble your quick release (safety system) without the kite being released. Place your kiteboard in a good location towards the water so that you can enter the water as soon as possible after launching your kite.
Launch and land the kite. Accidents regularly happen during this phase. Is the kite on the edge of the wind window when launching and are the lines tight? Aren't your lines crossed? Does your kite start in the direction of the water? No obstacles around you? Do you have an experienced helper with the kite and preferably also behind you in the beginning? Know the signal to land your kite (hand on head)? If the location is not spacious and starts with shallow water, you can even stand in the water when launching your kite.
Help others with launching and landing their kite. This always comes first and that's how you make friends quickly. You can immediately ask how it was with the wind and check the size. When helping, never release a kite without the 'OK' sign (thumbs up).
Being able to control kites. Keep your kite at the edge of the wind window and below 12 o'clock. This makes it easier to walk to the water and you will not be pulled up in a gust of wind. This can cause dangerous situations. After the gust of wind, there is a risk that the kite will end up in the middle of the wind ('power zone') and generate a lot of power. If your kite is on the side of the wind, your kite will remain more controllable after a gust of wind.
Body-dragging (also upwind). Especially in water where you can't stand you need to be able to body-drag in case you lose your kiteboard. If you are not sure yet, you can always start with this on a spot. Find a place where it is not too crowded.
Able to start water independently. If you go kitesurfing in water in which you cannot stand, you must be able to restart your kite independently if it crashes. This is an important condition. Practice this, if necessary in water where you can stand and lie down until you can.
Self-rescue. During your lesson you were full focus on the water start and happy with your 1st rack. But can you do a complete self rescue? The following applies here: practice, practice and more practice. In calmer conditions you pull your quick release and practice the self rescue. This way you know exactly what to do and you can react quickly if you get into trouble on the water.
Walk high. You may still be learning this. No problem. In any case, make sure that you don't end up too far downwind where there is no one to help you or even obstacles that prevent you from landing safely.
Knowledge of the priority rules. When you have just completed your first stretch, you can be so focused on yourself that you forget about the kiters around you. In any case, make sure you know the theory and act on it as best you can. This way you know when you have priority or when you have to grant it.
Pay particular attention when you turn or pause. As a beginner, you pause more often on the water, for example when you want to turn. The following applies to every operation on the water: first look back. If you suddenly stop with your kite at 12 o'clock it is more difficult for other kiters to avoid you. Always check first that no one is sailing behind you.
Good seamanship! Even if you have right of way, if you are able to avoid a collision without any problems, you should always do so.
3. Material selection, status and suitability
Do you have one set of materials? Then pay attention to the range of wind strength that your gear indicates. Within that range, it is safe to use those items. Are the weather conditions outside that range? Then don't go on the water.
The right kite
There are different types of kites. Check out the special page about kites. The type you choose to start with is a so-called 'Freeride' kite. That way you can learn it well and even if you can kite surf well, you can still do it well.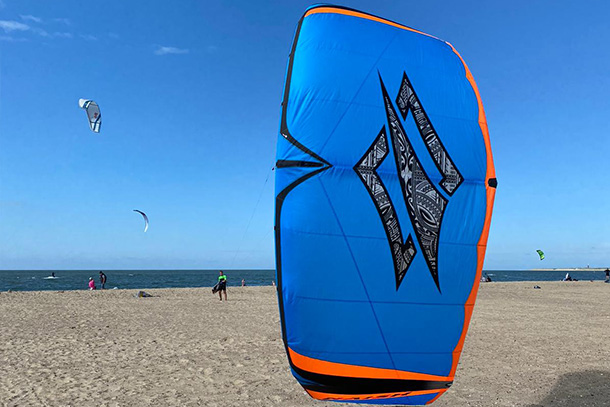 Right size kite – kitesurfing for beginners in the Netherlands
The different sizes are indicated in square meters. The size you take also depends on your type of kite, but also mainly on the wind strength, your weight, the size of your kiteboard and any current.
Rules of thumb for the right size kite
The harder the wind, the smaller your kite.
The bigger your kiteboard, the smaller your kite.
The heavier you are, the bigger your kite.
The more advanced you are, the bigger your kite.
The more current, the bigger your kite.
To give you a little more feeling about this, we have a overview table size kite developed. Please note, this is a general and indicative overview. It is based on an intermediate level kite surfer with a standard Twintip board. Let yourself be with the purchase of kitesurfing equipment always advise so that you buy equipment that suits your skill level. Also with what you go for on the water.
Always get advice from a kitesurfing shop or kitesurfing school about the purchase of kitesurfing equipment. This way you can be sure that you are buying material that is safe and suitable.
Choose the right kiteboard – kitesurf beginner
Just like with kites there are different type and sizes kiteboards. With a longer, flatter and wider board it is easier to get out of the water and get going. Ideal when there is very little wind. This is also pleasant on inland waters, where the wind is usually slightly less stable than at sea. In strong winds it is less necessary to get out of the water easily. Your kite really takes care of that. All the more important to be able to provide good counter pressure and thus be able to brake and steer more easily. A smaller board helps with that.
Status kitesurfing equipment in order
Apart from the above points, we have a number of skills that you should be able to and know for many successful and safe kitesurfing sessions.
Always check before you start a session whether your equipment is in order (lines undamaged, no knots, no tears in your kite.
Check safety mechanisms by testing them.
Check that your bindings on your board are properly adjusted and that you can get in and out easily.
Check your harness as a whole and specifically whether your safety leash is correctly attached and the blade is still present.
Also ask the person launching your kite to take a look at the kite and lines when they launch it. A pair of extra eyes prevents optical illusions.
Make sure your kite is sufficiently inflated (so hard that you can't bend the front tube easily in the middle).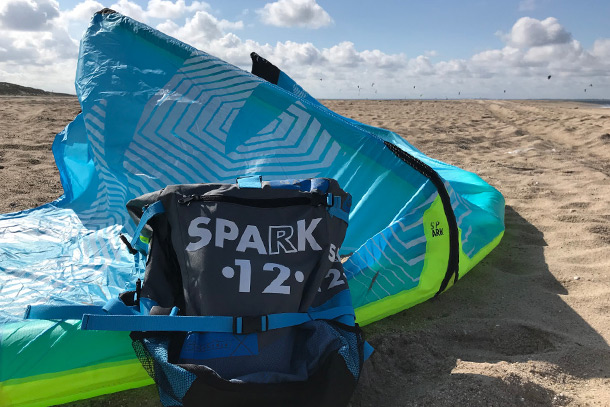 4. Conscious choice about safety
Safety is the most important aspect of kitesurfing. We have already given you a lot of important advice and reference information for this. However, something can always happen that creates an unsafe situation. Then you are sometimes dependent on help from others.
Important extra tips for safe kitesurfing
We are happy to give you a few more tips. We call it tips, but in fact we also think that these are skills that every kite surfer should master.
Never go kitesurfing alone, but with a buddy or take someone with you to the kite spot who is watching you.
If no one is present at a kitespot unknown to you and your buddy. Then think carefully about why this is and don't just go out on the water without having studied the spot.
Always go on the water with suitable material (safe, for your level and weight) and use this material within the indicated wind range and regulations.
pull a wetsuit that is warm enough for the moment. In the cold months don't forget your gloves, shoes, jacket and a cap (preferably colored so that the KNRM can find you faster in case of an emergency).
Label your material with your contact information. If you lose your board or kite, report this to the KNRM. Then they know you're okay if they find your material.
Is there an emergency, have you lost or found things? Then alert the Coast Guard via 0900-0111.
5. What to do if things go wrong
Kitesurfing for beginners in the Netherlands
On the water and on the side
When the wind blows harder and you are overpowered. Then steer the kite to one side and definitely don't hold it at 12 o'clock. Depower your kite so far that it remains controllable and gives as little power as possible. If you still have no control, steer your kite with its side in the water and activate your quick release (safety system). Activating the quick release is often seen as an 'emergency solution', but it is not. You can see it as a means to get power from the kite if you no longer have it under control.
If you are in trouble with another kite surfer. You can then try to get the kites free from each other together with the other kite surfer. Sometimes this is a matter of a kite surfer having to body drag a bit where the other kite surfer can pass under the lines. Sometimes, however, it is not possible to get the kites clear of each other or a situation of mistake after mistake arises. Be very alert and pull your quick release in time so that your kite is depowered and in principle it no longer catches wind.
Self rescue in case of material problems and complete loss of wind. During the lessons you learn a self rescue. Practice these even after your lessons.
Lines are stuck under the bar, around your leg or otherwise. It may be that there is nothing else to do than to cut through one or more lines with the blade on your harness. Make sure you can find the blade blindly and practice pulling the blade regularly.
You have been injured or need immediate help. Do not panic so that you can continue to make the best decisions possible. International is the hand gesture to indicate that you need help by continuing to wave both arms in the air. This attracts attention but not everyone knows the gestures. In any case, try to float to the side and get the attention so that you can be helped.
On the side when releasing. If you don't have the kite under control, pull your quick release and immediately warn bystanders of a falling kite. You are then only attached to the kite with your leash.
BROMFLY buddy check for all kite surfers
If we summarize all the previous information with a mnemonic for all kite surfers, we arrive at the KNRM's "BROMFLY buddy check". Before kitesurfers start their activities, they first carry out a number of checks before they can start kiting. Each letter represents a part to be checked.
The BROMFLY was invented by an experienced kite surfer who provides safety training. The KNRM is enthusiastic about this concept and has started to make this buddy check more widely known. Watch the video with world kitesurfing champion Youri Zoon and "Master of Extreme" Ruben Lenten in which the BROMFLY for kitesurfers is explained especially for kitesurfers in the Netherlands. Each part of the buddy check is clearly depicted.
What do the letters BROMFLY stand for?
Buddy
Kitesurfing is not something you do alone. Do you have a buddy with you so you can watch out for each other?
Release
A part within the equipment with which you can quickly release your kite. Does this work properly?
Obstacles
Obstacles are a major cause of serious injuries and fatalities. Look carefully at the obstacles in the area where you will be kiting
blade
Do you have a knife with you to cut lines if necessary?
Forecast
Check the weather forecast before you start
Leash
A part within the equipment with which you can quickly release your kite. Does this work properly?
Yes
Have you checked all parts above? And does it work? Yes! You can leave safely!
6. Conclusion kitesurfing in the Netherlands for beginners
The above is a rich description of the information and skills you need to know and be able to do. It's quite a lot and probably the most comprehensive you've ever read. We have done our best so that you can estimate whether you are a complete beginner. It is not the intention to make you insecure, but quite the opposite. We want to provide you with information and make you aware of the skills you need for lots of fun and safe kitesurfing moments. Both for yourself and for your environment. Apart from the fun and informative blogs, we want to offer a lot of information about kitesurfing on KitesurfPro.nl.
Support KitesurfPro.nl
Hopefully you appreciate our work. If you want to support us, you can do this by ordering a cool KitesurfPro.nl t-shirt or hoody. This is much appreciated.