Kitesurfing is one of the coolest sports on the water. You would like to kitesurf. How do you actually start with it? What do you need for it? Where can you learn it? At kitesurfpro.nl you will find all the information you need about kitesurfing. Even a complete manual. You've come to the right place for all the explanations, tips and hacks. The site is now also large. That's why we have everything you need to know about starting kitesurfing on this page. Kitesurfing for beginners! We start with a short frequently asked questions. Then we explain kitesurfing for beginners in 10 steps. Enjoy the ride!
Kitesurfing for Beginners FAQ
What is kite surfing?
Kitesurfing is a water sport where the kite surfer stands on a specially developed kiteboard (kitesurf board) and is pulled by a kite (kite specially developed for kite surfing). Kitesurfing is the most common name for the sport. Kitesurfer also means kiter or kiteboarder. Other common names for kite surfing practitioners.
Is kite surfing difficult?
Learning to kite surf is easier than ever before. Kitesurfing lessons have been given for over 20 years and kitesurfing equipment is getting better, safer and more user-friendly. The kitesurfing lesson training techniques and equipment have also taken off. You can read how kitesurfing lessons go here.
Is kite surfing dangerous?
Kitesurfing is as dangerous as you make it yourself. If you choose weather conditions and kitesurfing equipment that suits your skill level it is not dangerous. It is also clear to us that kite surfing is also a potentially dangerous and extreme sport. In stronger winds and a rougher sea, kite surfing can be very cool. However, the risks can also increase quickly. Read research results about injuries and the risks here.
Can I learn kitesurfing myself?
You do not practice kitesurfing yourself, but you learn that with the help of kitesurfing lessons. Kitesurfing lessons are a valuable and, in other words, a necessary investment. You will have a lot of fun if you later go on the water with your own kite surfing equipment.
How much wind do you need to be able to kite surf?
A nice wind force to start kite surfing, practice and kite surfing is between 14 - 22 knots (wind force 4 - 6). Very experienced kite surfers even go on the water at more than 27 knots (wind force 7).

With a super high performance foil kite and special hydrofoil kitesurf board, you can even surf from 5 to 6 knots. View the table which kite with which wind.
Where can you kitesurf?
There are more than 100 kitesurf spots in the Netherlands. This way you can usually find a suitable kite spot in every wind direction. For the answer to the question where can you kite, view the complete overview kite spots in the Netherlands. Also read the important information about how to check a kite spot for suitability.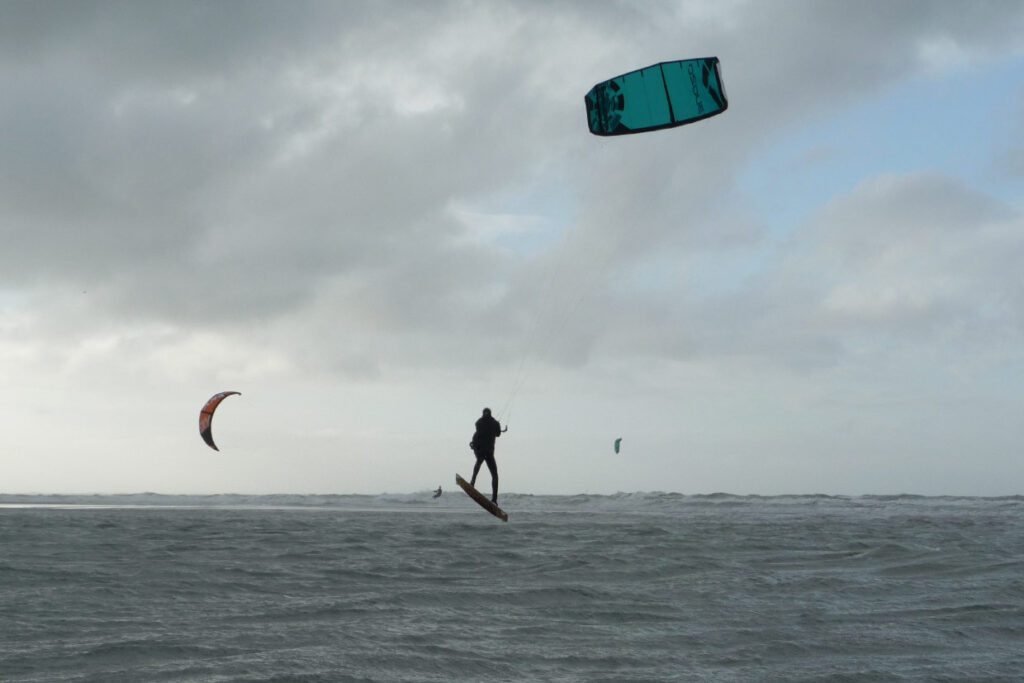 Kitesurfing for beginners in 10 steps
1. Take a kitesurfing lesson
Kitesurfing is not something to try yourself. Today, a lot of equipment is safe, easy to use and affordable. In addition, the large amount of freely accessible information on the internet sometimes gives the impression that self-study can go a long way. That's right, but you often do not learn to deal with the risks properly. Good control of a kite and really good learning to deal with the enormous forces is very technical. You must be able to handle that in order to kite surf safely. It can certainly be learned by taking lessons. Then your build, abilities and posture are carefully considered. It is really a necessary investment, but it will pay for itself in fun and a safe feeling on the water.
2. Decide whether you want private or group lessons. Or maybe even a kitesurf camp
You always have the choice between private lessons and group lessons. Groups are usually with 3 people. Group lessons are generally cheaper and you can learn by watching others. The downside is of course that as a group grows, you have to wait longer before your turn and you receive less personal attention. Private lessons are more expensive, but completely tailored to you. Do you want a boost of your skills in one go? Then a camp might be interesting. These are available for both young people and adults. You go out on the water for a whole week and thus become familiar with the sport and the equipment in a very short time.
3. Find a good kite surfing school
There are kite surfing schools throughout the Netherlands. It is nice and convenient to choose a school in your area or at the place where you want to go kite surfing after lessons. Then you learn how to best deal with the conditions at that specific location, such as twisting winds, currents and the other visitors to that area. Are there no schools near you? It may be that the kitesurf shop offers lessons. You can also take lessons abroad and make it a holiday. If you have the option of a kite surfing school with certified instructors this is recommended. For example by the International Kiteboarding Organization (IKO). The IKO was founded in 2001 and is concerned with the safe development of the sport. With international kite surfing rules and certification of instructors and aspiring kite surfers. A big advantage of an international kitesurf certificate is that you can rent equipment worldwide.
4. Become familiar with the kite during kitesurfing lessons
You start on land with a training or power kite. They are a bit smaller so that you can get used to the forces on the kite. You learn how to handle the kite, build up pressure and let it go again. If you are comfortable with that, you can switch to a 'regular' kite. You will then receive extra explanation about safety and the material. Typical topics that are discussed are: the shape, the material, how to inflate and how hard, how to set up and tie the lines. Then the real work begins: driving the kite surfing kite with everything that goes with it. This is all still on land.
5. On the water during kitesurfing lesson
Under the guidance of the instructor you go into the water with a kite but without a board. There you go bodydragging. Then you control the kite in such a way that it pulls you through the water. If this goes well, you will be given assignments to steer in a certain direction. The routes are getting more and more difficult where you have to control the kite at an increasingly difficult angle. You also need this skill during kite surfing. For example if you lose your board in a fall and you have to bring yourself back to your board. Body dragging often provides a cool feeling and a lot of fun. Although a sip of (sea) water is often unavoidable.
Is body wear okay? Then you start to start. You are now really going to try to kite surf your first meters. It may be that the kitesurfing instructor first practices with you on the beach to stand from a seated position (imaginary with a kite surfboard at your feet) when you send in the kite and dose the power. It is also possible that you will practice water start directly in the water under the guidance of the kitesurfing instructor. Do not worry if this does not work immediately or takes a long time. That says nothing about whether you will master this sport. From this point on it is a long haul. Practice, practice and practice again is the recipe.
6. Follow your kitesurfing course. How many kitesurfing lessons do I need?
The number of lessons you need can vary between 4 and more than 15 hours. Sometimes it goes faster because you already have experience with other water or board sports. Or does it take longer because you need time to familiarize yourself with material and really feel safe and comfortable. Ultimately, the point is that as an aspiring kite surfer you have the feeling that you can get on the water safely, the instructor recognizes that and you can kite surf back and forth for about 50 meters. It can be frustrating when you need more lessons for this than you previously thought. Keep your goal in mind and try to have fun during your lessons as well. I once taught someone for more than 15 hours and it was valuable and really cool over and over again.
7. Determine which kitesurfing equipment suits you
For novice kite surfers and returners it can be a challenge to find the right kitesurfing set or kitesurfing equipment to suit your skill level. That is not surprising, because as a rookie kite surfer or returner you often do not know exactly what you are looking for. The kite surf shops have almost always put together kite surfing sets especially for novice kite surfers and returners. These kite surfing sets are often also competitively priced as an offer. Enough inspiration to find. In addition, a call or visit to a kite surf shop is made in no time. Personal advice often works best. Another way to find out what you are looking for is to contact your kitesurf trainer. He has given you kitesurfing lessons and can tell you at the end of the kitesurfing lesson which kitesurfing set or kitesurfing equipment suits you. In addition, with their passion for kite surfing, they are often also ready to give you advice.
8. Purchase of kite surfing equipment
Proper equipment is essential for your safety and fun on the water. Wait to purchase materials until you have completed the lessons.
9. Practice, practice and practice again
Practice, practice and practice again. That starts with finding a suitable location. You can find locations on the website of the Dutch Kitesurf Association. As a beginner, search for:
Calm water. Make sure you are never alone, but pressure water with many others is also not convenient. You are often still busy with yourself, so you do not always have a good eye on your surroundings. And you have even less control of your equipment, which increases the risk of accidents.
Shallow water. Make sure you can stand there, but that it is not shallower than knee deep. Water that is shallower is very prone to injury to the ankles.
Water without currents and waves. You already have enough to worry about. Hopefully these two will come later.
A place with few or no obstacles in the water or on the shore. Obstacles downwind close to you is a no-go. By 'near you' I mean 100 meters. In gusty winds, you even have to increase this buffer to 250 meters.
Preferably a place with a sandy bottom. A bottom with stones, shells or, abroad, coral can be dangerous. Then make sure you have surf shoes to protect your feet and kite surf where it is deep enough so that you cannot injure yourself on the bottom if you fall.
Examples of suitable locations for kitesurfing beginners are:
- Brouwersdam
- Mirns
- Oostvoorne
- Schellinkhout
- Horst Beach
- Sand motor
10. Waiting for the perfect wind
A nice wind force to start kite surfing, practice and kite surfing is between 14 - 22 knots (wind force 4 - 6). You then have fine pressure in your kite, but it is not very wild yet. A favorable and safe wind direction. This applies to all places, but certainly by the sea:
Safest: side-onshore wind. The wind blows diagonally towards the side. You will then leave, but you will always return.
Less safe: side-shore wind. The wins blow parallel to the waterline. You can consider going, but be careful not to go too far. If you get in trouble, you float past the kite spot and not go there.
Sometimes safe: onshore / onshore wind. The wind is straight on the shore. You run the risk of being pulled aside if something goes wrong. Is it far shallow but deeper than knee depth? Then there is still a safe distance to the shore and you can sail.
Not safe: offshore / offshore wind. The wind blows away from the shore. This is a no-go. Because if the wind is too strong or something goes wrong, you will be pulled off the side. It may become impossible to come back.