DThe motivation for kitesurfing is from 1999 never extinguished. Learning to wingsurf and wingfoil, however, also had to happen. The goal is to learn how to wing foil. Anyway, that starts with wingsurfing, of course. Hence this wingsurf blog in which we show our progress in learning to wingfoil. I often spend an hour on the water and have little windsurfing experience. Watch how I became a wingssurfer or wingfoiling. If you want to read more, check out our learning wingsurfing and wingfoiling pages.
Day 16 – Wingfoil Bingo!
This time the wind came from the north-northeast (NNE) and was blowing over the water at about 16 knots. The Brouwersdam looked beautiful and I was certainly not alone in the work harbour. It was nice to see the progress of other wing foilers. I also recognized that sometimes I was just a little further along than others who were learning to wingsurf. Moreover, it was fun with some boys and girls from the old guard of kitesurfing.
Reflection: been too ambitious
As you can see I don't have a report of days 14 and 15. Nevertheless, a lot has happened. So I had to come back from my choice. After day 7, when I could do some wing foiling, I switched to my own material. From a 140 liter wingfoil board to an 85 liter board has turned out to be too big a step. I did get on the foil regularly, but it was so heavy. Especially when there were waves. During the wingfoil clinic and demo day at Brunotti Beachclub my eyes were opened by the present representatives Mark (Duotone, Fanatic and Ion) and Rogier (Naish and ProLimit).
So I had to come back from my earlier choice. From a 140 liter wingfoil board to an 85 liter board has turned out to be too big a step.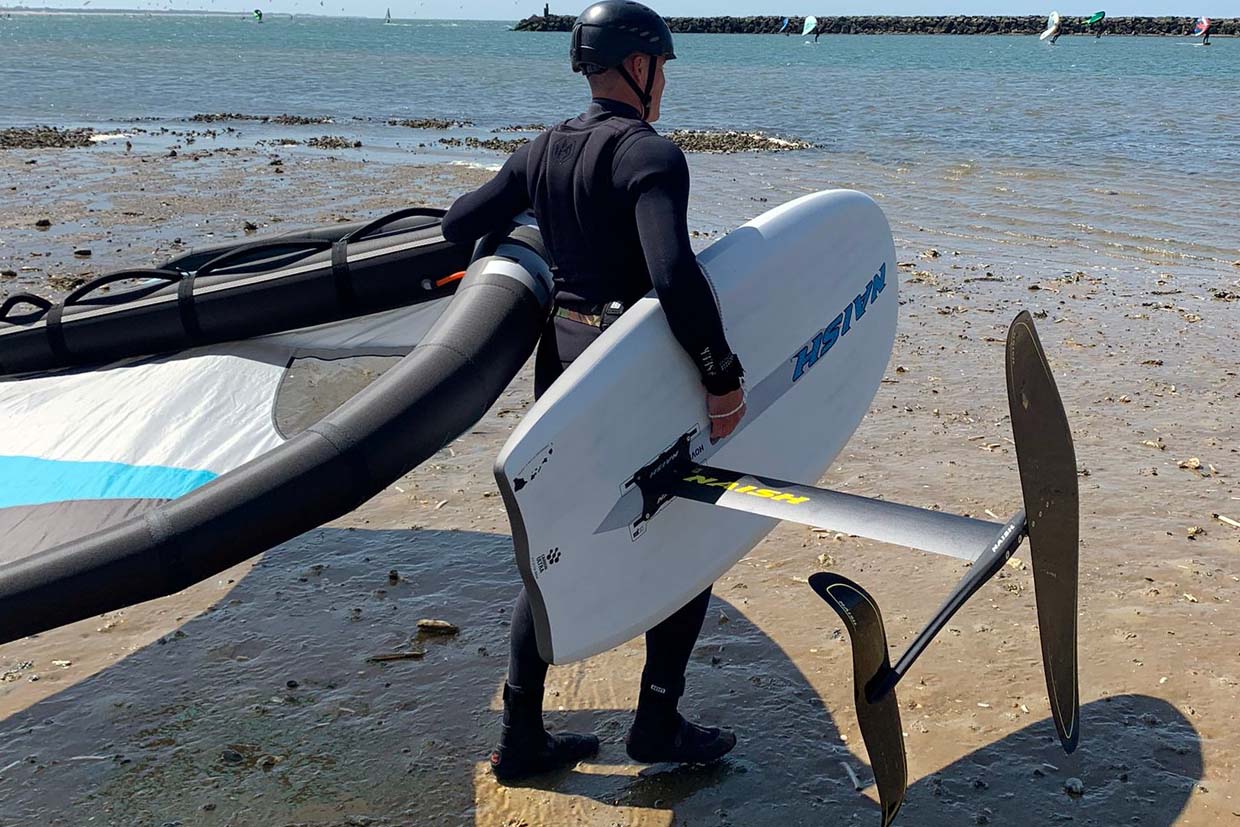 Bigger board and other foil
No sooner said than done. I bought a 110 liter board with a 1650 cm. foil. In addition, a fuselage of 64 cm. and a 75 cm mast. So from 85 liters back to 110 liters.
Wingsurf session features
wind
16-19 knots
Location
Brouwersdam
Time on the water
About 1 hour
Wing surf board
Size: Naish wing foil carbon 5'10"
Volume: 110 liters
Wing surf foil
Size: Naish Jet 1650
wingsurf wing
Naish MK4: 5 meters
Wingfoil session characteristics table
Wing foiling? Sure, now it was bingo
You will never guess. I hoisted myself onto the new board with a new wing in my hand. So everything new. From the position on my knees then stand up, pump twice and there I wingfoiled high above the water and took off in no time. How cool is that! We know me know that moments like this are accompanied by shouts of joy. So also this time. 😉 We always managed to get on the foil. Next time I hope to have a little more space so that I can wingfoil long stretches. All in all, a golden opportunity to go back to a 110 liter board. Take advantage of it and don't start with a board that is too small with little volume. The fun of wing foiling is back! Thanks Mark and Roger!
Day 13 – Number of slices of wingfoild
With a northeasterly wind of about 15 knots and a sun, the Oostvoorne lake looked beautiful. Still a bit gusty on the side but on the lake the wind as we call it was good 'on'. I went into the water with two other wing foilers nearby. It went a lot better again, with the result that I was able to wingfoil a number of times about 150 meters or even more on the foil.
Once on the foil, you glide silently over the water. Well not quite, because once on the foil I heard the wind howling along the mast while wing foiling. How cool is that!
I would finally get the hang of it now. We'll see next time. Then I will also film a bit.
Wingfoil session details
wind
15-25 knots
Wind direction
Northeast
Location
Oostvoorne lake
Time on the water
About 1,5 hour
Wing surf board
Size: Takuma 5'8″
Volume: 85 liters
Wing surf foil
Reptile R-Foil: 2500
wingsurf wing
Naish s26: 5.3 meters
Wingfoil session characteristics table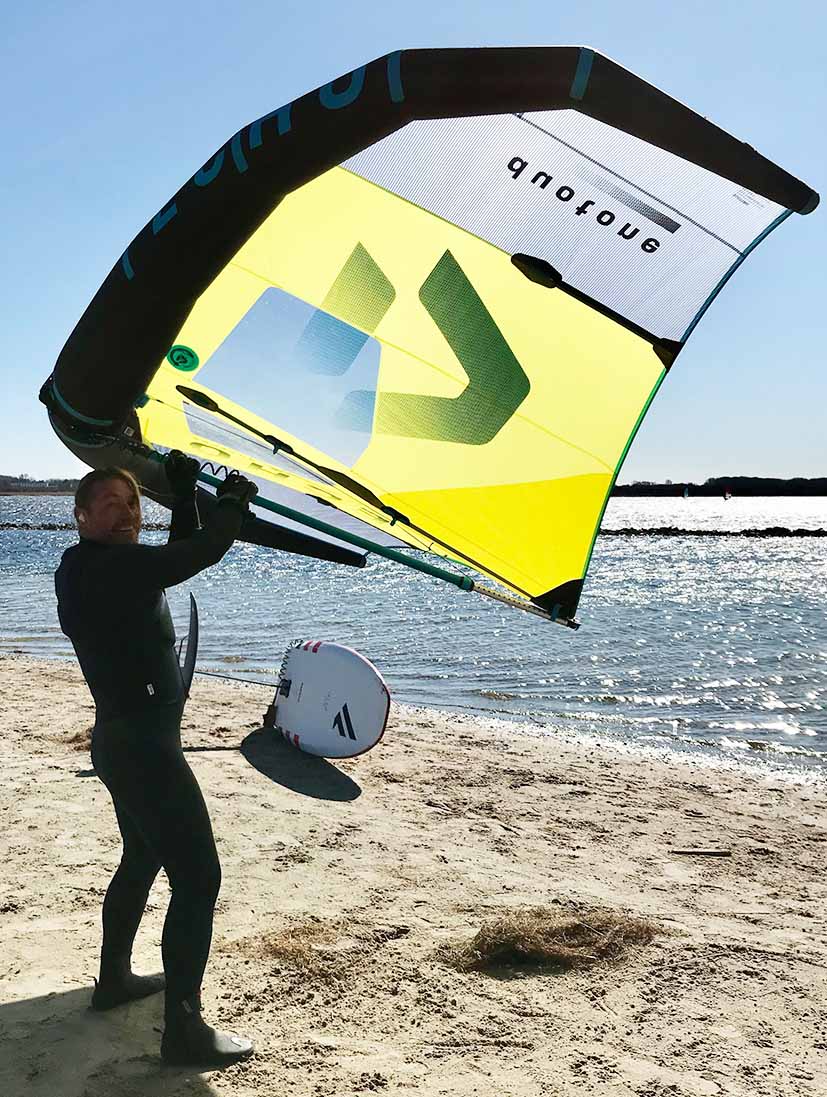 Reflection volume wingfoilboard
What continues to disappoint is stability on open water. The water is then wilder with some swell under the water. My 85 liter wingfoilboard just floats with my 87 kilos. The foil of 2500 also moves quickly so that I sometimes find it difficult to get on the board. As a beginner, a larger board would be a bit more convenient, I think.
Day 12 - Learn wingfoil
It had been two months since I last learned to wing foil. After session 10, about which you can view more below, I started practicing again on the Brouwerdam in the working harbor. That was with quite strong wind for my 5.3 meter wing. Learning to wing foil gave me a good feeling because I could always surf a bit on the foil. Today it was time for session 12 on the Oostvoornse lake.
Wingfoil session details
wind
16-25 knots
Wind direction
South-Southeast
Location
Oostvoorne lake
Time on the water
About 1,5 hour
Wing surf board
Size: Takuma 5'8″
Volume: 85 liters
Wing surf foil
Reptile R-Foil: 2500
wingsurf wing
Naish s26: 5.3 meters
Wingfoil session characteristics table
Didn't feel like 2 months ago
Fortunately, the memory in my body to get on the board and stand was still there. I noticed that I am much more agile here already. On open water this was difficult with wave action. The large foil under water moves easily with the waves and then keeping balance becomes an art in itself for me.
Wingsurf friend Robert went like a spear
My wingsurf friend Robert went like a rocket. Where I had mainly gone kitesurfing in the past two winter months, he had continued the wing foiling. The result was easy to see. So I saw Robert not only beautiful wing foils. I also saw him jibe on the foil. Splendid!
Harvest wingfoil session 12
I've been on the foil a few times. This means that you come out of the water with the wingfoilboard and wingfoil on the foil. 20, 30 40 meters… That was about the distances. Of course I had hoped for more. However, the harvest was not disappointing. I'm one step further with learning how to wing foil. In addition, it was again a wonderful sports moment.
Day 10 – Finally agile and on the foil with the 85 liter board
With an outside temperature of 4 degrees and a water temperature not much higher, I was there early to go wingfoiling. Of course this is cold. However, the wind was slightly milder and so was the water on the lake. In addition, I was alone and therefore extra careful. That means wearing a helmet, an impact vest and first gaining confidence in a bowl. So not yet directly onto the open water where the wind was blowing side-shore (parallel to the side). I also got some winter hail showers over me and discovered that a wing can be used as an umbrella.
With scabs still on my knees as a result of the two previous sessions of wingsurfing in which I fell countless times, I went back out on the water with my new 85 liter board in good spirits. That immediately went a lot better. In the calm water I was now able to get onto the board very agilely and quickly. This did not work well on open water with heaving waves.
The result of the day was that I learned to pump better with the wing and I stood on the foil a few times. Not even tens of meters or stretches on the foil wingfoiled as before with the 145 liter board. Nevertheless, I got better again and I am convinced that I have to persevere before I can call myself a wingfoiler again.
Day 9 – New day of wing foiling, good experience
As you can read below, day 8 was a struggle for me. Like I had to learn to wingfoil all over again. This is because I went out on the water with my own wingfoil set for the first time. I made the switch from a 142 liter board to an 85 liter board and it was a while ago. Due to the holiday and the weather, I had the luxury of going back the next day.
Wingfoil session details
wind
15-25 knots
Location
Oostvoorne lake
Time on the water
About 1,5 hour
Wing surf board
Size: Takuma 5'8″
Volume: 85 liters
Wing surf foil
Reptile R-Foil: 2500
wingsurf wing
Naish s26: 5.3 meters
Wingfoil session characteristics table
Robert squirts off on my wingfoil set
Arriving at the water I saw Robert doing beautiful things on an inflatable board and F-one set. We started talking and in the meantime I had set up my board. Robert wanted to do a few more runs and I offered to use my board for a while. He wanted to and he liked it surprisingly well.
That also gave me a good feeling: it is certainly not the fault of my new board and foil.
Hey, back on the foil
Where I couldn't keep a balance yesterday, I suddenly succeeded very well today. So getting on the board went well again. In doing so, it is possible to wingfoil a small piece on the foil a number of times. Very cool and that gave me a lot of courage.
Day 8 – From 140 liters to an 85 liter wingfoil board
It is January 2nd and I continue my adventure to start wingfoiling. It's been 7 months since I started working on this. In the past few months I have mainly been kitesurfing in my spare time. After renting equipment, I gathered my own wingfoil set at the end of December. That was a challenge because what kind of board and foil do you buy? For example, I rented a 142 liter board with a 2500 cm foil. Big stuff, but I've been getting better at that the last few times. As a result, I occasionally even wingfoiled about 100 meters on the foil. So ready for the next step!
Wingsurf session features
wind
19-30 knots
Location
Oostvoorne lake
Time on the water
About 1,5 hour
Wing surf board
Size: Takuma 5'8″
Volume: 85 liters
Wing surf foil
Reptile R-Foil: 2500
wingsurf wing
Naish s26: 5.3 meters
Wingfoil session characteristics table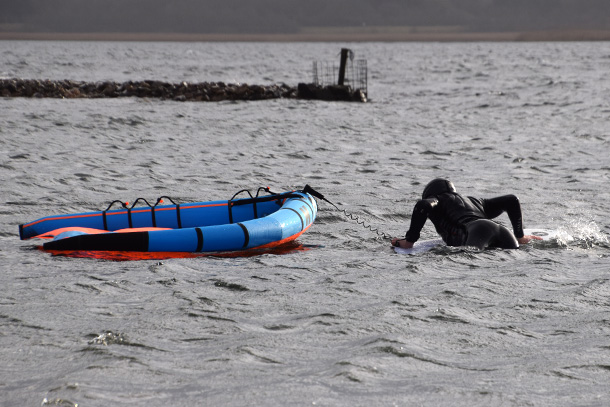 Anyway, such a large board would quickly become too cumbersome. With my 85 kilos, a 95 liter or 105 liter board would have been ideal to purchase. Read more about the right size wingsurf board. 10 to 20 liters more than my body weight in kilograms. You could go on with it without getting bored quickly. My quest ended with an 85 liter board from Takuma that I found at Decathlon. My budget did not allow for more expensive and so I bought a very nice new board for less than 600 euros. It couldn't be cheaper, not even second-hand in the winter months. The foil is size 2500, so still big.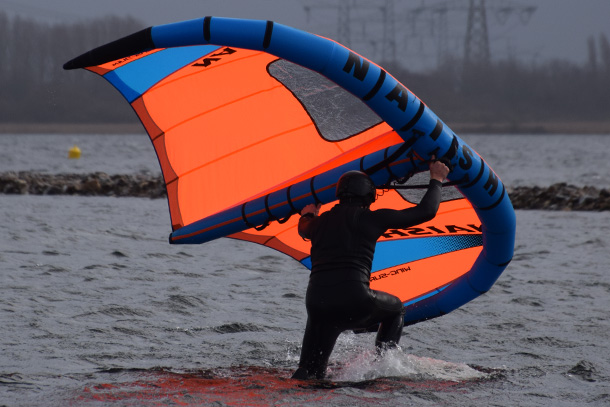 Although I knew it would be a leap of faith now that I switched from a 142 liter board to an 85 liter board, it was still disappointing. Not only a jump in the deep end but also a lot of splashes in the water.
Balancing on the smaller board was a real problem. Once on the knees and then standing up was an even bigger challenge. Again with a lot of splashes as a result, but at a certain moment it worked well and that gave confidence again.
I must confess that I did not once rise out of the water and wingfoil on the foil. While wingsurfing, the search for balance, both over the length and the width of the board. When I was out of balance, I was immediately punished. I missed the 142 liter board and after the session of 1,5 hours I realized that I still find wing foiling a challenge to master.
You read it already. This was not my best experience. Whether it is a matter of getting used to and persevering with a small board, or whether I was wrong will become apparent. I think the former and will let you know soon.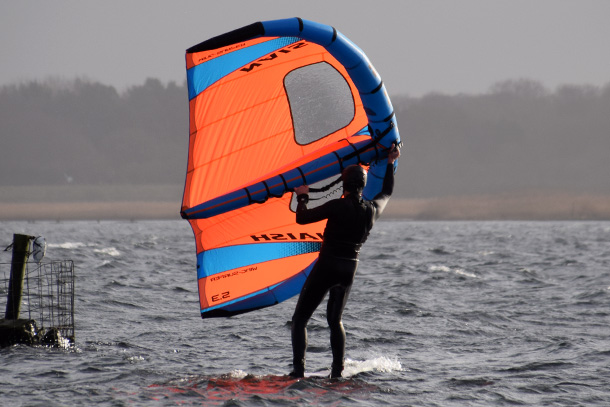 Reflection wing foiling versus kite surfing
Kitesurfing was easier for me to learn because the aspect of balance hardly plays into it. Kitesurfing is more hanging on and giving back pressure from the start. Windsurfers and kite foilers therefore have a big head start when learning to wing foil. In addition, I already had more experience with kite flying when I started learning kitesurfing. Also, I am not very flexible. For example, to get up when wingsurfing, some flexibility is not an unnecessary luxury.
Okay, end of lament, I thought: "just turn the switch and continue and do some more extensive stretching at home after jogging. Even with an 85 liter board I quickly hit the water."
One thing is certain. It was another great sports moment. Tired and satisfied I went home. In addition, it was also kind of cozy. I went just met a nice windsurfing family. I thank the mother of the family for the photos.
Learning to wing foil ahead
I hope to master wingfoiling completely in the coming months and keep blogging about it. This week I will also discuss the costs of wing foiling. So come back again if you're interested.
Day 7 - Learn wingfoil
My last time learning wing foiling was in November. So it has been 5 months since May that I have been on the water with a wingsurf set. The weather was not great. Wind between 16 and 23 knots with occasional showers. I found the water in the lake quite doable. Anyway, I surfed all winter. As a result, a temperature above 10 degrees already feels comfortable to me. Of course with one good wetsuit, because it provides good insulation.
Even though it was raining today, there were more wind sportsmen on the water and that made it a lot more fun.
Wingfoil session characteristics
wind
16-23 knots
Location
Oostvoorne lake
Time on the water
About 1 hour
Wing surf board
Size: Fanatic 6'11 "
Volume: 142 liters
Wing surf foil
Fanatic Aero Surf Foil: 2500
wingsurf wing
Duotone Echo: 6 meters
Wingfoil session characteristics table
What stood out? The seventh hour of learning wingfoil
What immediately struck me was that in terms of level I could continue with learning wing foiling where I ended 5 months ago. As can be read on day 6, the last time it was possible to wing foil around 100 meters a number of times. By this I mean that the board is lifted out of the water and you can surf on the foil. I went well over this now.
I also noticed that I need some wind. The pumping with the wing and the board is not working properly yet. As you can see, I do not yet have the flexibility to get the board out of the water by means of pump movements to be able to surf on the foil. That is why I used a 6 meter wing. With slightly stronger winds and gusts I noticed that once you are wing foiling, the 6 meters is quickly too large and unwieldy.
My intention is to start wing foiling without foot straps next time. My impression, and this was confirmed with feedback online, is that for me at the moment foot straps hinder. By standing in the foot straps, I keep the board, and especially the foil, less flat, so that the foil will unintentionally steer and I lose control.
In addition, it really felt like a wonderful sports moment on the water. I think learning something new like wing foil is really cool. Especially now that it's starting to work. I also love to exercise on the water. Learning how to wingsurf or how to wingfoil felt like a great work-out. On to next time as far as I'm concerned.
Day 6 - Learning wing foiling
For the first time a number of times about 100 meters on the foil wingfoiled. That was cool and my cries of joy reverberated across the lake. 😉 As always on the lake, the wind was gusty and about 19 knots (force 5). Windsurfers were sometimes fully in plane, sometimes also bobbing.
Learning points wing foiling day 6
Once lifted above the water by the foil, I immediately noticed an acceleration. At the same time, I was super concentrated to feel the foil. Precisely because foiling is completely new to me and you surf completely on the foil at a certain moment. I tried to keep the foil stable so that the board remained horizontal above the water. Sometimes I had so much speed that I could not keep the foil flat. Then he came out of the water and I immediately slowed down hard. Sometimes with the result that the nose of the wingsurfboard then ended up in or under water.
I also noticed that the 2500 foil is not that manoeuvrable. Once not on track, it was hard work for me to correct him.
Aztron and Fanatic wingfoil boards
Coincidentally, after my session, I was pointed to a new wingfoilboard from Aztron. This was still an unknown brand to me. A completely different and somewhat slimmer wing foilboard than I am used to now. The foil is also a lot smaller: 1450 instead of 2500 with which I am now learning. Something for me to look forward to when I get the hang of it. How cool would it be if you could make nice turns and go out to sea. Very cool.
Day 5 - Learning wing foiling
From today I am learning wingfoil. Learning wingsurfing has been successful. And by… Wing foiling is really next level. At least that's how it feels now. This time the wind blew through. On advice I went out on the water with the 4 meter wing. That was nice. Such a small wing is easy to handle and forgiving in stable wind. You can see that I keep getting out of the water, but I can't stand still.
At this point I am learning to surf completely on the foil, which is under water. I don't have much feeling for that yet. My estimate is that from now on it is practice, practice and practice again. I must honestly say that I am already quite satisfied that after 5 hours of wingsurfing I am already so busy with the foil. I am also surprised what peace does. So far I have made a huge leap forward between each session.
Wingfoil learning day 5 notes
Onshore wind is not pleasant with kite surfing and can be dangerous due to obstacles downwind. With wing foiling you run less risk of being dragged downwind. That's a nice idea.
However, as I wrote earlier, I often mistake how deep the foil is under water. Even with a 65 cm mast, which is still relatively short. Once stuck on the bottom you have to go back into the water. That means swimming against the wind with an onshore wind with your wing foil set. This is easy to do with little wind. However, this is hardly possible in strong winds. The large wingfoil board keeps catching wind and pushes you back to the side. In this case on the lake back on the stones.
Cosiness on and near the water
What I also like is the scene. I parked my car next to another wing foil that I had seen and spoken to before. That clicked and even on the water I got tips shouted at me. The people at the surf school, where I rent the equipment, know me well and are never afraid to give tips. They also keep an eye on things. They must be laughing at my fumbling… I understand they have given me a nickname too. Just you wait ladies and gentlemen. The moment I cross the water as Robby Naish is near.
Day 4 - Wingsurfing is going well, wing foiling is not yet ...
For the fourth time I went out on the water with a wingsurf set. Another hour. Last times I had brought my kite surfing set, this time not. So only with a wetsuit and neoprene shoes on the road. That felt strange. My experience is that renting wingsurfing equipment is not such a stupid idea. You arrive, register and the material is ready while you change.
The wind was predicted harder and on a lake it is different in my experience. Now it was gustier than expected and the wind was noticeably less than at sea. While the sea was only a few kilometers away as the crow flies. Anyway, we're not going to blame it for my fumbling again right away. Certainly not, because it went great!
Learning points day 4 Learning wingsurfing
I did not fall once again when stepping out. How cool is that. I was also good at running heights. So I got back where I came today or even a bit higher upwind. That gave confidence. So the wingsurfing was already great.
But… We are going for wing foiling and then the hydrofoil hydrofoil has to lift you out of the water with mast, board and all. This happened again a number of times. I got out of the water four times and I even wielded about 10 meters. I also practiced a lot with pumping. I was advised to pull the wing towards me at the same time as I bend my knees while pumping. Pumping is necessary in less wind as a boost to be lifted out of the water.
Day 3 - Learn how to wing surf and wingfoil
Hoppa! Still muscle pain from yesterday but we went for it again. Getting up and wing surfing went much better. I fell much less than yesterday. The wind was again around 20 knots on the Oostvoornse lake. The foil lifted me out of the water four times during this session. That was very cool, but at the same time shocking, because what do you do then. In my case, the point of the board came up immediately, resulting in a big splash.
What stood out?
It went much better and the foil lifted me out of the water four times. Learning to wingsurf suddenly became learning to wingfoil. Cool! Jasper from the surf school Brunotti Beach Club had been keeping a close eye on me. Not only for fun but also to give some tips.
The most important tip was that if the foil starts to lift you, you also have to get the foil horizontal again. This can be done by making a kind of pumping movement but stabilizing it too horizontally so that you get out of the water. Just press on your back foot and lift your front and then try to get the pressure evenly in time. This way, the foil remains horizontal while only surfing on the wing of the foil. On to the next time.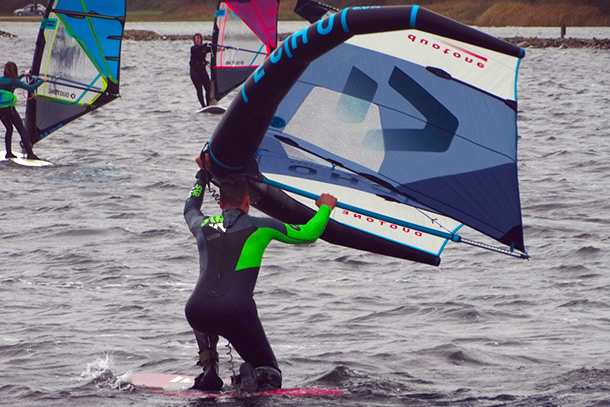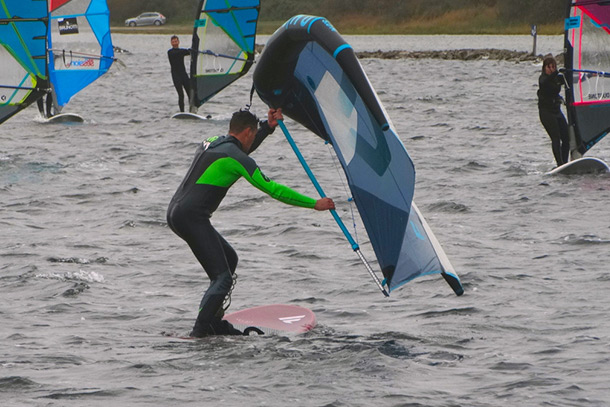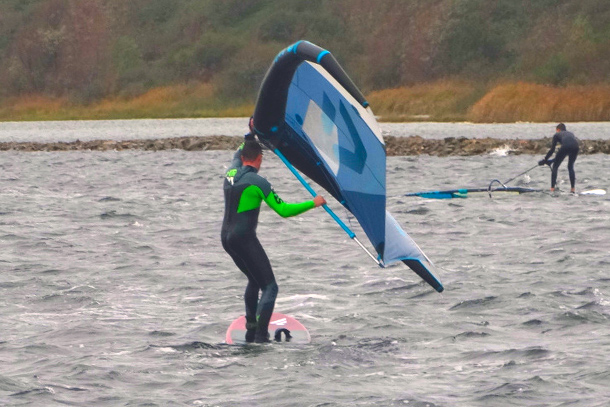 Day 2 - Learn how to wing surf and wingfoil
For the second time we rented a wingsurf set. Costs again 35 euros per hour. The wind was around 21 knots. I used a 5 meter wing. Getting up went a lot better than last time. However, I fell countless times before I even moved one meter forward. I did have a bit of wiggle surf a few times, but not lifted out of the water by the foil.
Food for thought after day 2
Learning wing surfing and wing foiling is a great workout if you like sports and water. It probably didn't look performance-wise, but it felt great for the rest of the day. Even though I was learning how to wingsurf on a lake, the 'wave' hindered me getting up and getting going. Onshore wind also meant that I had to swim into the water every time to have sufficient depth and distance to the shore. Basically, my experience is that you need more depth than you estimate. The foil is quickly on the bottom or fouling close to the bottom. With onshore you are also quickly back to the side in the beginning.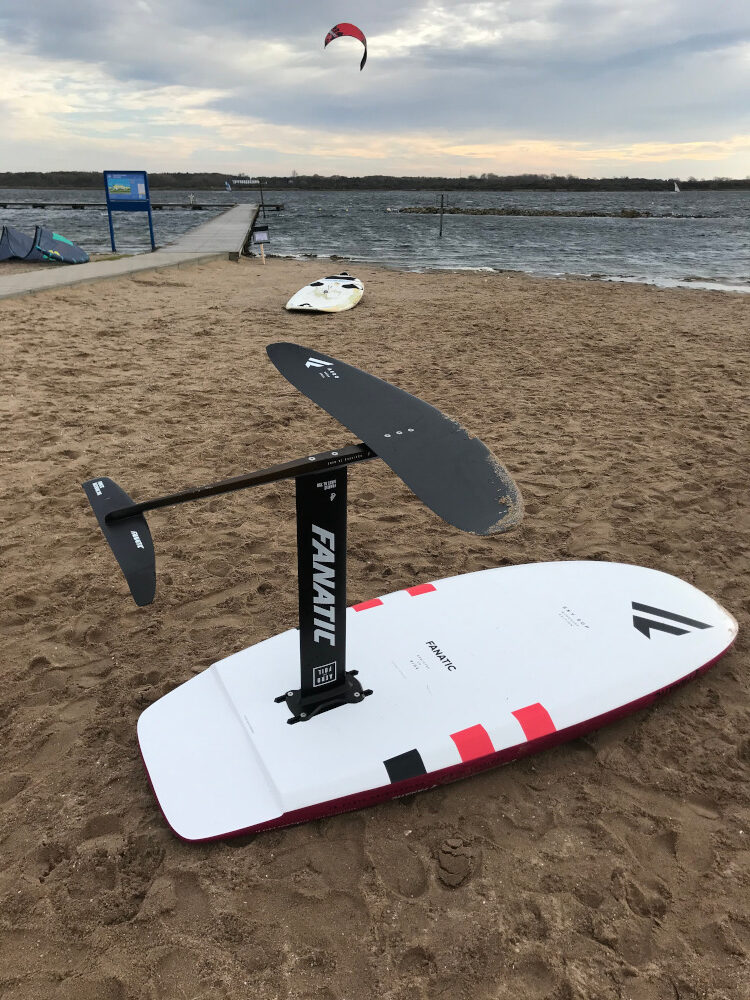 Day 1 - Small splash, big splash ...
We rented a wingsurf set for the first time to learn how to wing surf and wingfoil. Correct yes. The wind was around 20 knots. After some explanation on the shore, we swim into the water for a first experience. It's an hour of trial and error. An hour of small and big splashes. But we stood for a while. Of course we were not lifted out of the water by the hydrofoil under the wing foilboard. I started with a 6 meter wing but later took a 4 meter. This is to easily get the wing under control. A 6 meter feels like a big wing and a bit more unmanageable.
To take lessons or not? Learn to wingsurf
I have chosen not to take a wingsurf lesson. My experience with kiting, kite surfing and a little bit of windsurfing is present and current. In addition, I rent a wingsurf set and go directly on the water at the rental center. The short and concise explanations of the people at the rental center helped me to understand some basic things. This prevents unnecessary experimentation and unsafe situations. I also need help choosing the right wingsurf set.
If you have no experience with water and / or wind sports, then taking wingsurf lessons is a must for me. Wingsurf lesson will also speed up your learning process enormously. Wingsurf lesson is often offered through wingsurf shops en wingsurf lesson schools.
What stood out?
With wingsurfing and wing foiling you use a leash. Both for the board and for the wing. After all, the board is so big that it can drift very quickly if you fall off it. You must be able to keep the wing with you and hence a leash on the wing. What was also striking is that the wing and the foil seem to look for each other. Caution is advised, because the foil is fairly sharp and it would be a shame to damage the wing.
Learning wingsurfing: movie very first time
On this page you can see my progress in learning wingsurfing and wing foiling from day 1. My ambition is to master wing foiling so that I can also call myself a wing surfer. Or pop like Robby Naish there is also in it for me you will see in my updates in the coming period.