After 1 year of wingsurfing with the Naish Mk4 it is time for a review. With the Naish Wing-Surfer Mk4, as Naish officially calls the wing, I have only really learned how to wingsurf or wingfoil. You can read and view my findings in this review.
Start with wingsurfing or wing foiling?
Wing foiling your dream? Very good, because it is a cool water sport. You can read in the special how I learned to wingfoil and what lessons you can learn from it learn to wingfoil. Also view the explanation of wing foils, which is now complete handbook wingsurfing is.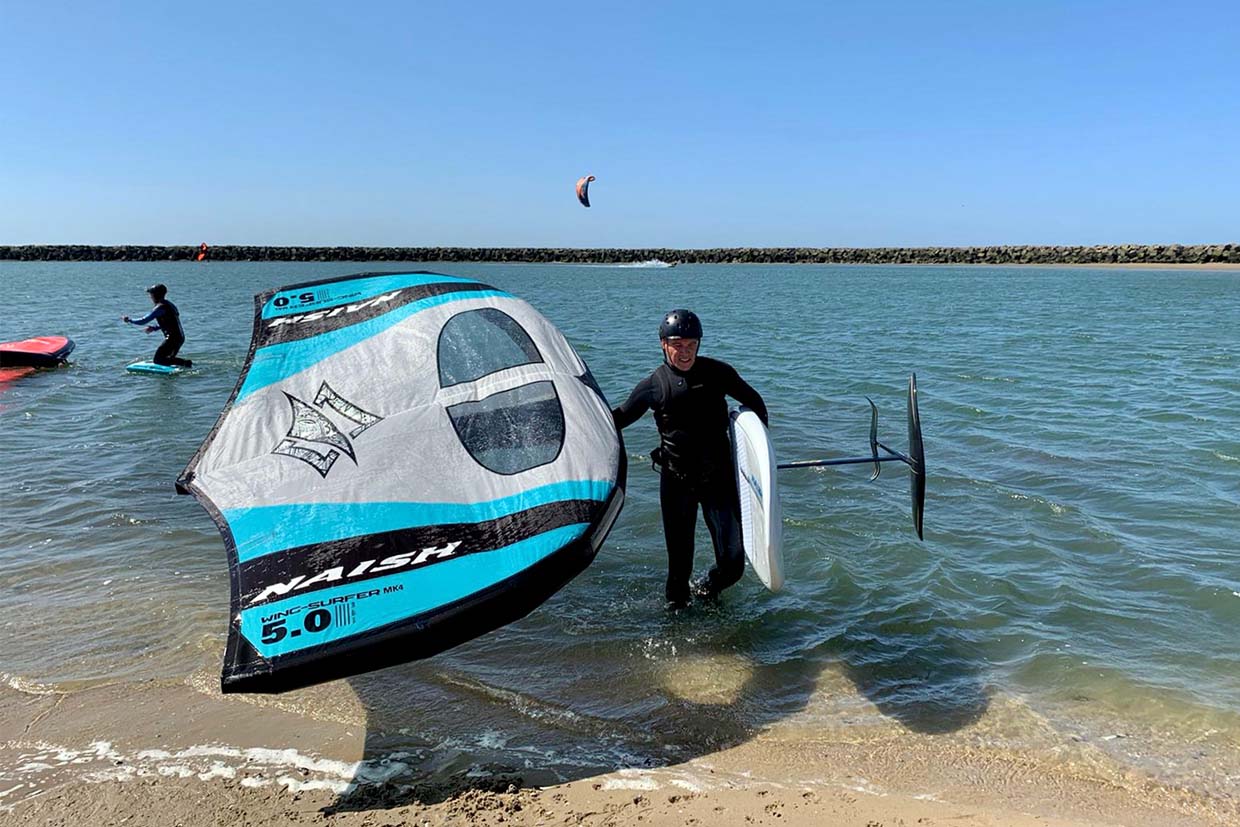 Naish Mk4 review: quality
We only briefly consider the qualitative aspects such as the quality of the fabric, the construction, the weight, etc. naish is a so-called A-brand among the wingfoil brands and you can expect that these things are 100% in order. I noticed the following about this:
Windows to look through. The wing has fairly large viewing windows. I experienced this as nice because it sometimes gave that little bit of extra image and that ensures safety. You don't want to think about colliding with another wingfoiler.
Valve on the standing strut. The large strut that reached to the bottom of the canvas is a big one. Inflating is possible with the one-pump system. If you want to quickly pack up and go after your session, the extra valve helps to quickly deflate large struts.
Full-length handles. I also liked the 3 ergonomic handles that practically cover the entire length of the strut. This way you never miss a beat and you always have room for the perfect setting for your hands.
Strongly executed. The wing is strong. For example with the so-called 'Quad-Tex' spinnaker, kevlar reinforcement points on worn spots and extra attachment points for a trapeze. I have had no damage to the Naish Mk4 wing and still used it intensively.
View the Naish Mk4 review about the sailing characteristics below. But first a nice video.
Naish Mk4 review: sailing characteristics
Accessible wing
I think the Mk4 is an easy and accessible wing. I weigh about 87 kilos and had one wing to purchase. My plan was to stay with stronger winds the kitesurfer and wing foiling in less wind. For me this is between 14 and 20 knots. For this I bought a Naish Mk4 5.0 and that turned out to be a good choice for this wind range. Inflating is easy and fast and storage is the same.
Very good upwind performance
Both the low-end and high-end performance are fine. What I noticed is that you can walk very well with the Mk4. Even with less wind in which to foil I always came back where I came today. With a little more wind force in the wing I always flew against the wind. Sometimes so much that I could consciously start playing with the waves and the water.
Fine in the corners
I have experienced the Naish Mk4 wing as a great way to learn how to foil. You can read and see that in this Naish Mk4 review. This while it is not necessarily a beginner's wing. The wing gave me peace and confidence, so that I quickly learned how to foil on the foil.
Conclusion Naish Mk4 review
As you can read I am happy with the Naish Wing-Surfer Mk4. You see wingfoilers jumping high and doing cool tricks. However, I'm not there yet. The 5.0 has proven to be a good size with my 87 kilos as the only wing in winds between 14 and 20 knots. I have experienced the quality as very good, both in terms of durability of the material and performance. The Mk4 is very accessible and friendly, runs very well in height and can be dosed and steered very well. Even when the wind blows a little harder.