Welcome to this Ocean Rodeo Roam review. I love testing and writing about kitesurfing is for me a crown on kitesurfing itself. This gave me the opportunity to test the Roam in the Aluula version: the so-called Roam A-Series. A kite that Ocean Rodeo labels as Freeride Foil Board and Wave kite. Through Oceanrodeo.eu I read that the freeride properties also had to be top. I also know that wave-type kites are generally very nice to experience and learn kiteloops. No sooner said than done: I went for one freeride session with the Roam.
Also interesting: This is how you learn a kiteloop
Conditions Ocean Rodeo Roam A-Series review
I had a 10 meter Roam and the wind was about 16 knots with gusts up to 19 knots. In addition, I weigh about 87 kilos and that is still two kilos too heavy for my liking. 😉 As a kiteboard I used the Naish Drive 138 x 41,5 cm. I go more often in this wind these days wingfoiling then kitesurfing or I traditionally grab a large kite. For example a 13,5 meter. So it was a real test to see what a 10 meter 'Formula 1 kite' would do in these conditions. I can tell you that I was very positively surprised. First some background information.
Formula 1 kites
Aluula is the secret behind the best kites in the world. We just call it Formula 1 kites because that's what they are. Kites equipped with Aluula have an extremely good strength-to-weight ratio that benefits the properties of these kites. These and other technologies also make a kite very expensive. Of course, not all of us drive a Formula 1 as a car. Kites without Aluula are also developing and are good for perhaps 95% of all kite surfers. And also a lot cheaper. There is also an Ocean Rodeo Roam in a normal and still very good version. This is almost 30% cheaper.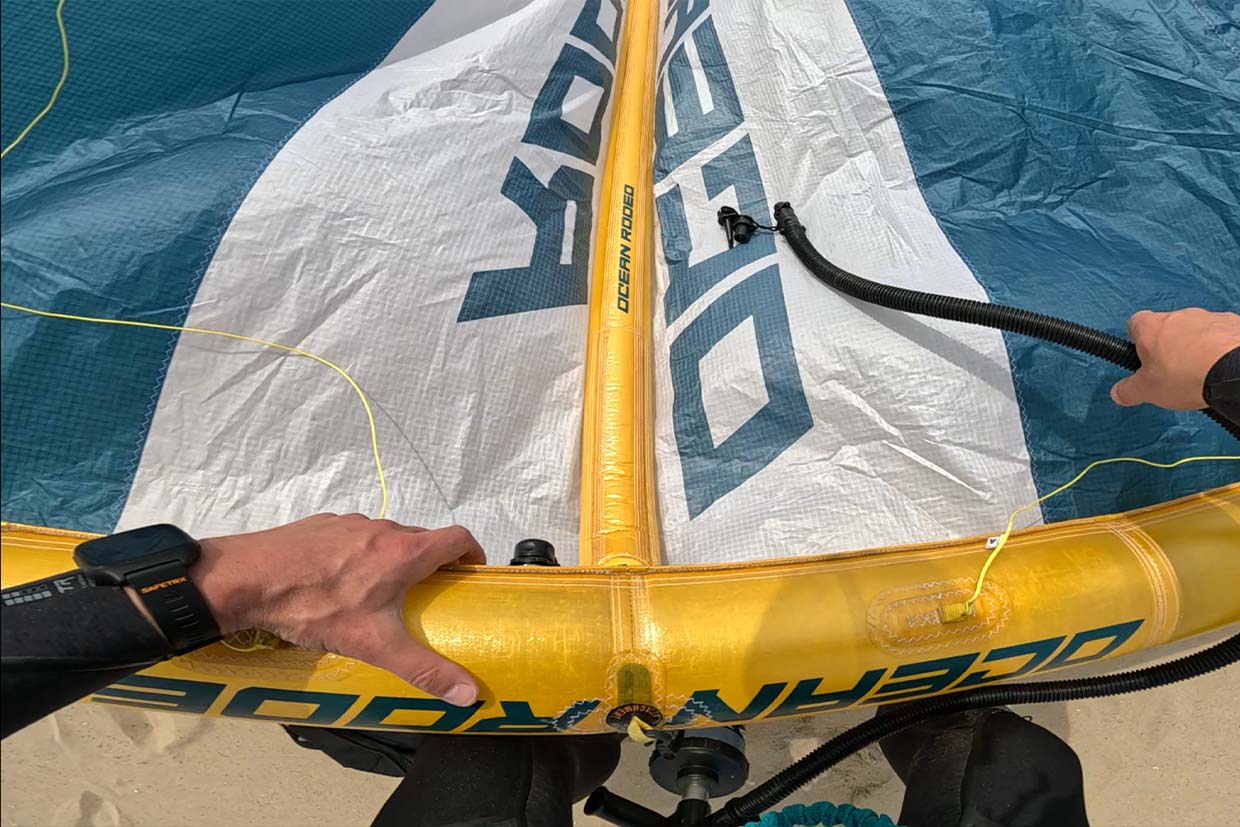 Also interesting: Tribute to Aluula
Double kiteloop
We go one step further with the Formula 1 kites. We also call this Lite Surf. A lot happened after we tested the Ocean Rodeo Rise. After the review I gave the Rise to Bram Sanstra, one of my great examples close to home.
Bram literally said: "What a bloody fast kite, you could easily make a double kiteloop with it."
It was less than a week later and our Giel made the first double kiteloop and turned the whole kitesurfing upside down.
Also interesting: Ocean Rodeo Rise review
Ocean Rodeo Roam review
Extremely light with deeper and narrower profile
The Roam A-Series is therefore extremely light for a 3-strut kite. The 10 meter weighs only 1.90 kilos. You can immediately conclude from the shape of the Roam that it is a kite suitable for wave kitesurfing and freeride foiling. The Roam has a somewhat deeper and narrower profile.
Very fast, fluid and controlled steering
In addition, the Roam has a special bridle that helps in cornering. The Roam steers very quickly and smoothly. The kite also rotates very quickly on its axis. You can even see me making some kiteloops in this wind. This is actually very nice and easy.
Ocean Rodeo Roam review: Perfect for timing right
Because of its speed I could easily bridge moments when the wind dropped for a while. With some steering skills as an experienced kitesurfer, the Roam picks up this kind of moment particularly well. The curves on a wave can also be perfectly timed due to the speed and you don't have to stop after a wave with the Roam. You can see it all in the video.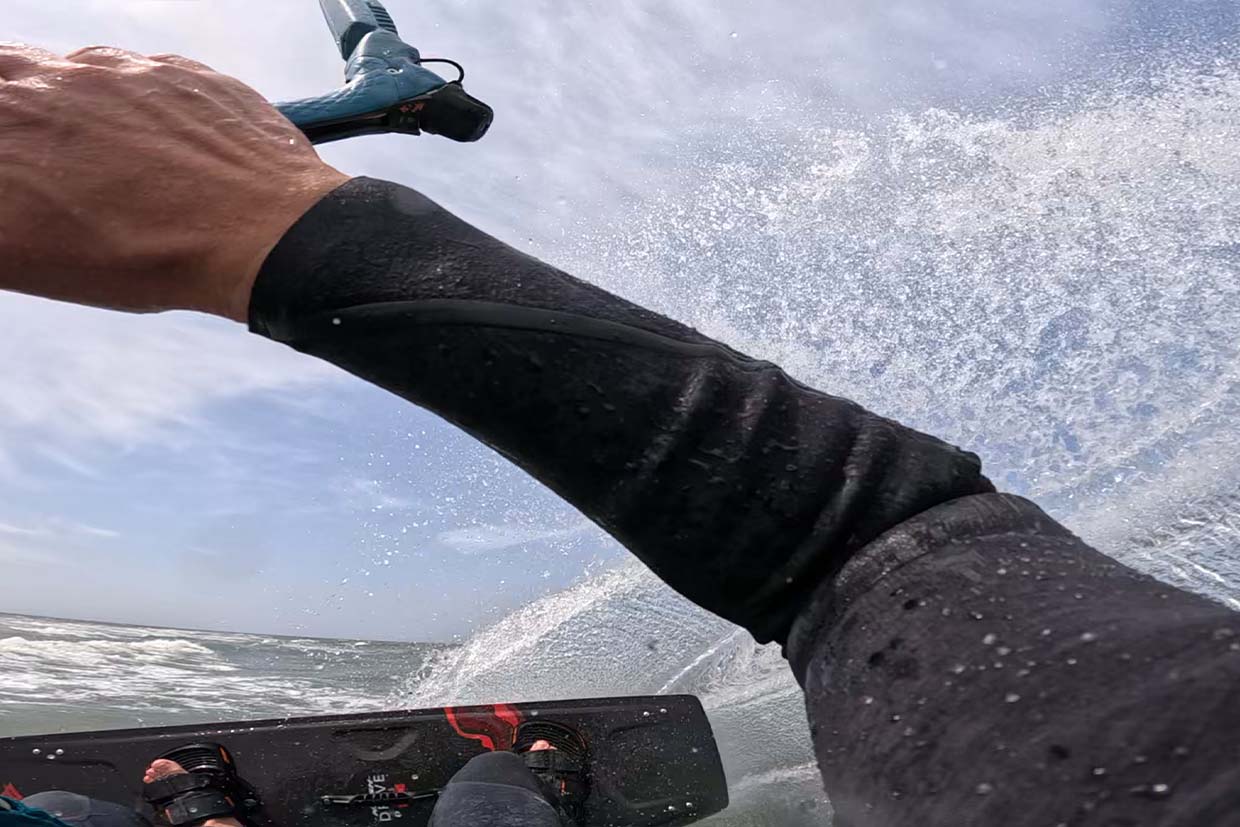 Walking height and very stable
The diameter of the leading edge is remarkably thin. I noticed that this makes the Roam fly through the wind window very easily. The combination with its light weight and some experience as a kitesurfer gave me the impression that it makes very easy use of the apparent wind. With relatively little wind you can easily walk high.
Knows his place in the wind
In addition, as mentioned, the profile is a bit deeper. This in combination with the above ensures that the kite does not shoot too far and too quickly to the edge of the wind window and becomes unstable there, but remains well in position.
When I made wide turns behind the kite, the Roam always stayed in the wind. No backstalling, no uncontrollable moments. This will have everything to do with the profile of the kite, the small diameter of the leading-edge and struts and its low weight. I can imagine that this is wonderful in the waves during wave kite surfing.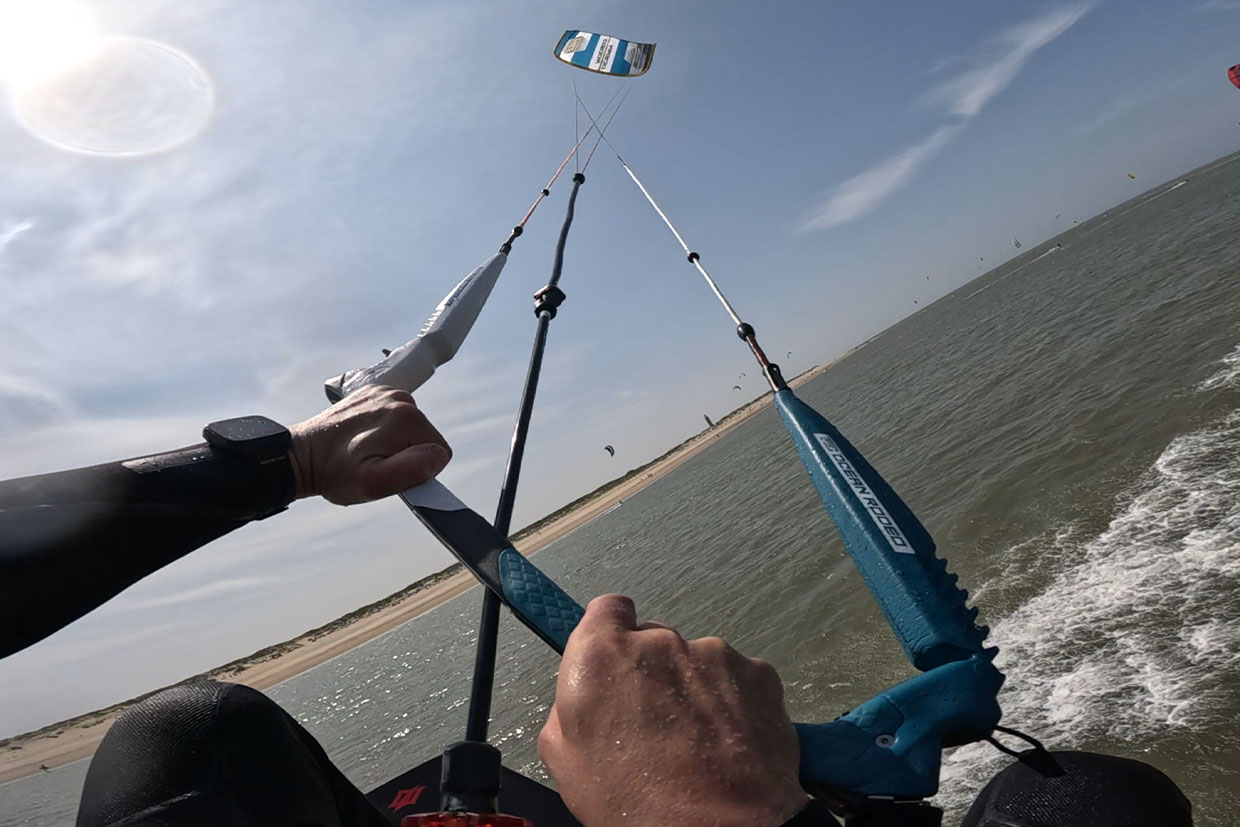 Medium to light bar pressure
The bar pressure is not high or low but somewhere in between. The speed of the Roam allows you to steer it very tightly to generate power. With less wind you will also use the speed. I felt how the power was dosed and did not experience any surprise. I always felt where the kite was in the wind. That gave confidence. With a lot of wind, fast kite flying will be less necessary. But for timing a jump, kite foiling or wave kite surfing, I expect this will also be very nice.
Conclusion Ocean Rodeo Roam review
I didn't think I could have such a cool session with a 10 meter in so little wind. I often call the Aluula kites Formula 1 kites. The Roam has adjusted this image a bit because although this kite is built with the best and most expensive materials, it is a very accessible kite. It steers extremely smoothly and reliably. The Roam is blazing fast if you ever need it and with its thin leading-edge it cuts through wind without getting jittery at the edge of the wind.
I also got to know the Roam as everyone's friend where kiteloops and my tricks worked immediately. The Roam is positioned as one free ride foil en wave kite surfing kite. I'm sure the Roam is very suitable for that. I really liked the Roam with it freeride and I would like to kitesurf with it a few more times. Review passed.