I've been kitesurfing since 1999 and so I have already worn out a lot of trapezes. A harness is part of the core equipment for kitesurfing. You cannot do without it and a kite harness largely determines whether you have fun or not. Nothing is more annoying than a trapeze that crawls up or causes painful moments on the water or once at home on the couch. I kitesurf with a so-called 'hardshell' harness. Recently I switched from the Mystic Stealth to the Prolimit Alpha. Thus this Prolimit Alpha review.
Buying a decision aid trapeze
You don't just buy a harness. An online harness size table is nice but sometimes offers too little information. This is because your physique is unique and therefore there is no best harness. View in it manual kitesurfing our special about trapezes so that you know which types of trapezes there are and what you should pay attention to.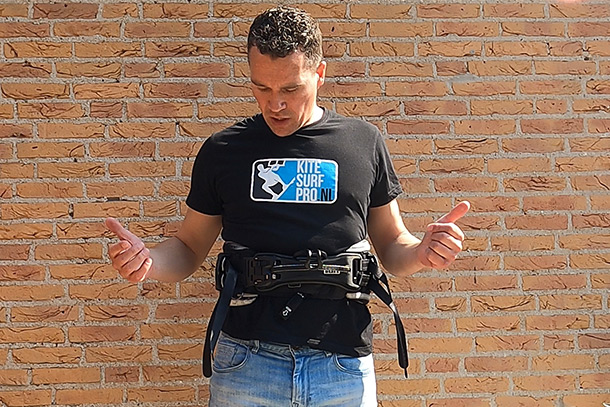 Prolimit Alpha review: quality
Premium carbon hard shell
The Prolimit Alpha is first of all the best waist harness from Prolimit in terms of design and material. It is a so-called premium carbon hardshell harness. This means that the back of the harness is equipped with preformed carbon. Not just a preformed sheet of carbon, but one with additional shapes intended to connect as closely as possible to the back. Also to be able to absorb the power of the kite as well as possible.
Full support harness
In addition, the Alpha is equipped with specially padded neoprene on the inside. Again in different shapes with different properties. This should provide more comfort in places that need it. The part in the back is made of so-called 'flex-gen memory foam', which means that the Alpha, together with the preformed carbon, fits extra well around your body and, as it were, follows your body.
Titanium galvanized spreader bar
The Prolimit Apha features a titanium galvanized spreader bar mounted on the wide 'barpad'. This is supposed to be the highest quality that gives confidence in the most extreme conditions.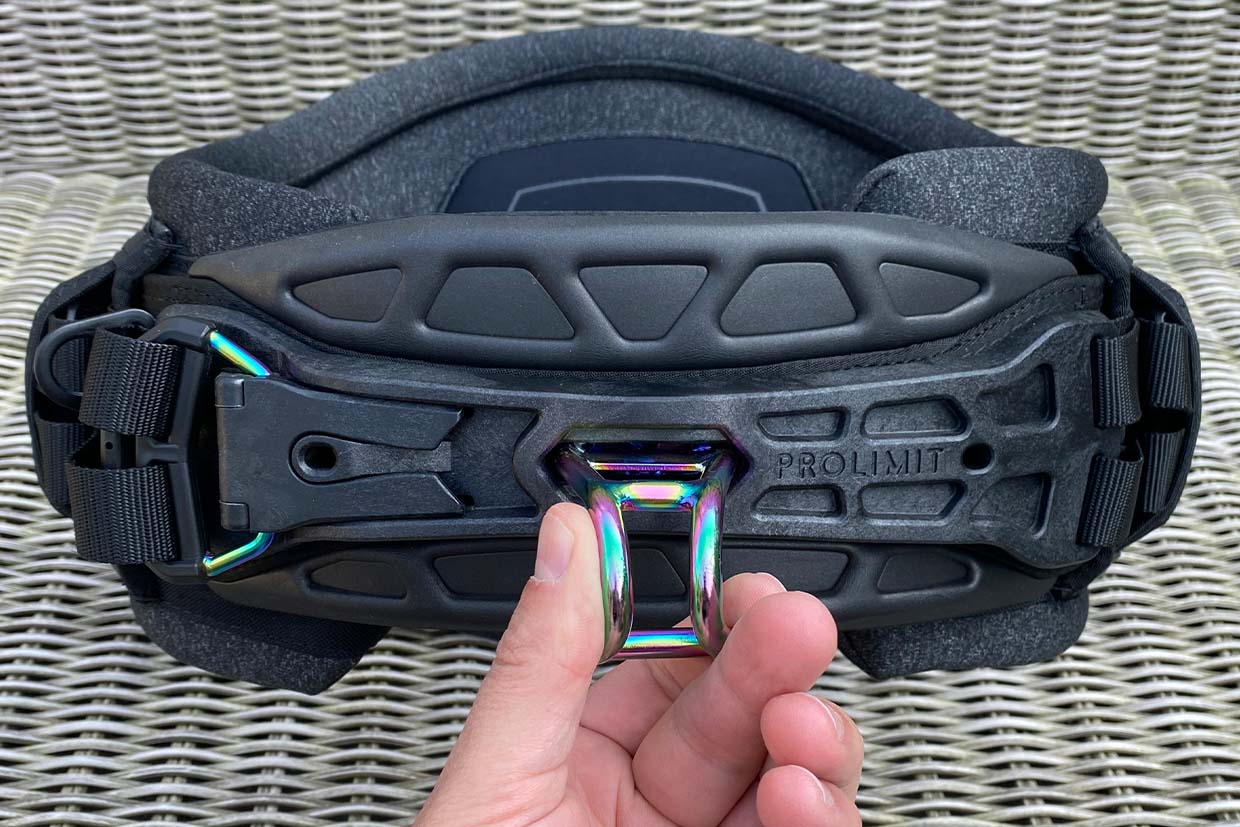 Locking system
The bar pad is equipped with flaps that go into the harness so that the spreader bar forms a whole with the harness as much as possible. Everything for a good distribution of force from the kite on the harness and to prevent the harness from creeping up. In addition, the Aplha has a locking system that makes the harness fairly easy to put on and take off.
So far something about the quality in this Prolimit Alpha review. More details can be found on the Prolimit website.
Prolimit Alpha review: experience
As stated, a trapeze belongs to the core equipment. After all these years of kitesurfing, I unfortunately have a sensitive spot on my ribs due to trapezes that crawled up. My approach to prevent this has been as follows in recent years. I purchased one of the most expensive hardshell harnesses that I liked and combined it with a thin impact vest under my wetsuit. This worked well and is recommended anyway if, for example, you want to kite loops go. For this test, however, I omitted the impact vest. This also worked well and that means a lot to me.
The Prolimit Alpha size matched the indicated size chart. For me this was an L. If necessary, view the general decision aid. After an hour of very active kitesurfing and a few crashes, I lowered the kite and tightened the Alpha a bit more. This is very easy and the straps can be neatly concealed as you can see in the photos. The Alpha stayed in place. That was a great experience because this is in my kitesurfing career bad luck with a trapeze. This was with the Mystic Stealth in combination with an impact vest.
Furthermore, I felt the preformed carbon plate well in the hollow part of my back. That gave a lot of support because the preformed carbon in combination with the padded neoprene fits the back as well as possible. This whole, which I always tighten very tightly, did not feel annoying or too constricting.
In addition, it gave confidence to work with the best harness from Prolimit kite surfing at sea at 20 knots and gusts above 26 knots with an 11 meter.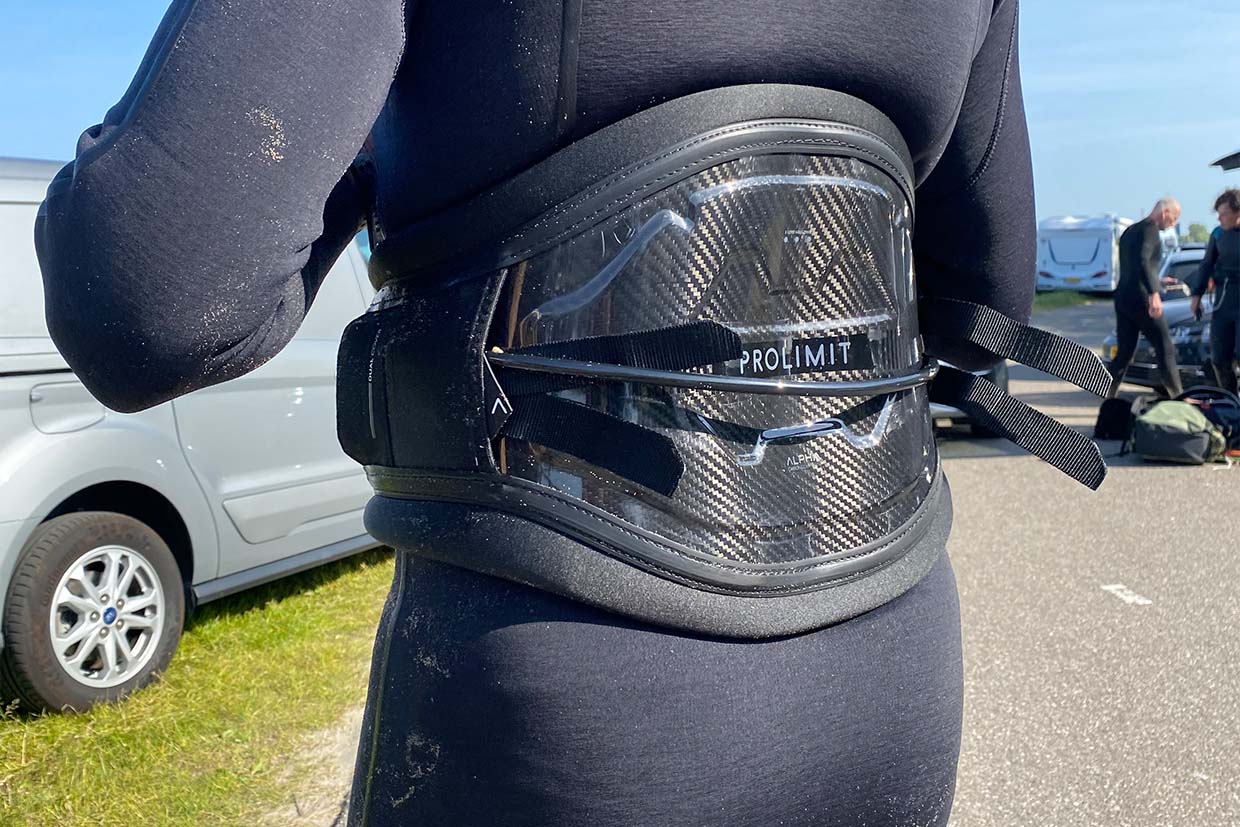 Conclusion Prolimit Alpha review
The Alpha is the best and most expensive hip harness from Prolimit. Despite all my experience with different harnesses, the Alpha is a keeper for me. I'm happy with it because during the test it felt robust yet comfortable. It barely crawled up while I didn't wear an impact vest under my wetsuit for the test, which I normally do because of sensitivity on my ribs. In addition, it gave confidence to kitesurf with the best harness from Prolimit and to make jumps higher than 10 meters. In addition to the described qualities and my experience, I also think the Alpha is a beautiful and tight harness.