Our eye fell on a letter sent in to De Telegraaf by Jim Sperling. Jim almost saw it go wrong on Monday, January 17, 2022 at the south pier of IJmuiden. Two kite surfers in trouble who could be saved by a combination of factors and observant people. Jim wonders why the sector, KNMR, Hiswa and government have not yet set additional requirements for the practitioners of this wonderful sport. He suggests means such as a GPS/AIS tracker. In this blog we discuss safety on the water. We pay attention to findability if necessary.
Mandatory tracker: 22% in favour, 78% against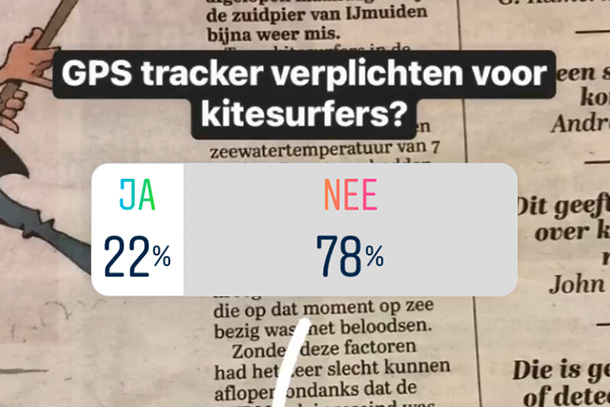 A voting round via Instagram provided this feedback. We recognize the same image on Facebook based on the reactions. Below is our opinion on this.
Opinion safety on the water
Our opinion is that you are responsible for your behaviour. You also make an estimate yourself whether it is it is wise to go kitesurfing, kitefoiling, wingsurfing, wingfoiling etc. Hopefully our blogs and information will help you with that too. Risk is in a small corner and that is why the options in this blog are definitely recommended. Options you hope you never have to use. Therefore, it may be difficult to spend a lot of money on it. That is why we also list a few low budget options for you.
The different options also require a different budget up to a minimum budget. So one of the options is probably an option for you.
Chances of survival increase enormously
Safety at sea and on the water. According to the KNRM, a water sports enthusiast in a dark wetsuit is not clearly visible in a dark sea with waves. This is much easier with a digital signal. It saves a lot of search time and greatly increases the chances of survival. Consider, for example, the water temperature in winter. With 8 to 9 degrees you cool down very quickly once in the water. Hypothermia soon becomes an issue. Once hypothermic, a person quickly becomes incapacitated and every minute counts.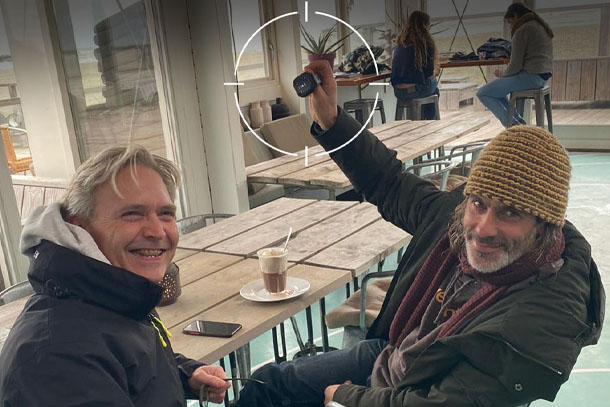 4 different alarm options
SafeTrx Active watch
The first option is a waterproof watch with GPS and emergency button function. For example, think of the SafeTrx Active watch (Sony mSafety). It has an emergency button that signals a location to rescue services. It would operate up to 17 kilometers offshore. look at it press release which describes how a wing foiler was rescued with the help of the watch. This way safety on the water was guaranteed.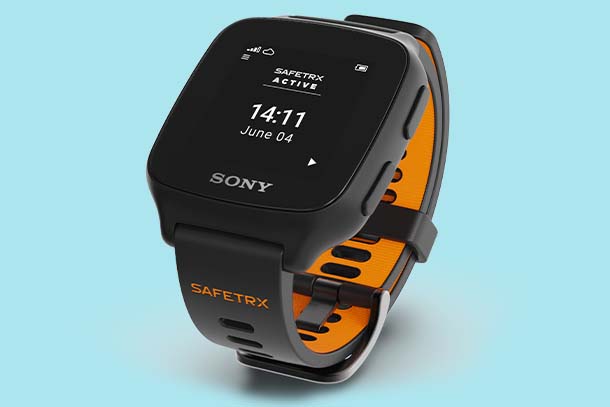 Cost SafeTrx Active and services
The SafeTrx Active costs 419 Euro. Linking the watch to the rescue services costs EUR 13 per month. Not a cheap solution and, as mentioned earlier, this can be a barrier. However, there are good and cheaper initiatives for using this option. For example, a pilot is running for members of the Jumpteam surf club in Scheveningen. Members can use a watch when they go out on the water.
Personal Locator Beacon box
One option is to use a Personal Locator Beacons (PLB). This is a separate box of 7,5 centimeters high, so quite compact, that can be activated in an emergency. When activated, it broadcasts a signal through a satellite that is picked up worldwide and sent to the nearest rescue service.
Costs PLB including registration
The Ocean Signal PLB1 is available from 299 Euro. It can be used worldwide. The PLB must be registered with the telecom agency. You need a permit for it. This costs about 34 Euros per year. The PLB is for sale at a number of kite surfing shops.
KNRM Helps app on your smartphone
Another very accessible option is to take your smartphone with you on the water in a waterproof cover. If you install the KNRM Helpt app on it, you can immediately request help from the KNRM Helpt Assistance Center if there are any problems. You can alarm by means of a red bell button in the app. This puts you directly in touch with the Coastguard Center. We looked at coverage from two providers. They both indicate that their network has coverage in the North Sea.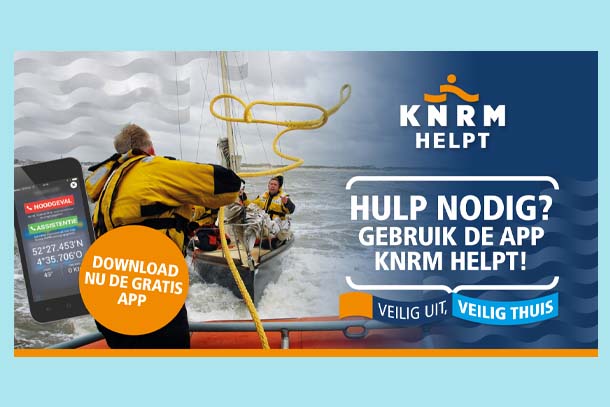 You can also enter and start your sailing plan via the app. If you do not complete the sailing plan according to the plan, the KNRM Emergency Center will be alerted for assistance. See how the KNRM Helps app works.
Costs KNRM Helps app
We are ambassadors of the KNRM and were able to install the app for free to use. For becoming donator there is no minimum contribution. Any amount is welcome.
Phone at sea
If you do not want to go to sea with an expensive smartphone, you can also take an old telephone with a prepaid card and store the KNRM emergency number (0900-0111) in it. You may not have coordinates, but you do have the option of having personal contact and directing the KNRM to your location.
Cost of taking your phone at sea
This is arranged for a few bucks. Check with your provider whether you have coverage and check this once when you travel far at your favorite spot. Also whether you can be heard when you call with a waterproof cover on the phone.
Other measures safety on the water
Apart from trackers, the app and phone, there are of course other methods. Attract attention with your kite for example. But also think about bringing a smoking torch, a lamp, wearing striking clothing, a inflatable seat belt to reflective stickers on your equipment.
You can conclude for yourself that the effectiveness of the latest measures decreases and you are more dependent on luck and chance. That doesn't sound good.
Safety at sea. Must read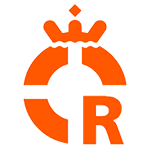 One recommended article we were forwarded from the Rockanje Rescue Brigade with whom we have good contact. Gentlemen and ladies thank you for your always active attitude and brisk performance.
Conclusion safety on the water
We hope that this blog and the links to the sources have given you some more information about the various options. We have also expressed our opinion. If we reflect on Jim's statement, it is not necessary in our opinion for every kitesurf and / or wingsurf session. However, it is highly recommended for sessions on the open sea. Better safe than sorry. Perhaps one last personal note. I myself notice that after kitesurfing or wing foiling I always call home as soon as I go home. If I were to use one of the above means, it would reassure the home front and that is of course also worth a lot.
Do you have any tips or are we overlooking something? Let us and your fellow athletes know. Enjoy the ride!