The first snowkite moment of 2021 awaited and taken. That is the story of Raymond Stalfoort and Roel Haanappel. Today they just went snowkiting on the terrain at Watersportvereniging Woerden. We had some contact with Cees. A nice contact from us via Instagram. Cees filmed Raymond and Roel snowkiting. So we enjoy almost 5 minutes of casual snowkiting.
Gusty wind
The wind was reportedly very gusty. In itself logical because it is almost never inland as stable as the wind by the sea. The snowkiters were working with a Bandit 8 meters and a Flysurfer 6 meters. This was doable. The avid and experienced kite surfers had fun. Snowkiting was almost 10 years ago for them.
"Watch out for puntdroad!"
What was less is that Raymond ran into problems when his lines revolved around a pole with information signs. It remains to be careful obstacles inland. 'Tukker Erik' jokingly called it this week on facebook: "Beware of puntdroad!"
Next session of snowkiting
Hopefully this week more snow and less gusty wind. Then there will probably be snowkiting 2021 in Woerden. By the way: the men in swimming trunks you see running at the start are distant neighbors to the east who warmed up before they went for a swim. 😉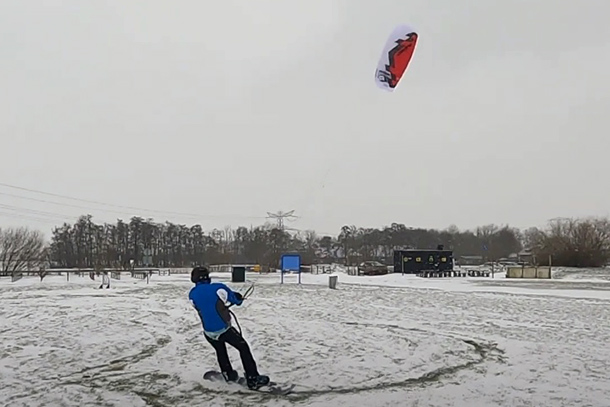 What about ice kiting?
Good question. What is striking is that the waters have not suffered from, as the skaters call it, the 'white sloper'. There is no ice yet. Should the snow stop and the freezing continue. Then it is possible that we can still do this week ice kiting and / or ice winging.