In this kitesurf blog we answer the question of which size kite you need in which wind. If you starts kite surfing do you want to purchase your first kitesurfing set soon? Naturally, you then wonder which size kite is suitable for you in which wind. There is a lot of choice and it may all seem a bit complicated, but it is not that bad. We help you make the right choice here. Although this question is often asked by beginners, this blog also serves as a reference for any kite surfer.
Unfortunately, we often see kite surfers with an incorrect size kite on the water. This is unpleasant kitesurfing and can ultimately lead to dangerous situations.
Did you know that we with our special explanation of kitesurfing provide a reference book in which important kitesurfing information can be quickly searched.
Which size kite is suitable for you in which wind?
To begin with, there are different sizes of kites. Sizes are indicated in meters (m). An indication of common sizes in meters are: 6m, 7m, 8m, 9m, 10m, 11m, 12m, 13m and 14m kites.
The wind range of the kite is usually indicated on the storage bag of a kite, and on the kite itself. The so-called 'wind range'. This is indicated in knots. However, this data is often very generic. In addition, this data does not take into account the weight of the kite surfer. The size of kite that the kitesurfer uses depends on a number of factors, including:
the wind force or the number of knots and gusts of wind;
the weight of the kite surfer;
de custom kiteboard of the kite surfer;
the style that the kite surfer wants to show on the water;
the type kite;
current of water.
Size chart size kite kite surfing
To give you an accurate yet generic picture of which kite size (size of the kite) suits your weight and the wind strength, we have made an overview below.
Taking wind gusts into account
Because we almost always have to deal with gusts of wind in the Netherlands, we have included gusts in the overview. We advise you to always start from the maximum number of knots of wind gusts when choosing a kite size.
When there are no gusts of wind
If the wind is stable, so no gusts are predicted, you can choose to use one size larger kite than is advised in the overview.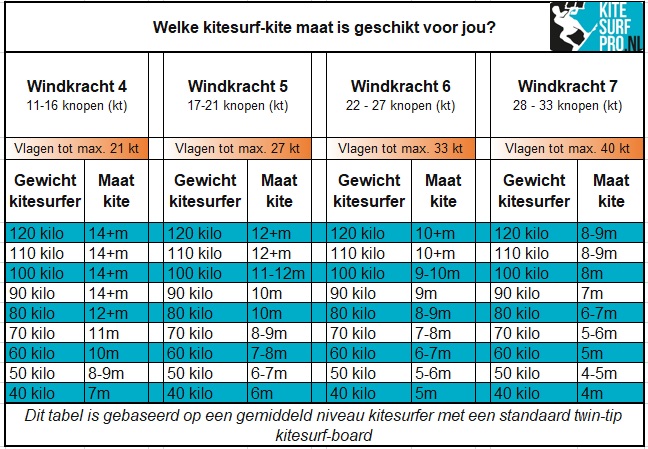 Pay attention! This is a general and indicative overview. The table is based on an intermediate level kitesurfer with a standard twintip kiteboard.
Suitable wind power kitesurfing
A nice wind force to start kite surfing, practice and kite surfing is between 14 - 21 knots (wind force 4 - 5). Very experienced kite surfers even go on the water at more than 27 knots (wind force 7). Read more about the wind strength at which kitesurfing can be done. Also see how you determine whether it is wise for you to go kitesurfing in the article 'Can I kite surf today?'.
Snow kiting and ice kiting
Looking for a rule of thumb for choosing the right size kite for snowkiting in stronger winds? That is your normal size with which you would go kitesurfing in the same wind divided by two. look at the tips snowkiting. With ice kiting you can keep a smaller size. look at the tips ice kiting.
Starting with one size kite or multiple sizes?
Start with one good beginner kite
OIt seems logical that you start with the purchase of one kite. As we stated, a nice wind force to start kitesurfing is good practice and kitesurfing is between 14 – 21 knots (wind force 4 – 5). The wind is often most stable then and the water still fairly calm. One kite in combination with a twintip kiteboard is an excellent combination. In addition, it saves on costs.
Type of kite also important
Especially if you are one good beginners kite If you want to purchase it, it is important that the kite has the largest possible wind range. This means that the kite quickly helps you get started with little wind and is easy to disprove with more wind. This of course has its limits. In addition, kitesurfing with a kite size that does not fit the wind, ultimately comes at the expense of the controllability of a kite, kitesurfing fun and safety. Don't underestimate this.
Are you going for two kites? Determine which size kite is suitable
If you want to kitesurf from wind force 4 to a good wind force 6 (14 – 27 knots), you will have to purchase several kites. For example, you purchase a 9 meter and a 12 meter (kite surfer weighs about 80 to 90 kilos) or a 7 and 10 meters (kite surfer weighs about 75 kilos). We hope to have answered the question so that you now know which size kite is suitable for you in which wind. Finally, do you have an additional question? Reassure this.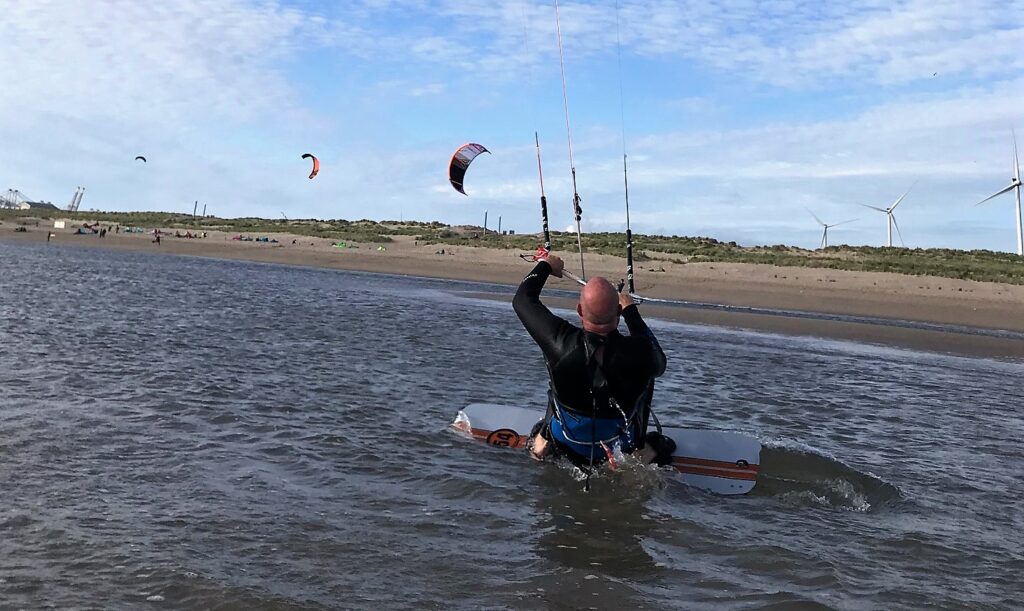 What size and type of twin tip?
You now know which size kite you need in which wind. In terms of kiteboard, you need a board that suits your level and your riding style. If you like a flat thing larger and wider twin-tip When you purchase the kite, you have the advantage of extra buoyancy of the kiteboard and thus the kiteboard starts faster ('plane'). The disadvantage can be that you quickly get bored of this.
Start with a 'freeride' twin tip. This is everyone's friend for fun sessions to join in whatever you feel like at the time.
Feel free to view the extensive item about kiteboards and what the different ones kite boards being suitable. You may also view which size twintip kiteboard is right for you.