A winter wetsuit is not an unnecessary luxury as soon as the temperature of the weather and water drops. When deciding what thickness you need, it's all about insulation. Good insulation offers protection against the water temperature and the temperature of the outside air. In addition, there is a lot of difference in quality in wetsuits. In this kitesurf blog you can read what you should pay attention to when purchasing a wetsuit. We also have an overview for you with the right thickness wetsuit per season.
We are talking about winter here, but of course we also mean cold days in the spring and autumn.
wet suit winter
In order to be able to advise you properly, we have used 2 datasets from the KNMI. This is the average outdoor air temperature per month and the average water temperature per month. Based on this data, we help you gain insight into what thickness wetsuit you need for kitesurfing. But first some explanation.
Quality difference in wetsuits
In general; the thicker a wetsuit, the warmer it is. However, the quality of neoprene varies enormously. Where we used to go out on the water with double wetsuits in the cold to create extra layers and therefore insulation, this is no longer of this time.
The best wetsuits nowadays are so good that they can be regarded as a kind of hybrid underwear and wetsuit in one. Due to a combination of a lining and different types of high-quality material, the quality has increased enormously. Sometimes even graphene or by the NASA developed technology processed in wetsuits and the best winter wetsuits are made up of a combination of layers. A lining can be recognized by a fleece on the inside. This is meant to keep your body nice and warm. In addition, the individual parts of the best wetsuits are not only sewn, but also glued and sealed. This provides extra insulation at the seams and prevents water from getting through the seams.
A wetsuit of the best quality can provide the same warmth and insulation as another wetsuit that is 1 to 2 millimeters thicker.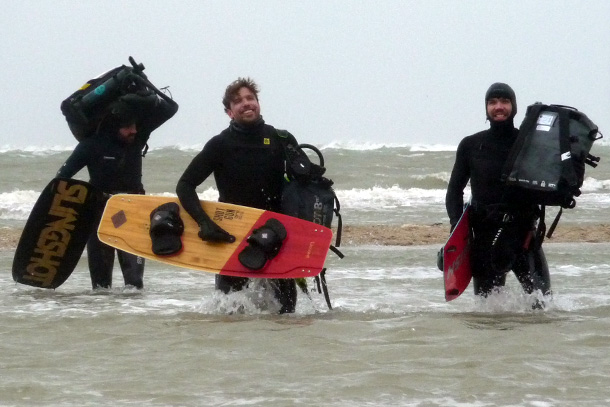 Overview thickness wetsuit kite surfing
| Month | Outside temperature | Water temperature | Wetsuit thickness |
| --- | --- | --- | --- |
| January | 3,8 ° C | 5,5 ° C | 6/4 mm |
| February | 4,0 ° C | 4,5 ° C | 6/4 mm |
| March | 6,4 ° C | 5,7 ° C | 6/4 mm or 5/4 mm |
| April | 10 ° C | 7,3 ° C | 5/4 mm |
| May | 13,4 ° C | 11,7 ° C | 5/4 mm |
| June | 16,6 ° C | 14,8 ° C | 4/3 mm |
| July | 18,4 ° C | 17,5 ° C | 4/3 mm or 3/2 mm |
| August | 17,8 ° C | 20 ° C | 4/3 mm or 3/2 mm |
| September | 14,8 ° C | 19 ° C | 4/3 mm |
| October | 11,3 ° C | 17,2 ° C | 4/3 mm |
| November | 7,4 ° C | 13 ° C | 5/4 mm |
| December | 4,5 ° C | 8,8 ° C | 5/4 mm or 6/4 mm |
Not to mention wind chill factor
In most cases, the water temperature and outside temperature are decisive factors for kite surfers when choosing a wetsuit. However, there is one important factor that should not be forgotten. This is the wind chill factor called wind chill indicates. This gives insight into how cold it is when you combine the wind and temperature. Also view the extra points of attention at the bottom of the article so that you know how to dress accordingly during these water sports.
The wind chill factor is especially important for kite surfers, wing foilers and wing surfers because in these sports you are often above the water and not in the water.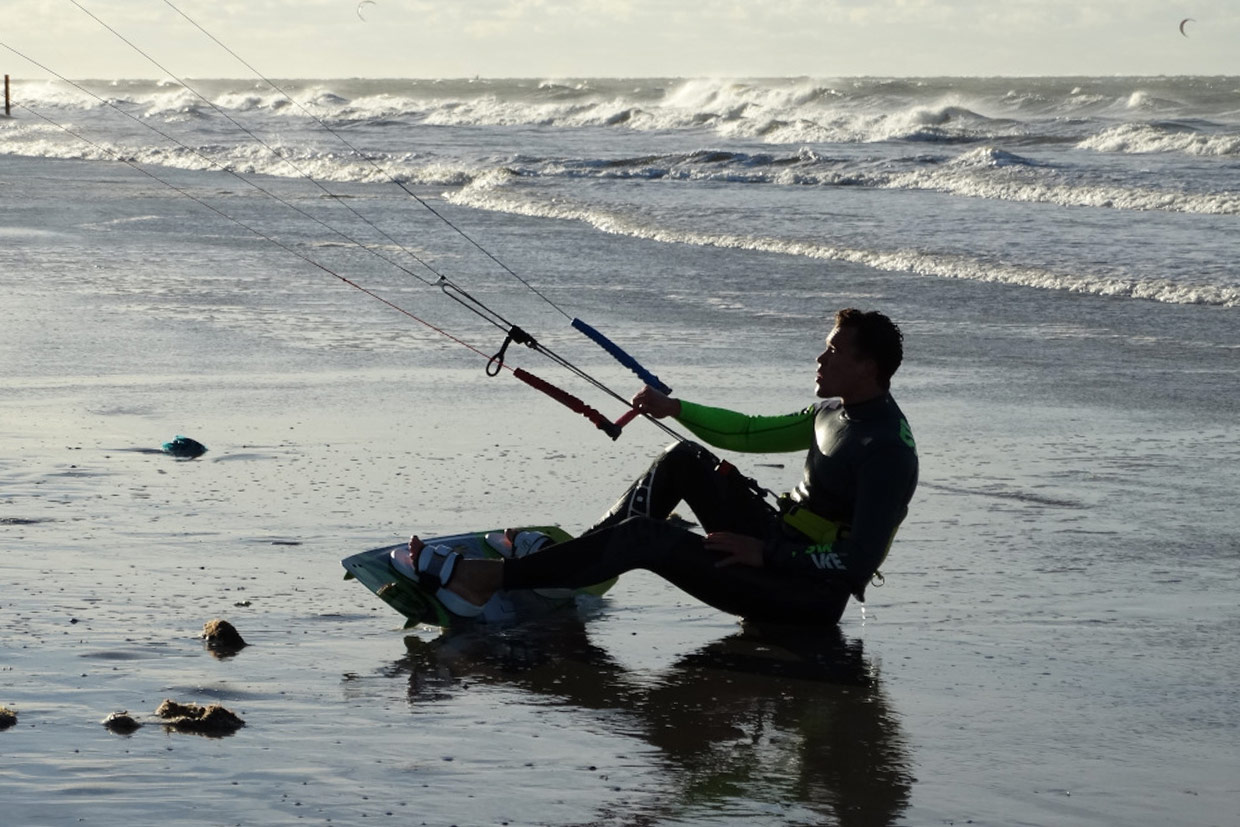 Numbers indicate wetsuit thickness
The numbers indicate the thickness of the neoprene. This is in millimeters. For example, a 5/4 wetsuit has neoprene of 5 mm and 4 mm. The thick neoprene is actually always on the chest, back and waist. The thinner parts of the body are usually the legs and arms. This provides more flexibility for the body parts that move continuously and extra warmth on the chest and back.
If you only purchase one wetsuit, a 5/4 mm is recommended.
Buying a wetsuit guide
As a guideline, you can use a 4/3mm or 3/2mm wetsuit in the summer and early fall. In autumn the water temperature is even higher due to the warm summer months. For winter and spring you need at least a 5/4 mm wetsuit. If you only buy one wetsuit, a 5/4 mm is recommended. This thickness can actually be used all year round in the Netherlands, with the exception of the really cold winter days. For example, winter days with a mild wind from the north.
Extra points of attention which winter wetsuit thickness
If you are cold, a thick wetsuit will soon be great to wear.
If you often go for long sessions and you stay at the beach for a long time, a thick wetsuit is also nice to wear.
If you are a beginner and you are still in the water a lot, then a thicker wetsuit and therefore slightly more warm is more comfortable.
If you go for a short and active session, then a slightly thinner wetsuit is often fine.
A thinner wetsuit is generally more flexible than a thick wetsuit. Flexibility is freedom of movement.
A wetsuit must be tight. Then the insulation works best.
On the coldest days and days with a negative wind chill factor, a jacket over your wetsuit makes your session a lot more pleasant.
Don't forget your head. You lose a lot of heat through your head. You lose a lot of heat, especially if your head gets into the water. A cap or neoprene hat will help keep you even warmer.
Note the difference in quality per wetsuit. In general, this plays an important factor in the points for attention mentioned.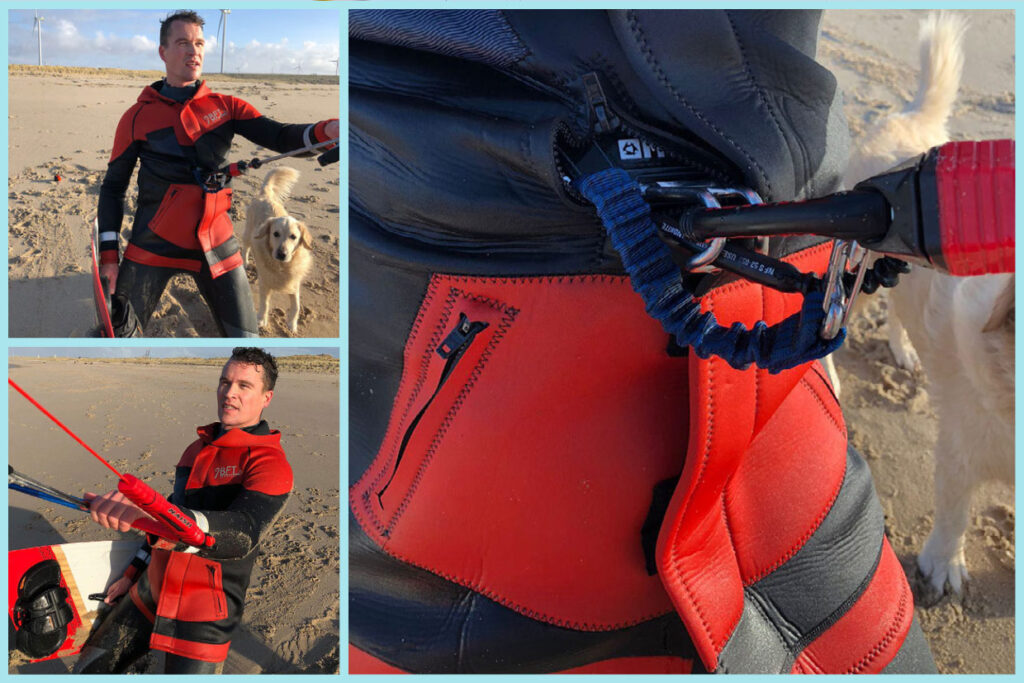 Neoprene shoes, gloves, cap and jacket
As soon as it gets really cold you sure have neoprene surf shoes required. You can't live without it in the winter. You may also choose for neoprene gloves and a Postal Code. A windbreaker or neoprene jacket is optional and additionally protects against the wind and radiation cold.