Looking for the most beautiful wing foil spots in the Netherlands? Then you have come to the right place on this page. We started wing foiling ourselves in 2020. This was not allowed to be called wing foiling but just wing surfing. We are still learning and that's what makes wing foiling so much fun. Choosing the right wing foil spot is not always easy. The wingfoil spot guide and the information below want to help you with this.
Best wing foil spots
The best spot for a wing surfer or wing foiler depends on the level and style of a wing foiler. This varies quite a bit and so we outline the appropriate best wingsurf location for each level.
Wingsurf spots for beginners
A wingsurf spot does not have to meet the requirements of a wingfoil spot. After all, starting with wing foiling starts with wing surfing. Wingsurfing does not require a mast with foil under the board. With a wingsurf board, sup board or large wave surf board you can already get started and master the basics. Wingsurfing practice starts on the side. This way you can get to know the power of the wing without board and water and get used to it.
Wingsurf spots – selection for beginners
The following rules of thumb apply to choosing a good wingsurf spot for beginners:
Less deep water is therefore required for wing surfing than for wing foiling. Of course, you ensure minimum hip-deep water without a sharp bottom. This prevents foot and ankle injuries or abrasions.
In addition, you ensure that the wind always carries you back to the shore. Whether it's a wingsurf spot by the sea, or a spot on inland water.
Practice is fine from 12 knots to 25 knots.
Provide a wingsurf board with sufficient volume. At least 20% more liter volume than your body weight. A little more volume is fine. Then you know for sure that you float and the board is not too wobbly. That gives peace of mind. look at it size chart wingsurf boards.
Start with a big board and a small wing. This way you can get used to the power and dynamics of wing surfing. look at it size chart wingsurf wings.
Finally, it is important that there are as few waves as possible. Unsettled inland waters can also be annoying in the beginning and slow down the learning process. So look for an opportunity to practice on a calm piece of water.
View the complete explanation of wingsurfing. Think of it as a handbook.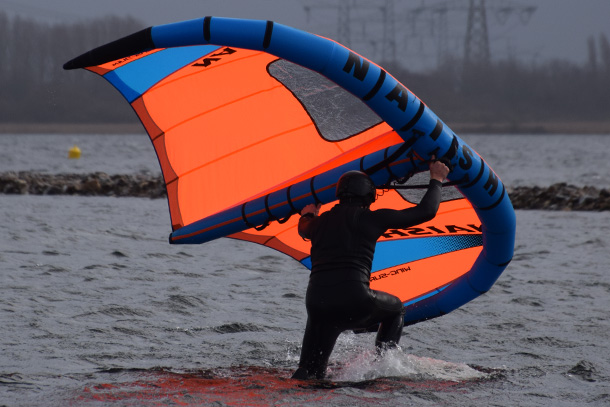 Interview with wingfoiler and wingfoil ambassador Bart Schijf.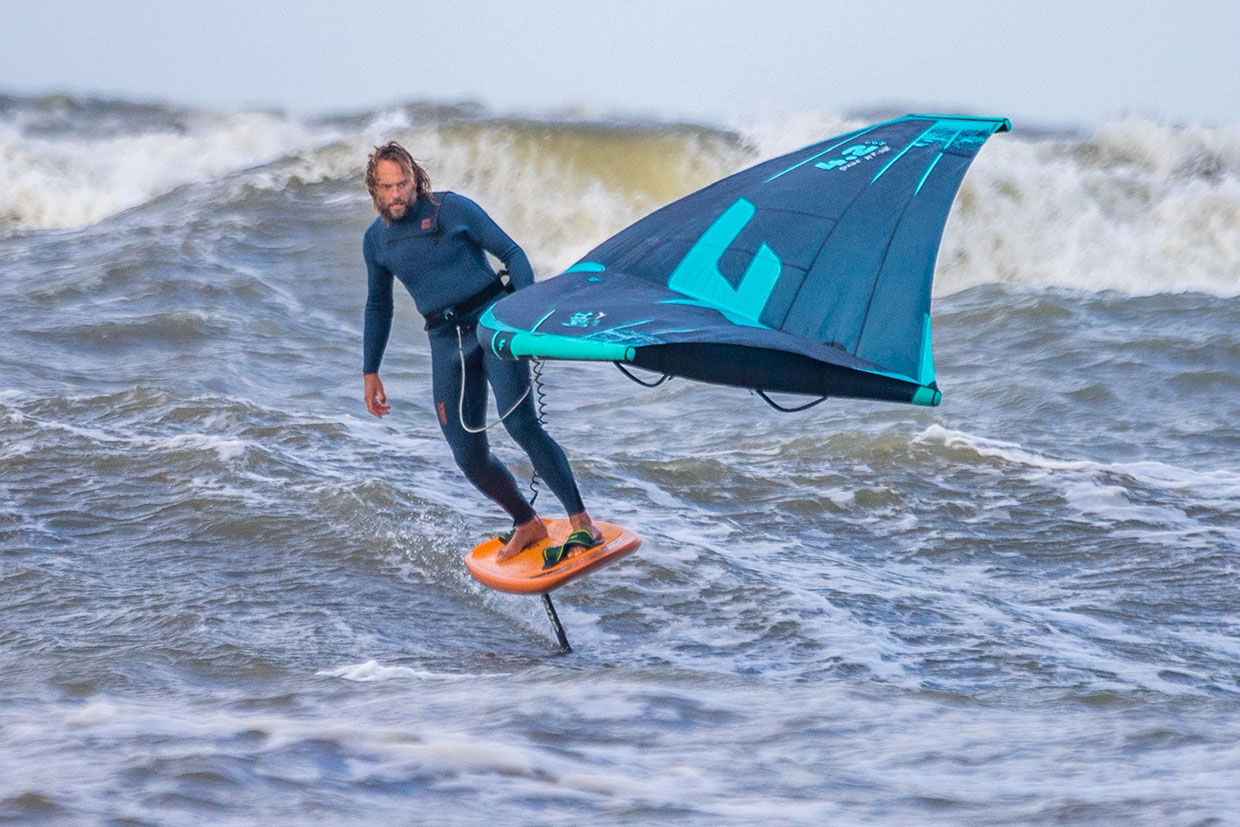 Also learn how to wing foil. Check out our learning curve. That's how you learn.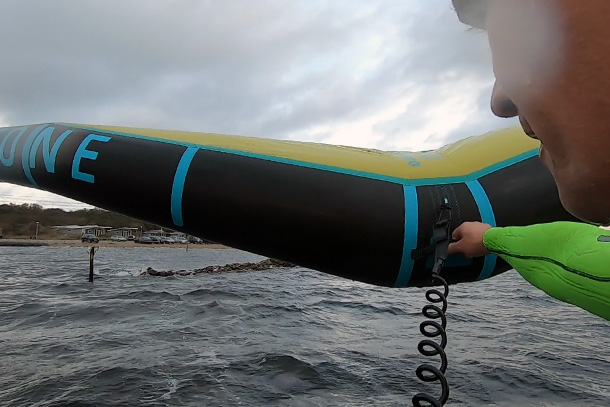 Wingfoil spots for wingfoilers
As soon as you start wing foiling, other things are important to take into account when choosing a suitable wing foil spot. After all, when wing foiling you need enough depth because the mast, fuselage and foils are attached under the wing foil board. The mast is soon at least 65 cm. That depth is therefore minimally necessary to sail away. In addition, underwater obstacles present an immediate problem to sail away. Shallow sections are also a problem. After all, you may get stuck with the risk of a hard crash and damaged material as a result.
Spot selection average wing foilers
The following rules of thumb apply to the correct wing foil spot:
Check if it is allowed to wing foil on the spot concerned. View the rules that apply to wing foils, but also read the rules of the municipality on site.
Ensure there are no underwater obstacles and/or inconspicuous shallow areas. This way you avoid the risk of a hard crash and damaged material.
Overgrowth and plants in the water hinder the wing foiling. So try to find a spot that won't bother you.
Choose a spot where the wind has as free play as possible. This means that the wind is hindered as little as possible and is therefore as stable as possible. Buildings, reed beds, rows of trees, etc. are windbreaks. The further away from it, the more stable the wind.
A wing foil spot with flat water is very nice to become a good wing foiler. Behind a block dam, breakwater or other shelter for the water is the most ideal, but of course not available everywhere.
Make sure the wind always carries you back to shore. Whether it's a wingsurf spot by the sea, or a spot on inland water. Also make sure there are opportunities to go ashore downwind. You may not always be able to walk high and then you have to be able to go ashore downwind to walk back.
Choosing the right one board size, size wing en size foil is crucial. And a wing that is too large for the circumstances can lead to a lot of risk of uncontrolled wing foiling and therefore also injuries and accidents. With a wing that is too large, you can easily be pulled over the board while the board is attached. You then run the risk of falling on the sharp foil. View the size charts for choosing the right size wingfoil board, wing and foil.
Provide personal protective equipment. The minimum is a helmet and impact vest. Also for shoes when the bottom is covered with shells, stones and the like.
Wingfoil spots for advanced
We will soon discuss the spot selection for the advanced wing foiler. For this we reach out to one or more wingfoil gurus for their tips on spotting the best conditions and type of waves or swell for beautiful sessions. Below are some advice from avid wing foiler Bart Disc† These are from the interview we had with him.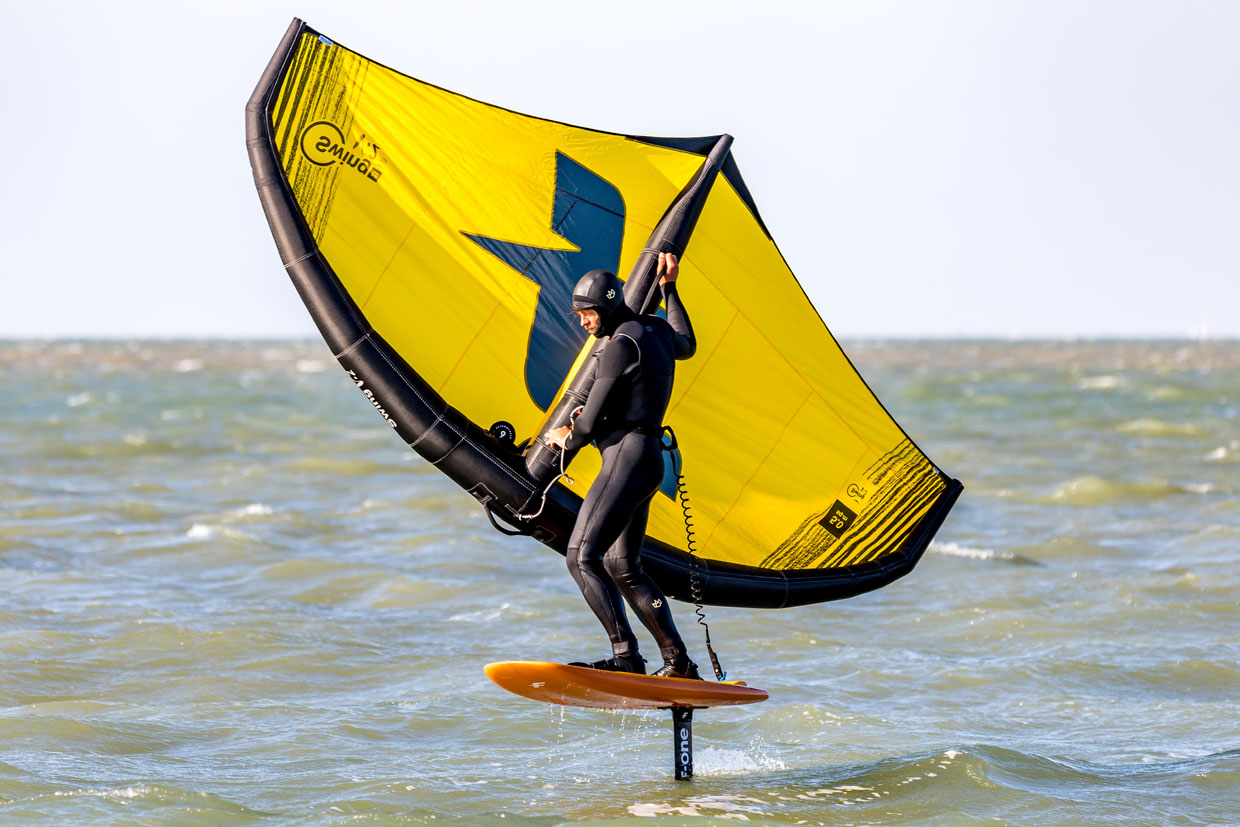 How do you determine your spot choice? Which guidelines do you keep in mind?
"As I mentioned before, one of the great advantages of the sport is that the choice of spots is enormous. About the right spot choice the following:"
"First of all, it is important that there is sufficient depth, of course. I mostly use a carbon mast of 85 cm, so a minimum water depth of about one meter is nice."
"Offshore wind is much less of a limitation compared to kitesurfing, you can walk very easily through the foil. If the wind is gusty, you can just wait on your board with the wing in hand for the next gust. You don't have to worry about your kite dropping and your lines getting tangled. Or that you can hardly or not restart. Another advantage is that you can always paddle back with the wing on the leash dragging through the water."
"I also let the choice of spot depend on the wind forecast, the tide and other weather conditions such as air and water temperature."
"My first choice is to look for surfable waves, for this the wind has to be strong enough and from the right direction. Also be right with the tide. Optimal formation of the waves by the tide differs per spot. If all components are correct then my first choice is a wave surfing session with the wing.
"If this does not coincide, an inland water session can also be a good alternative. Precisely because there are even surfable wind waves on inland waters. Of course the wind has to be strong enough and have free play to build up."
"On a summer's day, some cruising at sea or inland water can also be a lot of fun. Sometimes I look for a spot during a busy weekend or a busy summer day that is not known. Then I can also let my 3 dogs run around freely."
In short: "There are an infinite number of spots that can be used as wing foil spots, you need almost no space because you don't have to roll out lines and you don't have to take obstacles such as trees, poles or electricity pylons into account. So I'm back on spots where I haven't been for 15 to 20 years. These are spots where I have windsurfed a lot, so where you can also go winking, but kitesurfing is impossible. For example a spot 5 minutes from my home in Willemstad. That way I don't always have to drive to the coast. A pre or after-work session is therefore also an option."
"Lastly, launching from a boat is also a very easy way to escape the crowds. Or to wingsurf at spots that are difficult or impossible to reach."
Wing foil spots – collage
In the coming period we will collect beautiful spots for wing foilers at this location. For the novice, intermediate and advanced wing foiler.