This Dutch water sports enthusiast in heart and soul goes through all kinds of weather. With wing foiling he combines his previous passions such as sailing, windsurfing and kite foiling. He is very 'stoked' about wing foiling, as he calls it. In addition to foiling itself, he is also an ambassador for the sport. We seized the opportunity to interview none other than Bart Schijf. Very cool, precisely because we ourselves learn to wingfoil† Watch and read Bart's enthusiasm for yourself in this detailed and instructive interview with this excellent wing foiler.
Bart's turn to wing foiling
"Hello Arjan, thank you for inviting us to this interview. Of course I like to share my passion of wing foiling. Precisely because wing foiling is a relatively new outdoor sport."
How did I come into contact with wing foils?
"My first introduction to wing foiling was at the end of July 2019. The guys from Natural High, including my surf buddy Jelle Stoop, returned from a dealer meeting of F-One in Mauritius at the time. There they had become acquainted with wing foils. Raphael Salles, the founder and owner of F-One, enthusiastically passed on the wingsurf virus to those present. Shortly afterwards, Natural High handed me the first available wingsurfing material on the Brouwersdam. Curious as I was, I jumped in at the deep end. For example, I started working with the F-One Rocket SUP 6.6, F-One Swing 4.2 and the F-One Gravity 1800 front wing. After about an hour of trying, my first strokes on the foil became a fact."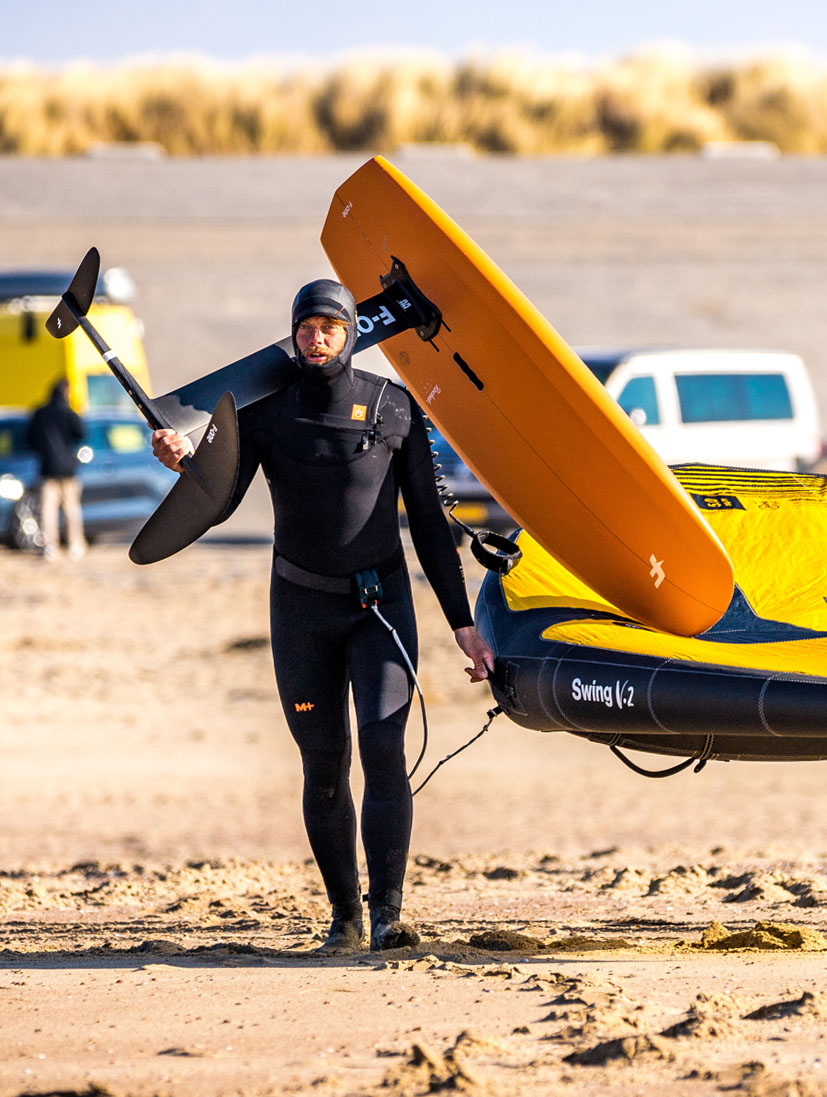 Were you immediately stoked about the wing foiling?
"Initially I was moderately enthusiastic. I found the wingfoil material especially bulky and clumsy. I also did not immediately see the benefits and fun of this new water sport. For example, I found 'low wind' disappointing. Moreover, at the time, people were still 'stoked' about kite foiling. I put a lot of time into that. In retrospect I think I had some kind of natural resistance to something new and didn't really want to give it a chance. This is something I often hear around me. Then I kept it that season."
When did you get 'stoked'?
"During the following winter in 2020 I saw more and more cool content. This was mainly on the internet. I started to approach the sport in a different way. As a real crossover sport in which I saw my previous passions for sailing, windsurfing and now kite foiling combined. Wave surfing with a foil, 'prone surfing', suddenly became an interesting option, while wave surfing couldn't grab me before. The following spring, for example, I purchased my own set from the first series of F-One material in the Benelux. Since then I have been completely stoked."
Why are you so stoked about wing foiling?
"With a foil there is simply much more to squeeze out of a session than with a kite and directional or kitefoil. I go to the beach more often and have had many unexpectedly good sessions. Sessions I would normally have missed. This is how my hours on the water have increased! It is the unlimited possibilities that wing foiling offers that I find so cool. The ability to foil well in very different circumstances. Wingfoiling can be done anywhere where there is water of sufficient depth. In addition, winging is a complete workout and a fusion of many board sports."
"Sometimes wing foiling is like snowboarding through the new fresh powder; weightless and free. This gives an unprecedented feeling of freedom and tranquility. But of course not tied to a ski lift or slope."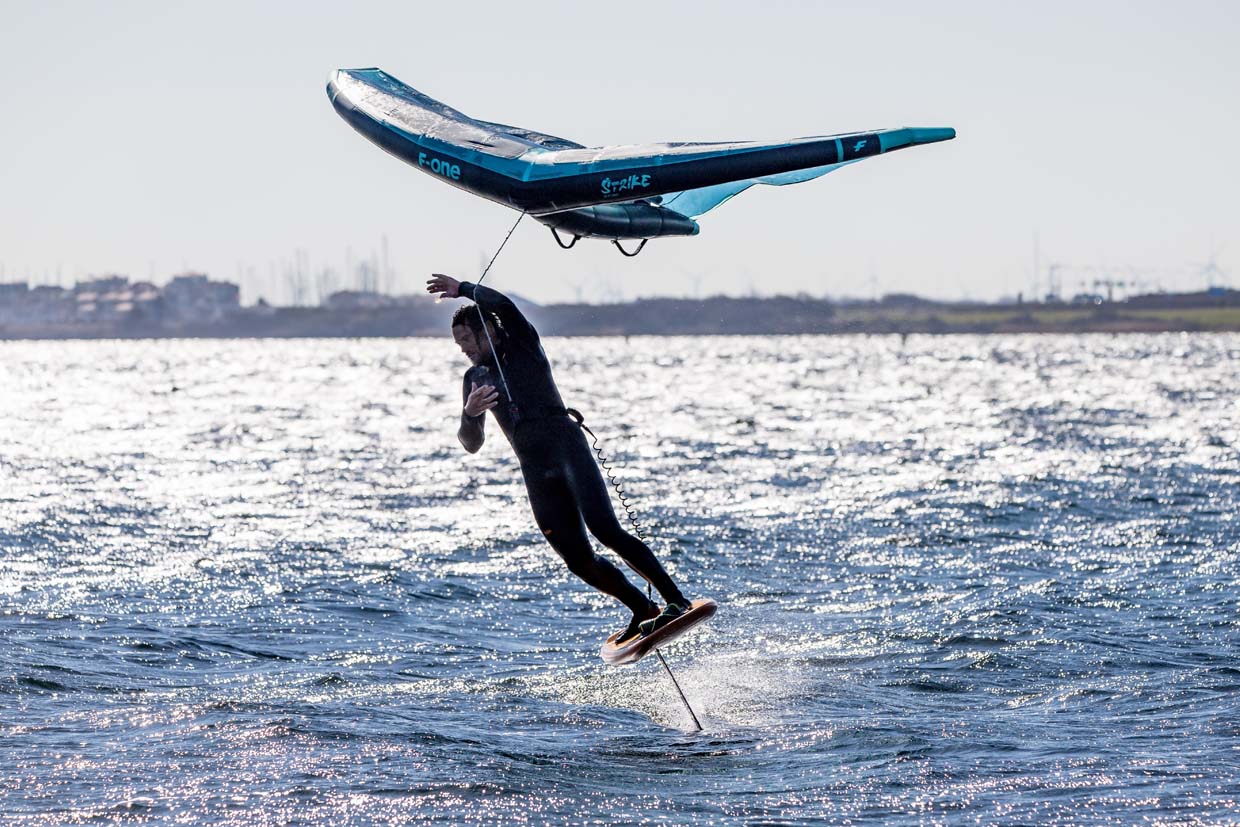 I think I wingsurf 90% of my surfing hours. The other 10% I kitesurf strapless on a directional. I don't do kite foiling anymore. Who would have ever dared to predict that at the end of summer 2019?
What is the difference between kitesurfing and wingsurfing for you?
"I am often asked why I do so much wingsurfing instead of kitesurfing. I've thought about this and sometimes compare it to a relationship. I then explain kiting as a long-distance relationship and winging as a relationship where you are with your loved one every day."
"When kitesurfing, your kite is at least 20 meters away from you and there is a delay in communication with the kite and the feeling. When winging you have your support and rock directly in your hands and intense and direct communication is possible. You get feedback every second. If you let go of your wing, she is never far away and connected to your body with a leash, a kind of Siamese twins!"
Wingfoil sailing style Bart Schijf
What type of wing foiler are you?
"The question of what type of winger I am is difficult to define. I don't like to put people in boxes, but will try to give an impression of how I spend my wingsurfing time. I prefer to be found in the waves to ride endless waves and to use the wing to wingfoil out, get upwind or approach the right section of the wave. Tricks such as a backside golf ride or foiling 360 and winding tack naturally fit in well with this."
"Since September 2021, with the introduction of the F-One Strike CWC (Compact Wing Concept), I also find it super challenging and fun to sail with minimal wind conditions. Both on the glassy waves in this weather or just cruising on super flat water. The CWC is available in sizes 6, 7, 8 m2 and due to the compact shape, unique patented geometry and 2 extra struts it is possible to foil from 6 to 8 knots."
If you have to pigeonhole my wingfoil riding style, then I can be characterized as a real freerider. Enjoy water hours, immerse yourself in the moment and use the elements.
"Last January I was in Tarifa for a month and surfed most of the time with my Strike 2.8 windswell. It's fantastic to be able to fly at this iconic spot where I spent many hours windsurfing, kitesurfing and kitefoiling."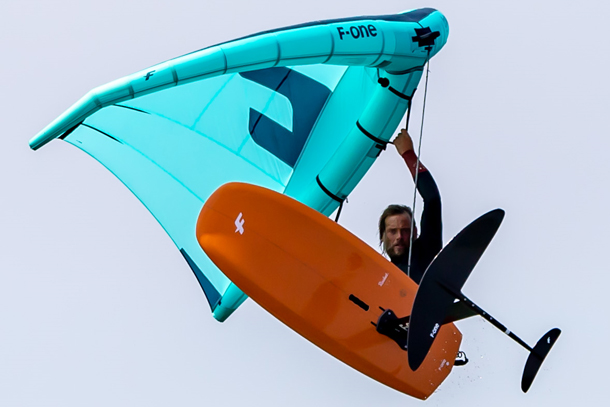 Are you also into technical freestyle tricks?
"Technical freestyle tricks with rotations and such are not my thing. I think it's wonderful to see how the sport is also undergoing gigantic developments in this direction. But this current in the sport is not for me. Maybe I'm too old for this or I'm not pushing myself enough in this."
Ideal conditions for wing foiling
In which weather conditions can you be found on the water?
"From a knot or 8 to 10 regardless of the weather. Only sessions during thick persistent frosts are excluded. I can enjoy a nice summer session in my boardshorts, but you can always wake me up for a big winter storm session. Nicely wrapped in a warm 'hooded' wetsuit. I also love 'first light' sessions at the right tide."
Spot choice wing foils
How do you determine your spot choice? Which guidelines do you keep in mind?
"As I mentioned before, one of the great advantages of the sport is that the choice of spots is enormous. About the right spot choice the following:"
"First of all, it is important that there is sufficient depth, of course. I mostly use a carbon mast of 85 cm, so a minimum water depth of about one meter is nice."
"Offshore wind is much less of a limitation compared to kitesurfing, you can walk very easily through the foil. If the wind is gusty, you can just wait on your board with the wing in hand for the next gust. You don't have to worry about your kite dropping and your lines getting tangled. Or that you can hardly or not restart. Another advantage is that you can always paddle back with the wing on the leash dragging through the water."
"I also let the choice of spot depend on the wind forecast, the tide and other weather conditions such as air and water temperature."
"My first choice is to look for surfable waves, for this the wind has to be strong enough and from the right direction. Also be right with the tide. Optimal formation of the waves by the tide differs per spot. If all components are correct, my first choice will be a wave surfing session with the wing."
"If this does not coincide, an inland water session can also be a good alternative. Precisely because there are even surfable wind waves on inland waters. Of course the wind has to be strong enough and have free play to build up."
"On a summer's day, some cruising at sea or inland water can also be a lot of fun. Sometimes I look for a spot during a busy weekend or a busy summer day that is not known. Then I can also let my 3 dogs run around freely."
In short: "There are an infinite number of spots that can be used as wing foil spots, you need almost no space because you don't have to roll out lines and you don't have to take obstacles such as trees, poles or electricity pylons into account. So I'm back on spots where I haven't been for 15 to 20 years. These are spots where I have windsurfed a lot, so where you can also go winking, but kitesurfing is impossible. For example a spot 5 minutes from my home in Willemstad. That way I don't always have to drive to the coast. A pre or after-work session is therefore also an option."
"Lastly, launching from a boat is also a very easy way to escape the crowds. Or to wingsurf at spots that are difficult or impossible to reach."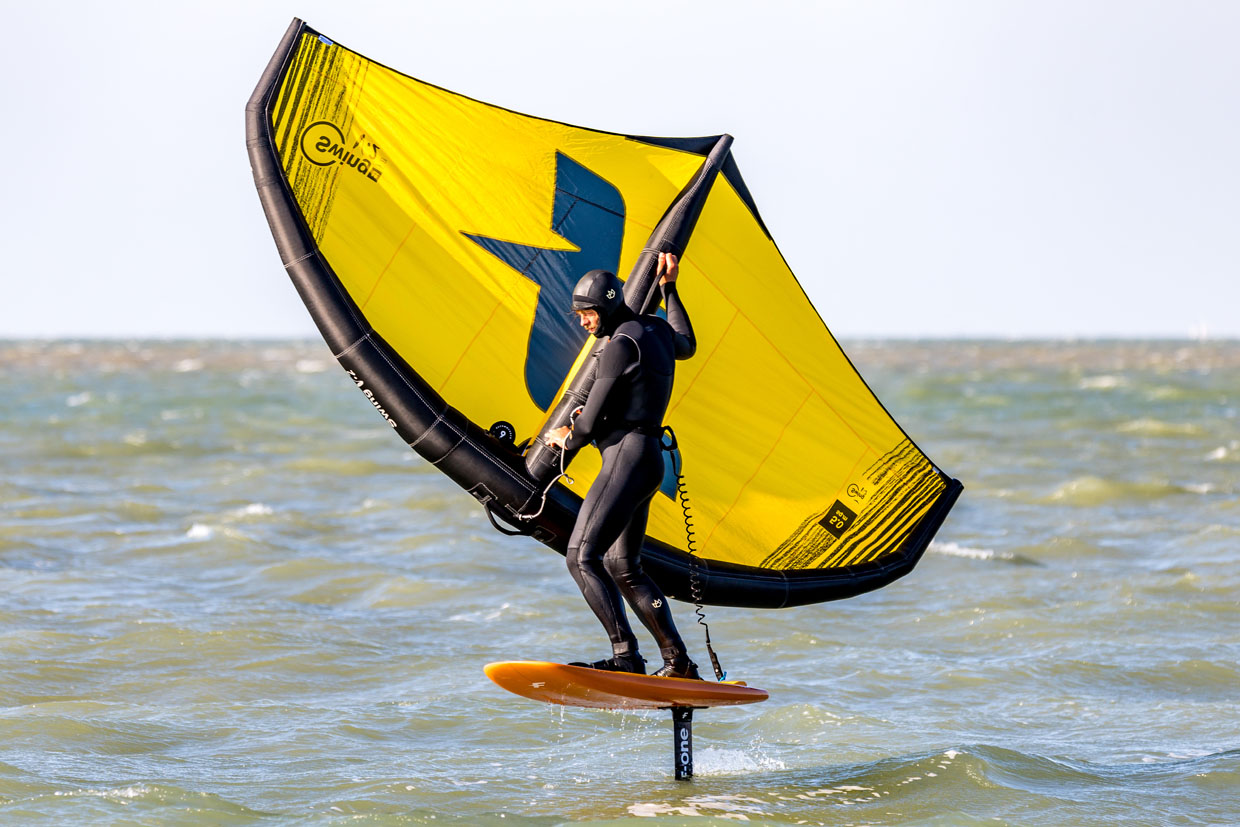 Material choice wing foils
To what extent do you adapt your choice of material to the choice of spot or vice versa?
"The nice thing is that the current wingsurfing material is very versatile and that specific material is not always needed for a current within the wingsurfing sport. It is true that F-One has received an increasingly broader collection. There is gear with very specialized properties for certain currents within the sport. For example wave, freestyle, race and/or freeride. The great advantage of the many innovations is that F-One has now developed, for example, the Swing V2 with an extremely versatile and widely deployable wing. This is a good example of how developers develop material with advancing insight for a very large group of riders and suitable for many conditions. . Due to the increase in production numbers and the development of alternative materials, materials are available for different budgets. The second-hand market also offers more and more high-quality material, so that everyone can make a wide choice."
In tricky conditions and in winter I sometimes opt for a little more certainty. Just a slightly larger board with some extra volume (eg 60 liters) or just a wing of a size larger. In the winter this helps to get back on the foil quickly after a crash.
What is your favorite setting or wing foil set?
"At the moment I prefer to sail with the F-One Rocket Wing 4.8 meters, a 44 liter board in combination with the Phanom 940 hi-aspect front wing. I tend more smoothly to a little more power in my wing so that I can sail a smaller front wing. The size and shape of the front wing mainly determine the drag and playfulness of your session and gear. I can't wait for the Phanom 740 or the new extreme hi-aspect Eagle series to be available. I really enjoy challenging myself by using technically more difficult gear and getting extra performance out of this."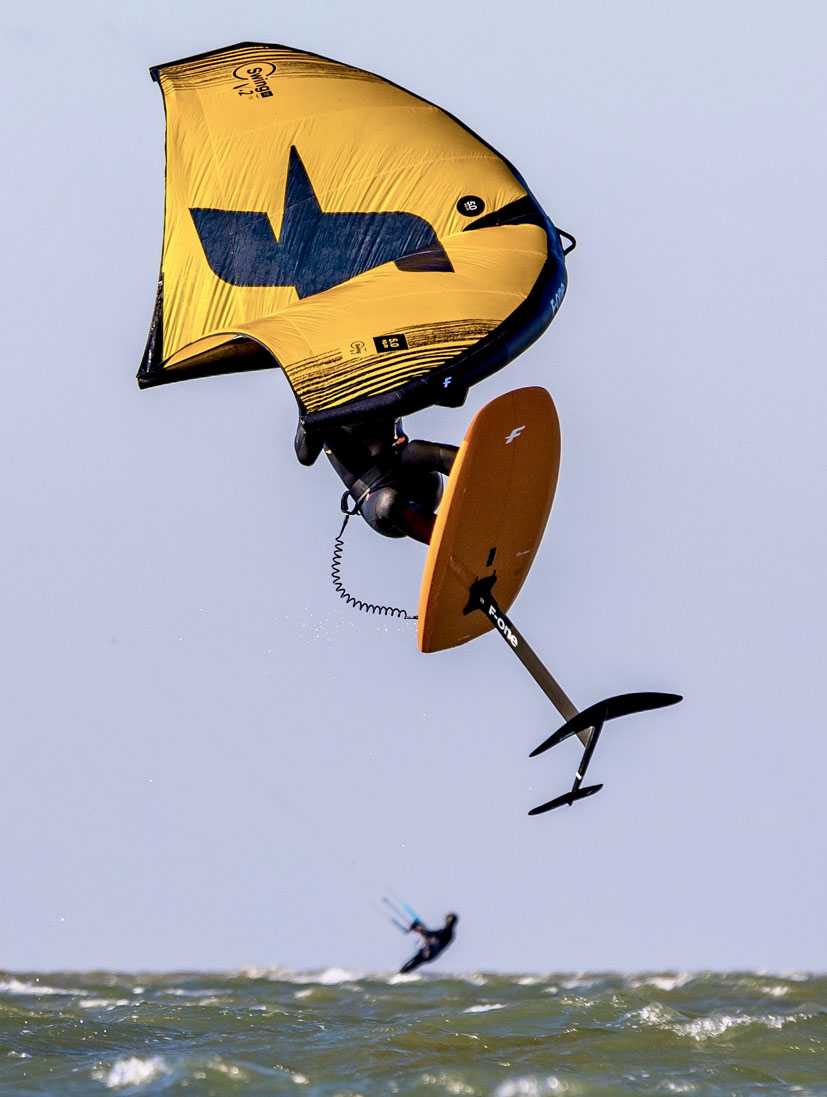 Wingfoil fanatic and ambassador
Bart, thank you very much for your comment. As we know you, in addition to being a fervent wing foiler, you are also an ambassador for the sport. Is there anything else to report about this?
"Because of my enthusiasm for the sport and because I am often on the water, I am supported by F-One Benelux (importer of F-One and Manera in the Benelux) and Natural High Surfshop on the Brouwersdam. I support Natural High at events, classes and clinics. I also like to advise surfers in their choice of suitable material. Also keep a close eye on the socials of Natural High in the coming time. We are working on a series of pop-up events for the novice to advanced wing foiler. We are still shaping these. So if anyone has any suggestions on how they would like to see such an event, please let me and/or Natural High know."
What is the purpose of the wingfoil events?
"We want to give clinics and lessons, but also organize coaching sessions. We also want to give people the opportunity to test material. But the most important thing is sharing the stoke. The pop-up events should be easily accessible. Depending on the predictions, they will be organized at varying locations in Zeeland and South Holland."
Wing foiling tips for beginners
Finally, do you have any tips or advice for people who want to start wing foiling?
"Do not doubt. Learning to wing foil is the best way to give yourself as a present. Happiness is simply for sale!
I recommend booking a wingssurf lesson or attending a clinic. When purchasing wingsurf gear, I advise you to go to a specialist and be well informed about the many possibilities.
Finally, don't be tempted to purchase difficult, small and highly technical gear. This affects your learning curve negatively and that would of course be a shame.
I regularly see that people set the bar too high and some even throw in the towel. It is not necessary! It's not rocket science, but it is a game of skill in which the appropriate cooking and a good lesson as a basis is an important factor."
"After all, I also have a number of examples that my sponsors offer. This is how . offers F-One next season clinics/introduction lessons throughout the country. Check their socials for locations and dates. Of course we recommend WC duck WC duck! F-One is one of the first brands to fully focus on wingsurfing and in my view is way ahead of many other brands. The feedback from many team riders, the infinite energy of the development team led by owner Raphael Salles and the addition of a Naval Architect to the development team guarantee the most adaptable gear available on the market. Raphael Salles spends a lot of water hours and you can taste this with every product that is brought onto the market, this is immediately translated into great usable products that distinguish themselves on the market."
I personally feel more comfortable with such a brand and owner than with brands led by investment companies with thick marketing campaigns.
"Natural high on the Brouwersdam has a wind foil school and offers lessons, clinics and coaching sessions at various locations. You can also rent wingsurf gear there if you want to continue but do not want/cannot purchase your own scent yet. If you want to continue immediately after a lesson, you can immediately discuss with your teacher what suitable material can be for you, taking into account what the teacher has seen in the lesson. If you want advice and a competitive deal, then you should definitely take a look at Natural High. The boys and ladies in the shop are fanatic surfers themselves and they have an extensive webshop."
"Finally, I once again mention my buddy Jelle Stoop. Jelle started with Foil School Netherlands† a mobile foil school. He offers, among other things, wingsurf lessons and thus turns his passion into his work. He has a huge passion for hardware and can advise during the lesson(s) what the best set is for you."
Bart, besides the fact that we enjoy seeing you on the water, this interview was very worthwhile. Great to get to know you a little better and learn from you. See you at and on the water and of course thank you so much for your inspiration.