Rou Chater published in Tonic Wingsurf Magazine 10 reasons why he thinks wingsurfing is becoming the most popular water sport worldwide. That wingsurfing will soon be more popular than kitesurfing and windsurfing. I also find it interesting to see how fast wingsurfing is growing. In addition, the versatility of wing surfing is enormous. You can enjoy cruising or golf, but also do extremely radical tricks. Windsurfing vs kitesurfing, kitesurfing vs windsurfing, wingsurfing vs kitesurfing… Of course this is nonsense. It's about having fun. The wind sports offer something for everyone.
However, as Rou came up with 10 reasons why wing surfing and wing foiling is becoming more popular than kite surfing, we can of course also think of 10 reasons why not.
In this wingsurf blog we discuss the 10 reasons and give our vision on them. Feel free to give your opinion in response.
Wing surfing or wing foiling quickly becoming more popular
1. Brands diving into wingsurfing
Rou states that almost every water sports brand is currently targeting wingsurfing. Agreed. We've got you one before overview of all wingsurf and wingfoil brands show. It is unprecedented what rapid growth the sport has undergone in the past two years and it seems far from stopping. Even though there are in the chain production and delivery problems, even Decathlon has included wingsurf equipment in its range.
2. Safer than kitesurfing
This is what Rou calls the main reason. Partly agree. We understand that as soon as you let go of the wing, the power is gone too. We also understand that wingsurfing without foil in combination with the wing, i.e. pure wingsurfing, involves little risk. Of course you have risks. Such as the risk of getting the board against your head, a leash that can hurt you and shallow water in which you can fall on something. I estimate these risks of injuries to be a lot smaller than the risk of injuries when kitesurfing. However, wing foiling is a different story for us. The foil under the wingsurf board is a potential danger to your body and can cause serious injuries.
3. Wingsurfing popular: You learn it faster
Also partially agree† Of course, wingsurfing is fun and recreational. You have fun from the first moment you taxi. This is different from kitesurfing. Wingsurfing is therefore very accessible and can provide a lot of fun for an unprecedented number of people. For example with a sup board and a wing, or with a wingsurf board with fins and a wing. All very accessible and uncomplicated for families with children and anyone who wants to be on the water. We also saw how cool and easy ice wings and skateboarding can be.
Compare it to supping with a wing. Perhaps this is where the greatest potential of the sport lies, instead of the high-end wing foiling that already active water sports enthusiasts are enthusiastic about.
Because freestyle wing foiling, wing foiling at sea and in the waves is a completely different story. Learning is not easy and requires a lot of energy and perseverance. This already applies to active to very active water sports enthusiasts. So especially for returners or people who have no water and / or windsport experience. My interim answer to the question of whether wingfoiling will quickly become more popular than kitesurfing and windsurfing is no.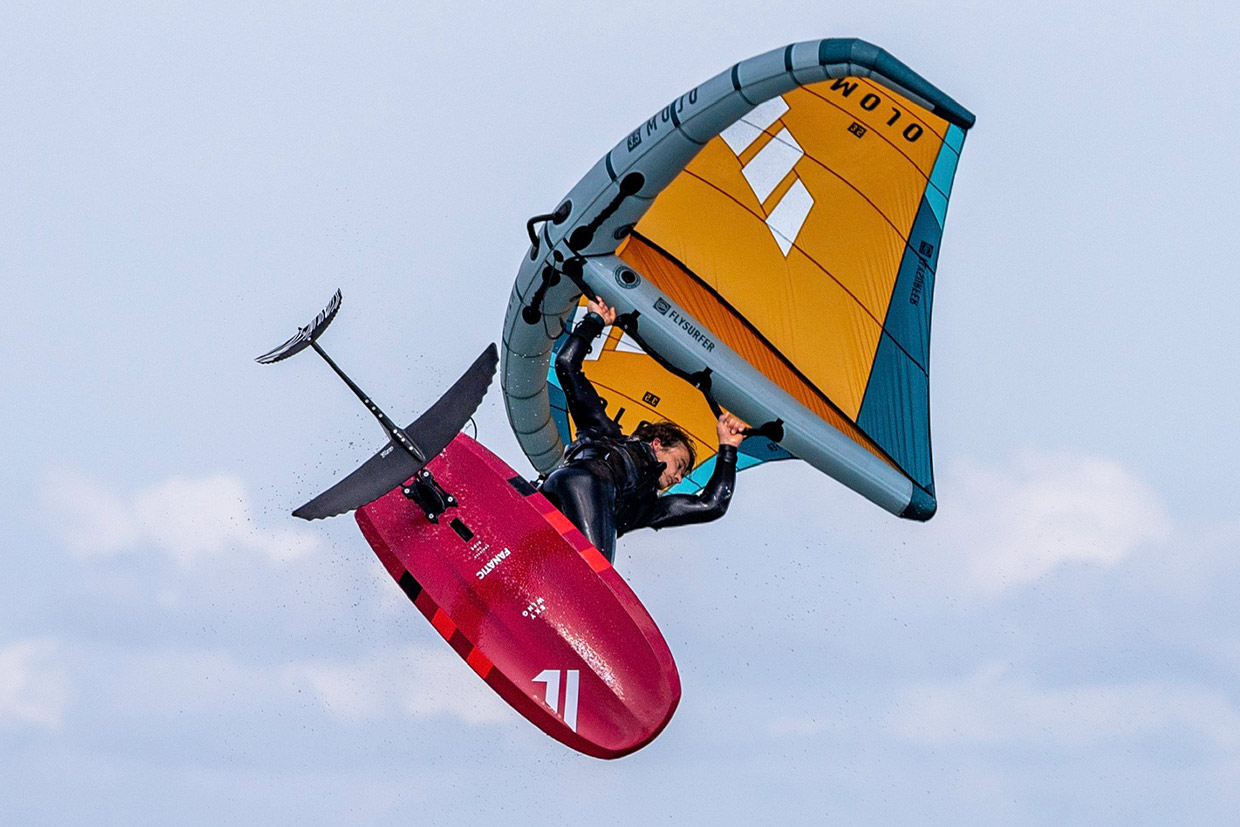 4. Wingsurfing takes up less space
Wingen naturally takes up less space on the beach and on the water. Agreed. This means that you can wing surf in more places. Also in places where you can't kitesurf. For example on spots where you don't have enough space to roll out your lines and enter the water properly. You do need deeper water for wing foiling than for kite surfing. You should not think that at full speed your foil will get stuck on a sandbank or obstacles under water. And off experience we know that with quite strong onshore wind paddling out to where it is deep enough with a wingfoil board and wing is no fun or even impossible.
5. You can go wingsurfing on your own
It's also easier to get along alone, according to Rou. Agreed. Not that it is wise at all to go out on the water alone, but you don't need help getting into the water like with kitesurfing. Of course you also see kite surfers who raise and lower their kite themselves. But in stronger winds, this is absolutely not recommended.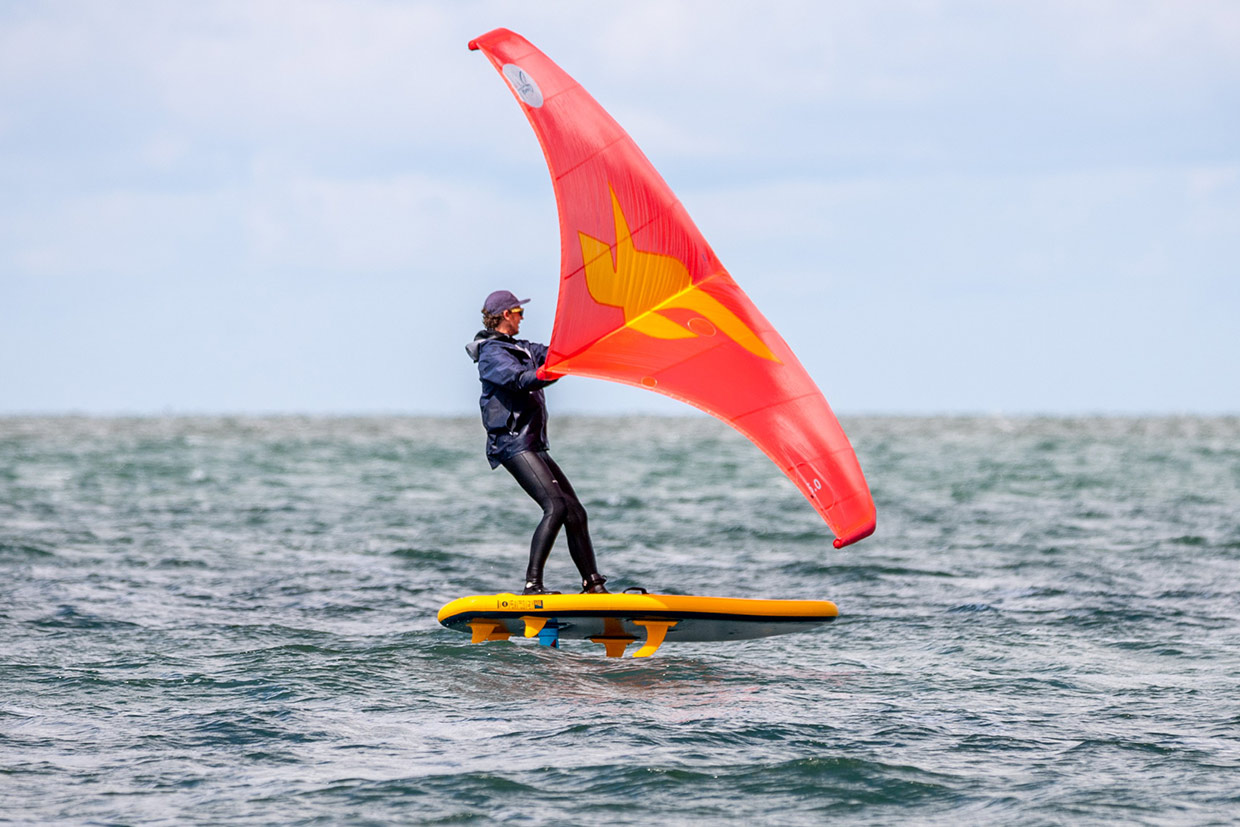 6. A self rescue is easier. Wing surfing popular?
Agreed. Because you can easily roll up a wing in the water, it is easier to get to the side. With the rolled-up wing you can paddle to the side quite easily on the board. Pay attention current but this is easier than with kitesurfing. Of course you can also perform a self rescue with kite surfing when the wind drops. But on most kiteboards you don't stay afloat and there are very few kite surfers who can do a self rescue. We saw that earlier this year when 31 kite surfers were rescued in one day.
7. Less wind needed with wingsurfing
Partly agree. To enjoy kitesurfing with a twintip you need 20-25 knots. More often than not the wind blows that hard. Of course, a kitesurfer can do it in less wind (from about 8 knots) kitefoiling or another choose a low wind combination for kite surfing. Wingsurfing can be a lot of fun in very little wind. You can float with your family or friends and catch every flurry. Wing foiling is again another story. Especially at the learn to wingfoil it is nice to have 13-20 knots of wind.
8. Wingsurfing can be done on more spots than kite surfing
Agreed. Wingsurfing is possible in places that you don't even think of kitesurfing. You can actually swing on a ditch or lake nearby. As stated before, this is different with wing foils. You need depth and more space for that. Aquatic plants can also throw a spanner in the works in the summer months. They stay around your foil so you can't foil.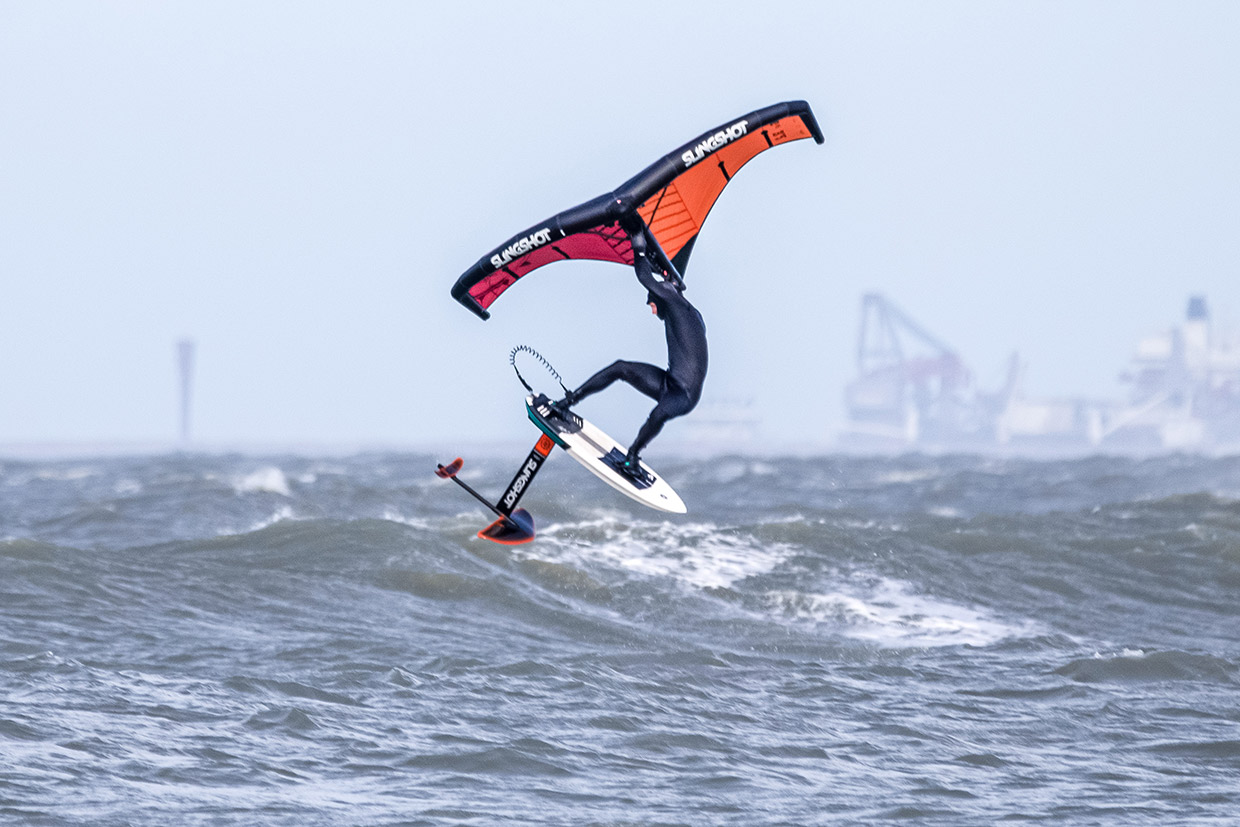 9. Wingsurfing is a lot of fun
Agreed. Wing surfing and wing foiling can be very popular and can be a lot of fun. Provided of course you like water sports. You can usually go wingsurfing if you can also lie on the beach. The latter is a punishment for many people. When you go wingsurfing you are very active and that gives a satisfied feeling. Floating and cruising will not give everyone an adrenaline rush. The adrenaline rush of kitesurfing is almost guaranteed with every session. This can be expected more with wing foiling, but we think kitesurfing is a more active sport.
10. Wing surfing as a super fitness workout
Agreed. But no different than with kitesurfing. As Rou also states, with wingsurfing and wingfoiling you need muscles that you didn't know you had. It is therefore a super fitness work-out. Especially if you go learn wing surfing and wing foiling do you notice this well? Kitesurfing is also a super fitness workout. In addition, kitesurfing quickly becomes a bit more explosive, which makes the workout and after party (muscle pain afterwards) even more intense.
Conclusion wingsurfing quickly became more popular than kite surfing and windsurfing
As far as I'm concerned there is a big difference between wingsurfing and wingfoiling. Wing surfing is fun and recreational. This is very accessible for families with children and anyone who wants to be on the water. This can continue to develop considerably.
Koen Sonck aptly called it "planing wingsurfing without foil." How about that? I think this is where the sport's greatest potential lies, instead of the high-end wing foiling that already active water sports enthusiasts are passionate about.
By the way, I don't like the statement that wingsurfing will soon become more popular than kitesurfing and windsurfing. This one is not binding, while water sports are for me. It doesn't matter what sport you practice and what style you show. There is something for everyone. It's about having fun.
As always, I'm also curious about your opinion. Let us know in a comment or via one of the social media updates. See you on the water!