A weekend without wind is not a complete weekend. This is quite a statement, but many avid water sports enthusiasts will agree with me: a game of water sports is part of a complete and successful weekend. For example, last weekend I was looking for wind and the possibility of kite surfing or wing foiling. Little wind was predicted so I looked for a period with wind from 10 knots. In this wind I can kite foil with my wing foil board. Unfortunately the forecast of 10 knots didn't come true so I stayed home. Later I saw that Mark had already been wing foiling with the Duotone Downwinder SLS. How cool is that! As far as I'm concerned this is a breakthrough so I called him for clarification.
Wing foiling from 5 knots with the Downwinder!
My eye fell on a picture of Mark van der Burg. Mark is an old hand in the business and very involved in the sport. He is also the Benelux Sales Manager for Duotone, ION and Fanatic and is therefore at the forefront of developments in kitesurfing and wing foiling. Mark apparently went wing foiling for the Brouwersdam.
I was very surprised about the fact that you can already wing foil with 5 knots and asked him some questions.
Did you think you could wing foil with 5 knots?
"If you had asked me this a year ago I would have said this would be impossible. We always thought that kite foiling would be more successful than wing foiling at the lower limit of the wind. We are now a year further and the high-end wing foil material has been developed to such an extent that it succeeds. That's cool!"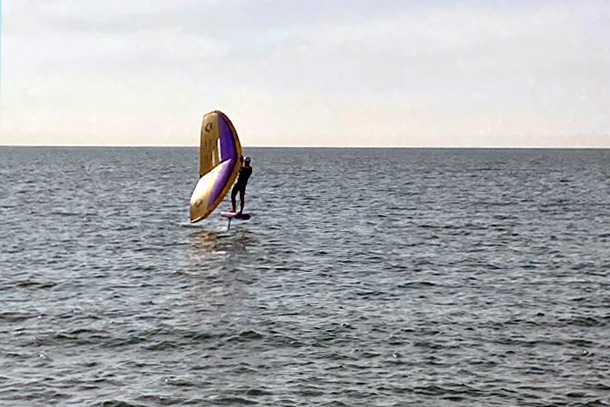 What was your wing foil setup at 5 knots?
"I started wing foiling with the latest Duotone material. For example, for this wing foil session in low wind I used the new long Duotone Downwinder SLS 115L board in combination with an 82 centimeter SLS carbon mast and a 2145 Glide foil."
A 2145 foil?
"Yes indeed. That is a whopper of a foil with a wingspan of 1.43 meters. So almost 1.5 meters. It took some getting used to to control such a large foil, but it glides beautifully through the water. Especially in the corners, it takes some getting used to with the Duotone Downwinder and such a large foil. If such a large foil chooses its own track, it is difficult to get out of it. So keeping control is extremely important. On the other hand, the foil, once it slides, continues to run very smoothly and that gives a wonderful feeling."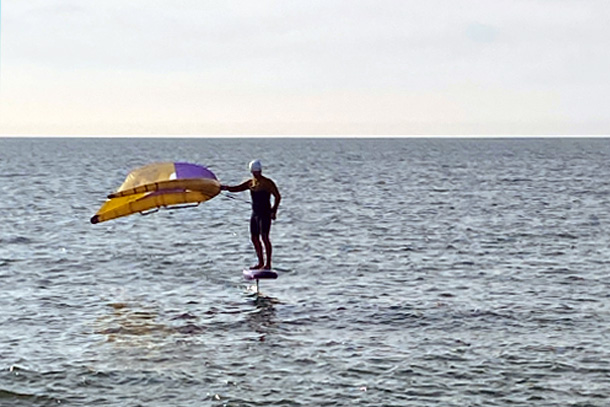 The development towards long narrow wing foil boards. How do you see this?
"When wing foiling in as little wind as possible, the board is all about gliding. The board has to slide to get on the foil. You also see this with long-distance downwind foiling with a paddle and race stand up paddling. At a certain point, it was discovered that such types of board shapes are also very suitable for gliding when wing foiling."
The glide speed helps to get on the foil. Once you slide, the foil does the job.
Isn't a long and narrow wing foil board like the Duotone Downwinder wobbly?
"It sure is wobbly. But with the large foil and wing it was doable. These provide stability, making the whole less wobbly."
Were you the only one on the water?
"I saw 3 more kite foilers on the water. Other than that I was alone. Wing foiling with so little wind is a breakthrough for me and for me personally it was a unique experience. A year ago I would not have thought that this would be possible."
For which wingfoilers is this reserved?
"This is not for beginners like kite foiling with little wind is not for beginners either. You have to master the sport well and of course have the right wing foil material for it."
Mark, thank you for the short interview after your cool experience and the inspiration you bring. We will continue to follow you and the developments in wing foiling closely. Good luck and have fun!