More fun with little wind. The question how much wind you need to kitesurf is often asked. And rightly so, because kitesurfing is addictive and you want to do it as often as possible. In addition, the more you kitesurf, the better it goes. Kitesurfing with low wind has become increasingly popular. Kitesurfing is possible even at XNUMX-XNUMX knots (wind force XNUMX-XNUMX). With a super high performance foil-kite and special hydrofoil kitesurf-board even from XNUMX to XNUMX knots. It has been investigated that on the majority of days the wind is between XNUMX-XNUMX knots in the Netherlands. So if you want to go for the most hours on the water at low wind spots, this kitesurf-blog is worth reading.
With a super high performance foil-kite and special hydrofoil kitesurf-board can even be kitesurfed from XNUMX to XNUMX knots.
How much wind do you need to be able to kite surf?
Before we discuss the 3 combinations for kitesurfing in low wind below, we would like to explain the general rule of thumb. A nice wind force to start kitesurfing, practice and kitesurfing is between 14 – 21 knots (wind force 4 – 5). Very experienced kite surfers even take to the water at more than 27 knots (wind force 7). Also check it out wind force conversion table that helps to estimate the wind better. It also shows you how Beaufort (Bft), Meters per second (m/s), kilometers per hour (km/h) and knots relate to each other. Kitesurfing with about 10 knots is not something to start your kitesurfing career with, but it can certainly be learned.
Which size kite with which wind?
To give you an idea of ​​which size kite (size of the kitesurf kite) suits your weight and the wind force, view it which size kite overview. Now to the combinations for kitesurfing with little wind.
Combination 1 – Hydrofoil kiteboard with foil kite
We have already shown you that light wind kitesurfing can be done in different ways. Low wind kitesurfing with a hydrofoil kitesurf-board and foil-kite seems to be the best combination at the moment. This is also the kitesurf-setup for Olympic Kitesurfing.
A hydrofoil kitesurf board with foil is so aerodynamic that it can let you kite surf from 7 knots above the water. The hydrofoil then lifts the kite surfer out of the water where once kitesurfing can be done very well against the wind.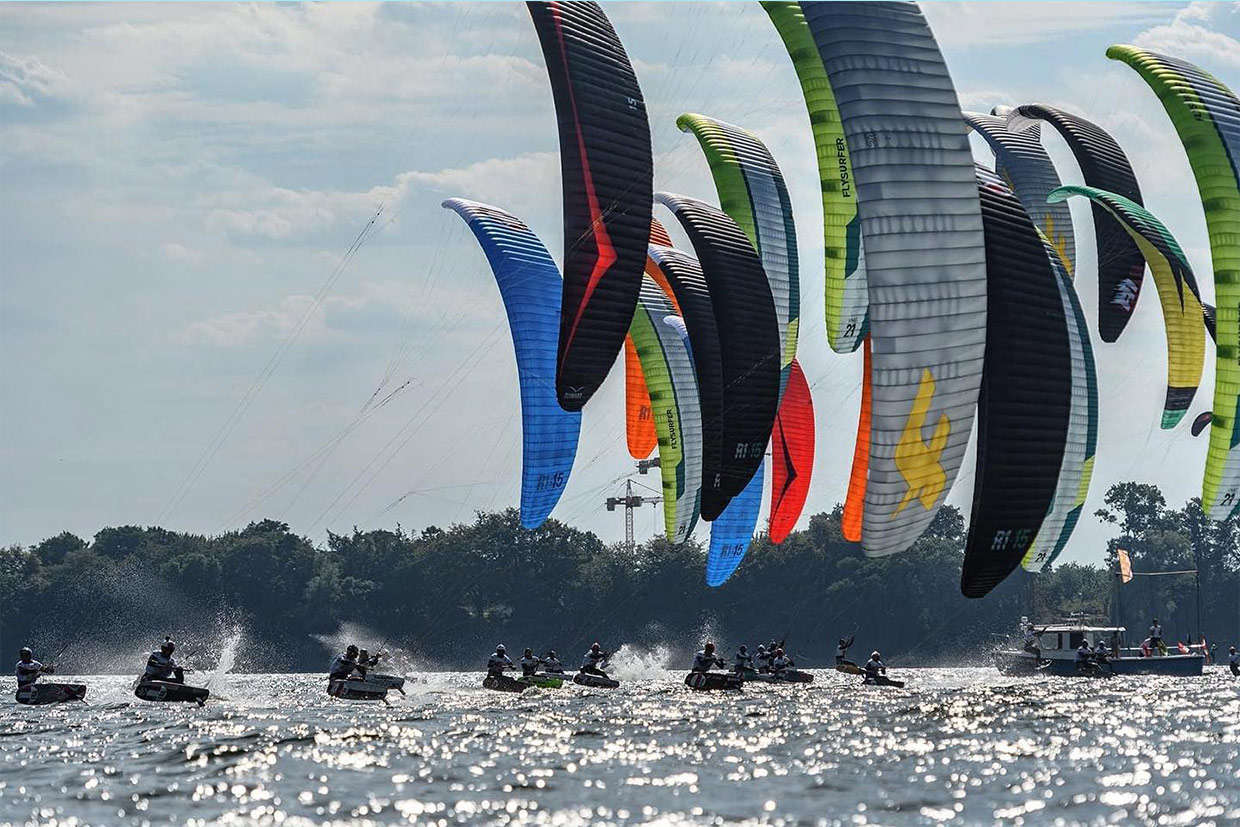 Combination 2 – Hydrofoil kiteboard with tube kite
A hydrofoil kitesurf board in combination with a light tube-kite is also possible. Light tube-kites are making a huge technological leap at the moment. Boundaries are really being pushed in this area. Both with test kites and kites that are available. We call it kites on a diet lite surfconcept. View the comparison between the Duotone NEO SLS, Ozone Enduro v3 and the Ocean Rodeo Roam Aluula. Would tube kites win over foil type kitesurf-kites in the long run with little wind? Who knows may say…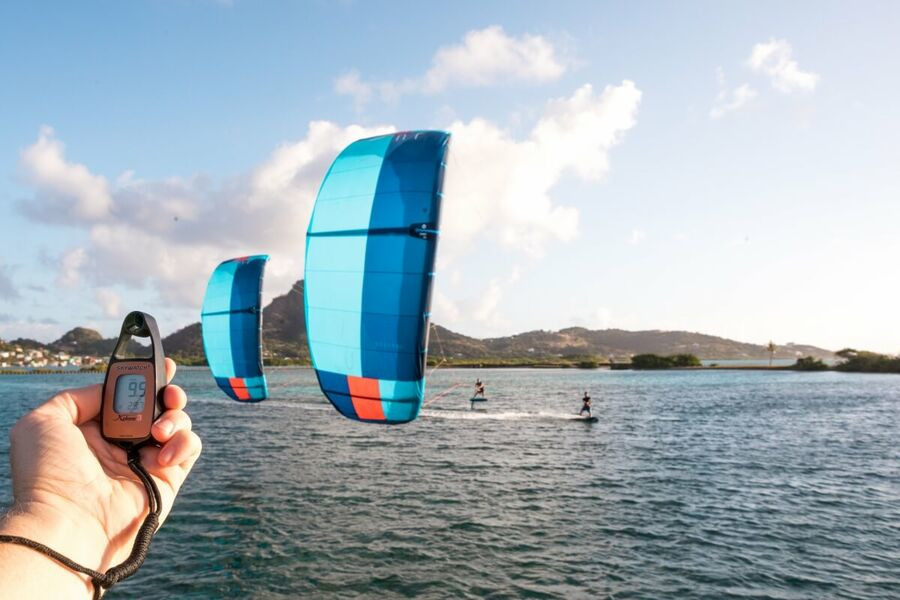 Combination 3 – 'Light wind' kiteboard with tube or foil kite
If we view kitesurf boards with which you can kite surf with little wind, then you have 4 different kitesurf boards suitable:
Normal twin tips but big, wide and flat
Special light weather twintips ('door')
Special light weather wave surf boards
Hydrofoil kitesurf boards
In TheKiteMagWe noticed an ad from Takoon Kiteboarding in which Takoon the kitesurf board 'Tiki'draws attention to. A kitesurf board that cannot actually be classified in the aforementioned 4 four different kitesurf boards for little wind. The Takoon Tiki would be the ultimate kitesurf board for kitesurfing in low wind. This means from 8 knots. The kitesurf board looks like a beautiful cult-like piece of wood. The Takoon Tiki is available in 210 cm and 230 cm long. There are several kitesurf brandswith ditto kiteboards.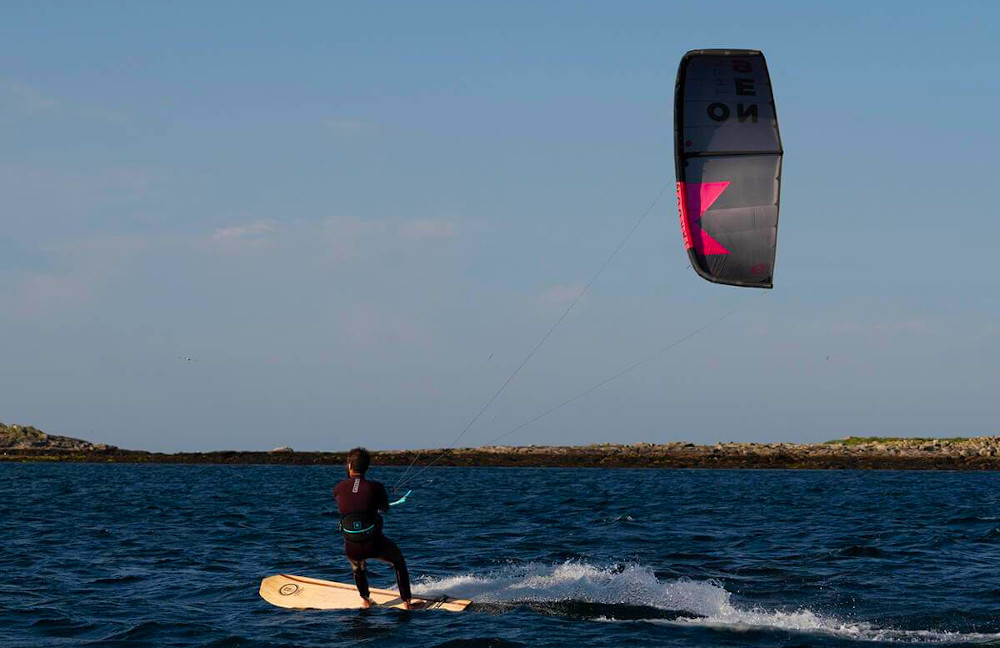 Switching between tube and foil type kites
There are not very many kite surfers who have both tube and foil kites. Although this can be combined well. This can be perfect for 'light wind' kite surfing. Read in it interview with kite surfer Marc Remmerde how he does this and his tips.
'Light wind' kiteboard or hydrofoil kiteboard?
The question that remains is whether such kitesurf boards for kitesurfing with little wind could be an alternative to hydrofoil kitesurf boards. A light wind kiteboard is cheaper, less cumbersome, more suitable in shallow water and a solution for those who do not want a frame under a kiteboard. In contrast, kite foiling is really something else that many kite surfers enjoy. I also see kitefoilers who only grab a twintip kiteboard when the wind blows hard. My conclusion is that there is something for everyone within kitesurfing.
With this item we are certainly not yet complete with listing all possible answers to the question "How much wind do you need for kitesurfing?" We are curious about your experience.